Are you dreaming about a laid-back celebration in the beautiful countryside? We cover everything from country wedding venues and songs to wedding cakes and bouquets in this article!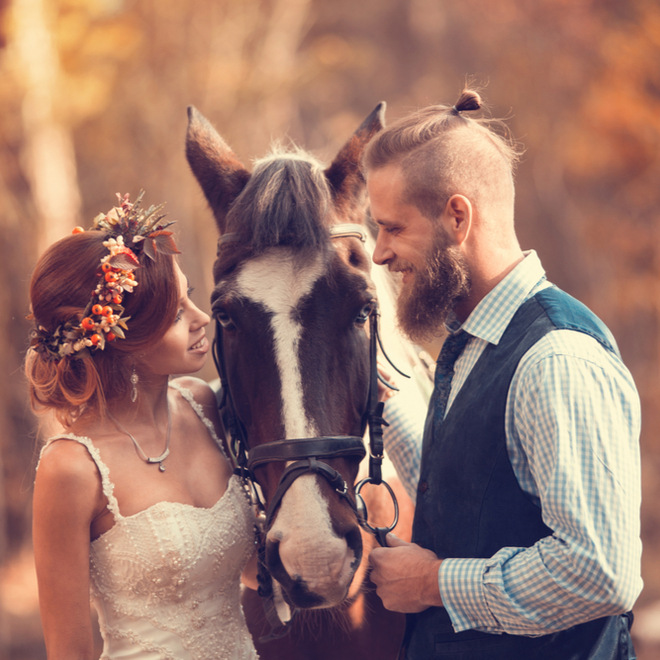 What Does a Country Wedding Entail?
While city weddings have a sleek vibe and are modern and chic, the appeal of a country wedding cannot be dismissed. The airy atmosphere of rolling mountains and rustic farms has a certain charm. However, the elegance of a country wedding can be incorporated no matter where your celebration takes place.
If you want to celebrate your wedding in a traditional way and like the thought of going back to the roots, the country wedding theme is perfect for you. Wine barrels, cowboy boots, mason jars, wood pallets, burlap hay bales, and lace are just some of the things waiting for you!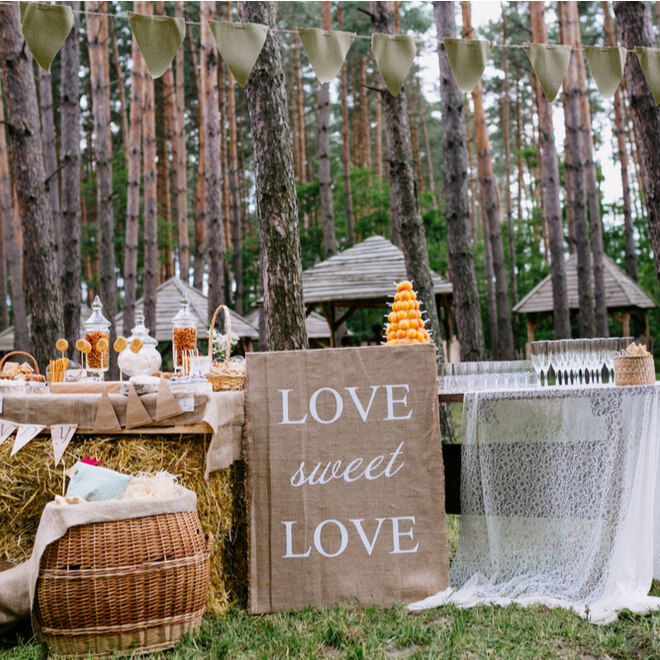 1- Incorporate Amazing Country Wedding Ideas
To many people, the term "country" can mean many different things, so it might be hard to figure out how it will apply to your wedding vision? To help you narrow down your options, we've divided country weddings into three categories with some of the best rustic wedding ideas from real couples to help you plan your own country-style wedding.
Rustic Country Wedding
If the idea of a relaxed celebration in the country makes you feel happy, then a rustic wedding could be the right choice for you and your partner. Timber, metal and reclaimed wood are the most common rustic elements you can incorporate into your event.
You can use logs for your place names, place a rustic swing, wedding sign and wedding arch adorned with flowers, hang elevated lanterns, wear a rustic flower crown and many more. Don't forget to take stunning wedding photos with the cutest animals!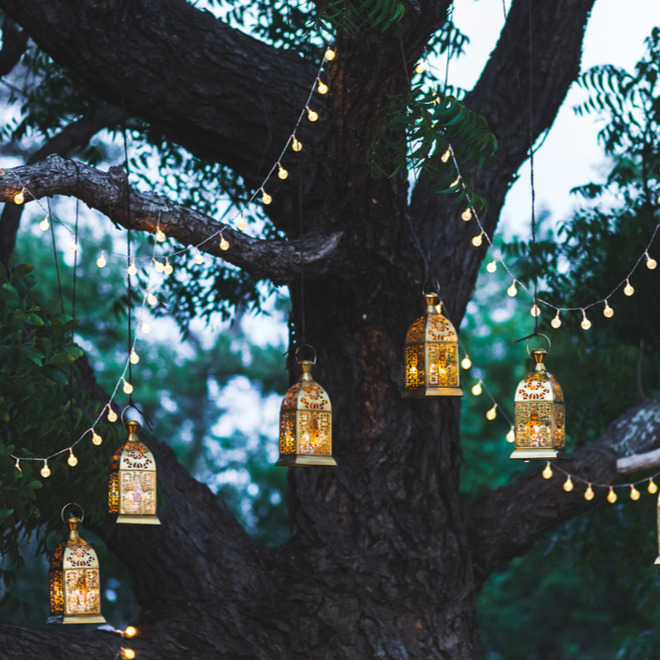 If you want to learn all about rustic weddings, you check out this article: How to Throw a Fantastic Rustic Wedding
Country Vintage Style Wedding
The countryside is a perfect style to incorporate the vintage style with your wedding decorations. You can repurpose old bottles and use them as table numbers, or you can turn a weathered window into a seating chart for your guests.
Also, we love the idea of putting jars of homemade jams with your grandpa's recipe and displaying them on an antique sewing machine. You can use vintage bicycles as a photo prop and classic cars as your wedding transportation as well. For your vintage country wedding invitations, you can choose laser cut designs with lace and burlap.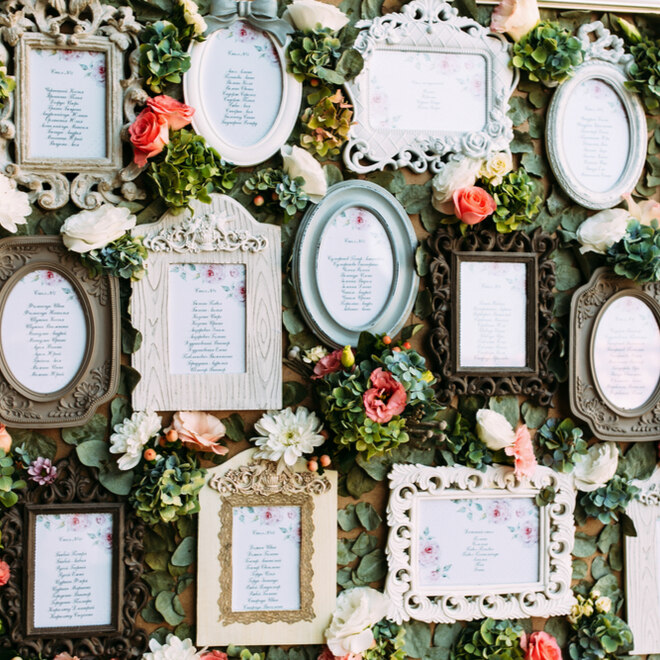 Modern Country Wedding
Rustic and modern weddings have always been the most common wedding themes, so it's no surprise that we began seeing couples mixing the two! Modern rustic celebrations are a lovely way to showcase your fashion preferences in an intimate and inviting environment.
You can set the tone of your event with a minimalist barn venue or an old warehouse in the countryside. Furniture and decor in sun-drenched natural tones channel chic vibes effortlessly. You can also use metallics and geometric shapes to level up your game. Don't forget to include lots of greenery!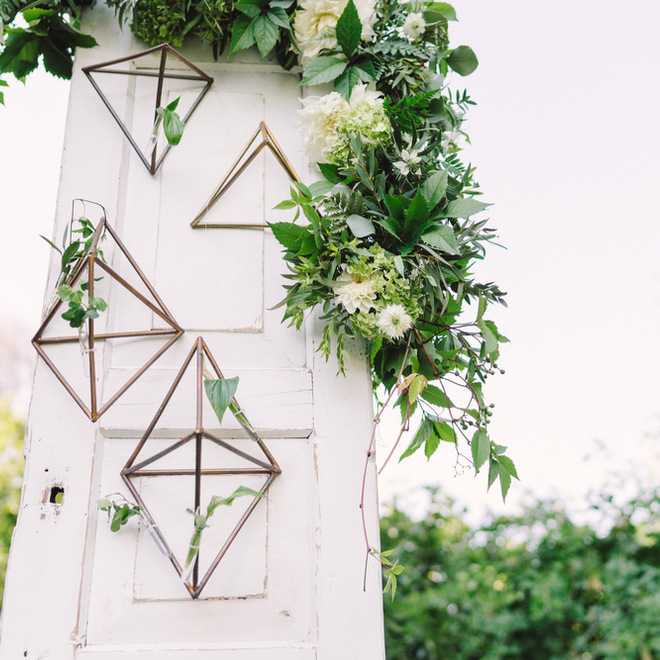 2- Create a Fantastic Menu with Country Wedding Food
The beauty of a wedding celebration is combined with the relaxed charm of a country wedding, and there are many ways to bring this theme to life. The food served at a country wedding reception is an important aspect; the food should reflect the concept while pleasing the guests. Here are some ideas on what to serve at a country wedding:
large pitchers of iced tea and apple cider
fritters and biscuits
cornbread and garden vegetables
green beans
corn on the cob
fried tomatoes
fried chicken
barbecued ribs
roast chicken
fried oysters
egg salad
battered fish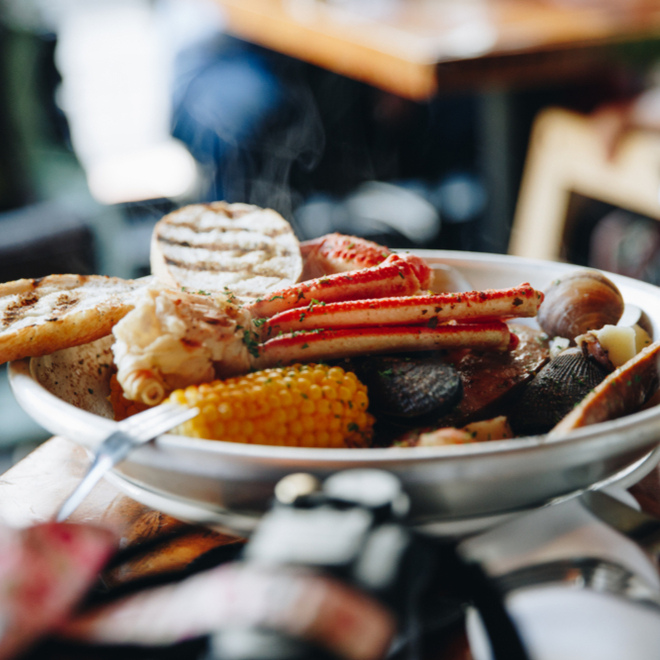 3- Choose a Rustic Country Wedding Cake
A romantically rustic cake is a must-have for any country-themed wedding. Rustic wedding cakes are best known for earthy materials such as fruit, blooms, and other nature-inspired features that leave visitors searching for a slice. Twigs and twine, beautiful greenery, and other wood details and natural touches abound in these simplistic treats.
They usually come in soft colours like pastels, nudes and sometimes, red or maroon. At first, narrowing down your favourite rustic wedding cake designs can be daunting. There's no lack of ideas for rustic celebrations because they're so common. You can even choose a tiered cheesecake with wheels of multi-colour!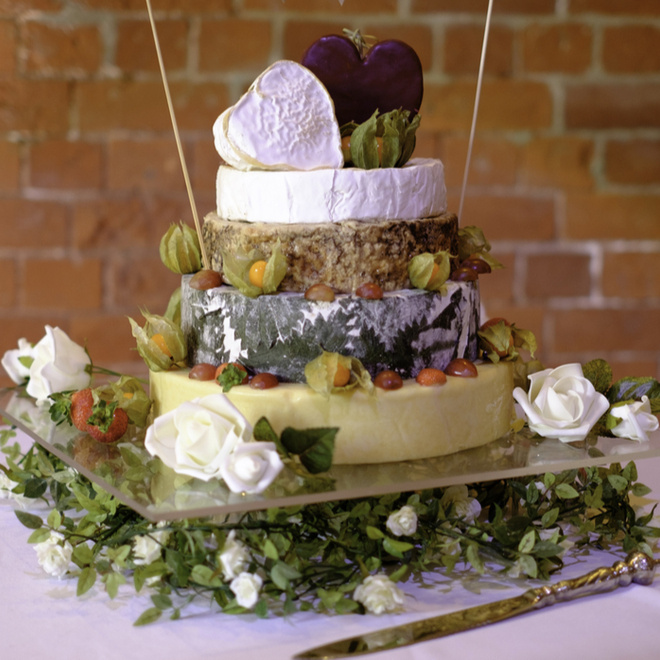 4- Amplify Your Happiness with Country Wedding Songs
With so many sentimental country love songs, the greatest classic old country songs, and contemporary country dance songs, there are plenty of songs that are perfect for your celebration. We've listed the best country wedding songs that will elevate and spice up your most special day.
Top 20 Country Wedding Songs
"I Cross My Heart" by George Strait

"What I Never Knew I Always Wanted" by Carrie Underwood

"Mine Would Be You" by Blake Shelton

"Making Memories Of Us" by Keith Urban

"Always Gonna Love You" by Florida Georgia Line

"Golden Hour" by Kacey Musgraves

"Look at Me" by Carrie Underwood

"From This Moment On" by Shania Twain

"Yours" by Russell Dickerson

"Die a Happy Man" by Thomas Rhett

"Speechless" by Dan + Shay

"Heaven" by Kane Brown

"Love Story" by Taylor Swift

"Sunshine and Whiskey" by Frankie Ballard

"You Make It Easy" by Jason Aldean

"I Hope You Dance" by Lee Ann Womack

"My Wish" by Rascal Flatts

"It's Your Love" by Tim Mcgraw And Faith Hill

"Ring of Fire" by Johnny Cash

"H.O.L.Y." by Florida Georgia Line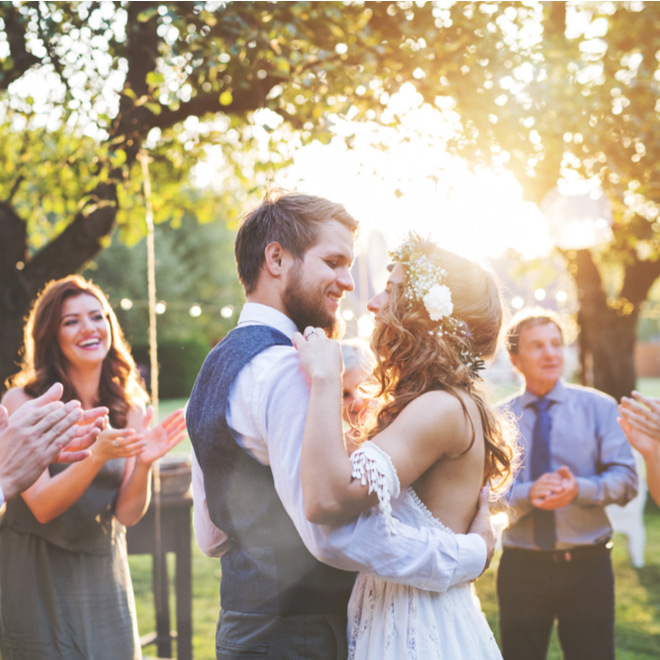 5- Choose a Free-Spirited Country Wedding Dress
You'll want your wedding dress to fit the laid-back and effortless essence of a countryside setting, whether you're tying the knot in an outdoor environment or inside a rustic farm. You'll love country-style wedding dresses with layers of swirling lace, soft flutter sleeves, and off-the-shoulder necklines if you're into the bohemian aesthetic.
Pared-back dresses cut from lightweight materials like cotton and linen feel relaxed and seamless for those whose taste is more modernist. To complete your country look, you can wear accessories that match the surroundings, such as a veil with flower accents, flower crowns, or even cowboy boots.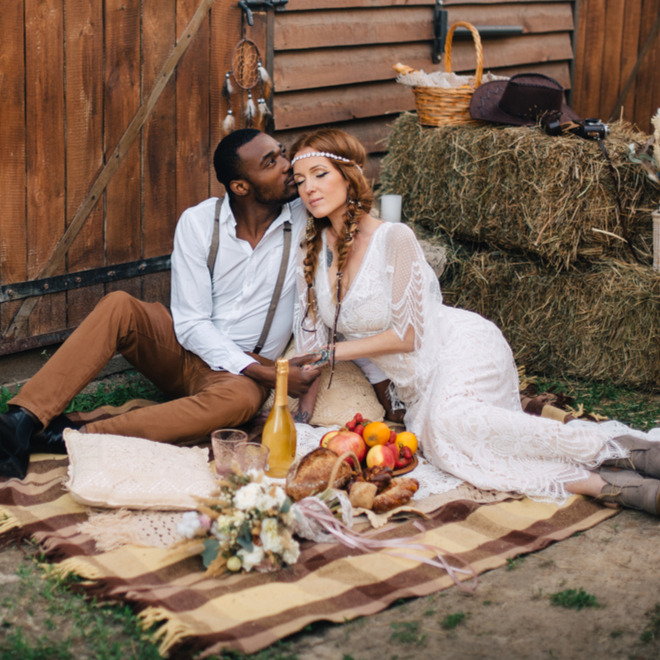 6- Go For a Country-Themed Wedding Bouquet
Flowers are one of the most important components of country weddings, and they help you transform your celebration into awe-inspiring settings easily. For your country-themed bouquet, choose a variety of textured wildflowers. Choose light greens, rose pinks, and natural ivory-coloured blooms to keep the colours subdued.
A trail-shaped bouquet of blooms that look like they were just plucked from a garden is one of our favourites. Adorn your country wedding venue with the same type of flowers, and don't forget the groom. With a pop of greenery and some neutral blooms in his boutonniere, the bouquet theme can be carried over to your groom's attire.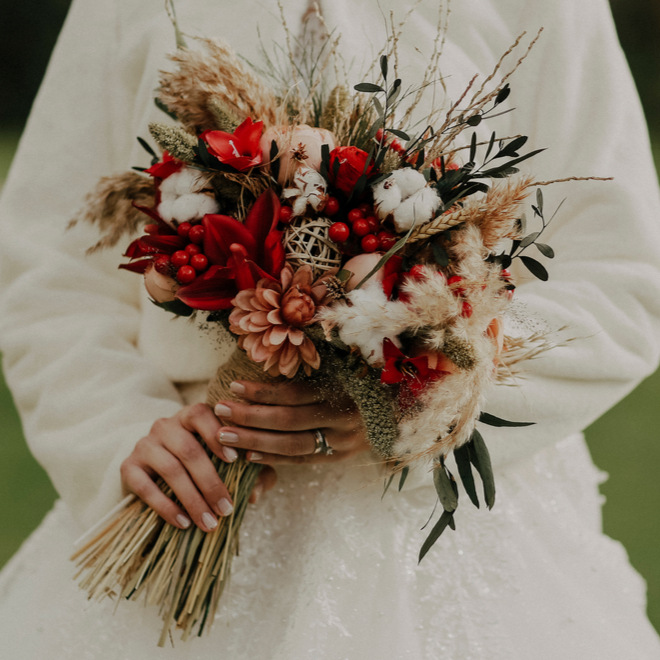 How Much Does a Country Wedding Cost?
The minimum wedding prices of country wedding venues in Australia range from $100-120 per person, and maximum wedding prices range from $200-250 per person with extra inclusions. However, country wedding costs vary greatly depending on the season, day of the week, location and size of your wedding.
You can find affordable country wedding venues by getting married mid-week in the off-peak season, say late fall. Also, if you choose a venue that is already stunning, you will not need to spend too much on decorations. Cutting an hour from the reception and having an intimate wedding with your loved ones will also reduce your expenses a lot!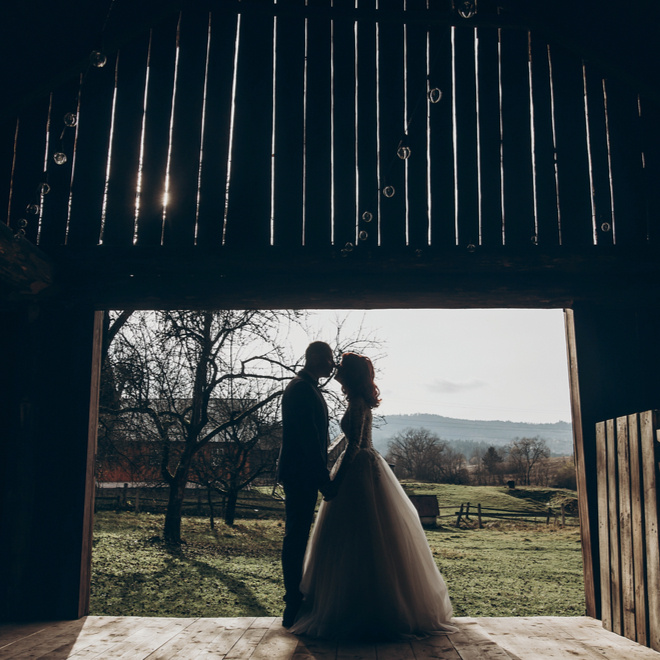 Country Wedding Venues
A country wedding usually takes place in a countryside location. If you're doing an outdoor ceremony, guests can sit on hay bales to add to the rustic feel. You might also hire a hayride to transport the wedding party.
You can consider country houses to hire for weddings and country clubs for your venue. Renting a barn or farmhouse might also be among your options. These settings offer a picturesque country backdrop with special elements from the hustle and bustle of the city.
As you can enjoy the freedom of having your ceremony, reception and photography in almost every country venue, most of the countryside estates also provide accommodation for you and your guests to stay overnight in a perfect setting. Finally, superb food made from local produce is guaranteed!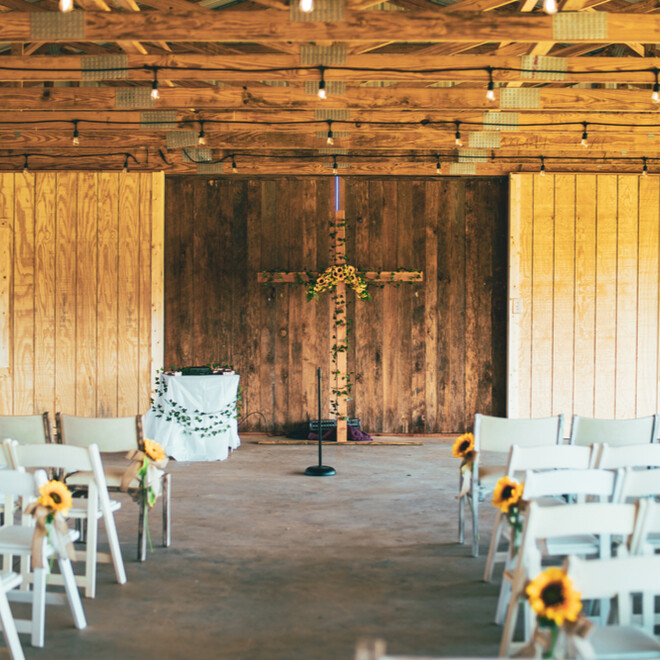 Country Wedding Venues NSW
New South Wales offers the best country wedding venues, from rustic barns to rich vineyards with lush national parks, rolling vineyards, and the beautiful wine country. Whether budget-friendly or luxurious, everything you're looking for is here in this state!
Country Wedding Venues Sydney
The stunning capital of NSW., Sydney, has the most beautiful settings for your country wedding. From wine country wedding venues with delicious foodie experiences to cosy country towns, Sydney has it all!
Country Wedding Venues Victoria
From incredible mountain landscapes and beautiful coastal drives to the world-renowned wine scene in Yarra Valley and Mornington Peninsula, Victoria has so much to offer for couples looking for a venue for their country wedding. Exquisite wineries, homesteads, farms and lodges; you name it!
Country Wedding Venues Hunter Valley
Hunter Valley offers countless country wedding venues, and top-notch wineries, restaurants and rich vineyards are among them. It's only a two-hour drive from Sydney. Don't forget to float above the vineyards in a hot air balloon with your wedding party!
Hopefully, you found our tips about country weddings useful for couples like yourself who are looking to get married in an area intertwined with nature. If you want to have such a country wedding, you can check out the country-style wedding venues by filtering them according to the features suitable for you. Don't forget that you can contact the venues and vendors you like, ask questions that you have in mind and obtain a price quote for free!