In this article, we will be discussing all you need to know when it comes to wedding receptions, from wedding venues and decorations to the order of reception and dresses. We hope this article will be useful if you're in the process of reception planning! Let's start if you're ready!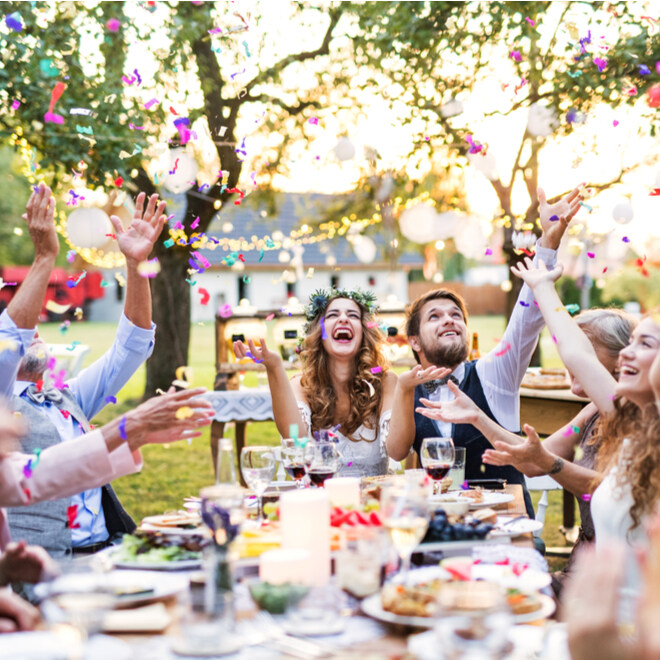 What Does the Wedding Reception Entail?
As you know, the wedding reception is a gathering or party usually hosted after you say your "I do" to your significant other. This gathering can either be a large party that lasts for hours or a small gathering where everyone can congratulate the newlyweds.
Many people get the wedding ceremony and the wedding reception mixed up. However, it is important to know that the wedding ceremony is the physical act of getting married and saying your vows.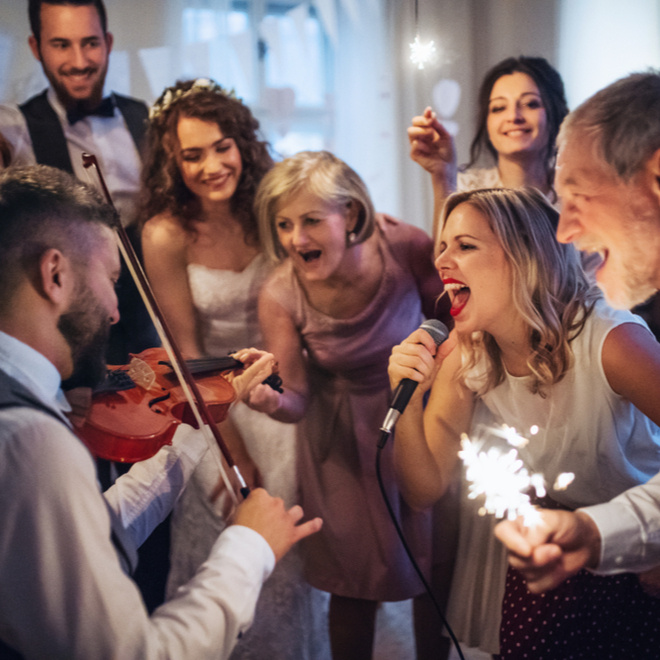 We've explained everything you need to know for a beautiful wedding ceremony in this article: The Complete Guide to Planning Your Wedding Ceremony
Reception Timeline Program Outline
There are tons of things during a wedding reception, so we figured to give you a nice outline of what a wedding reception timeline usually looks like. The goal of your reception should be to create a nice, flowing, and entertaining program for your guest where everyone feels welcome and at ease.
The average traditional wedding reception timeline usually consists of around five to six hours of planned entertainment. Included you can see a simple breakdown of what most wedding reception programs entail, which we will explain in more detail:
Cocktail hour (1-2 hours)

Couple's arrival + first dance (15-20 min)

Welcome toast (5-10 min)

Dinner + speeches (1-2 hours)

Parent dances (15-20 min)

Dancing (1.5- 2 hours)

Cake cutting (15-20 min)

More dancing (1 hour)

Couple's exit
The traditional order of wedding receptions usually kicks off with a cocktail hour where all guests gather at the assigned location as a starting event of your wedding reception. Most cocktail hours start directly after the wedding ceremony and are hosted at the same or near the same location as the wedding ceremony.
This cocktail hour doesn't only serve your guest a warm welcome to the long night or day of partying ahead but also serves as a time killer while you, as newlyweds, are taking pictures.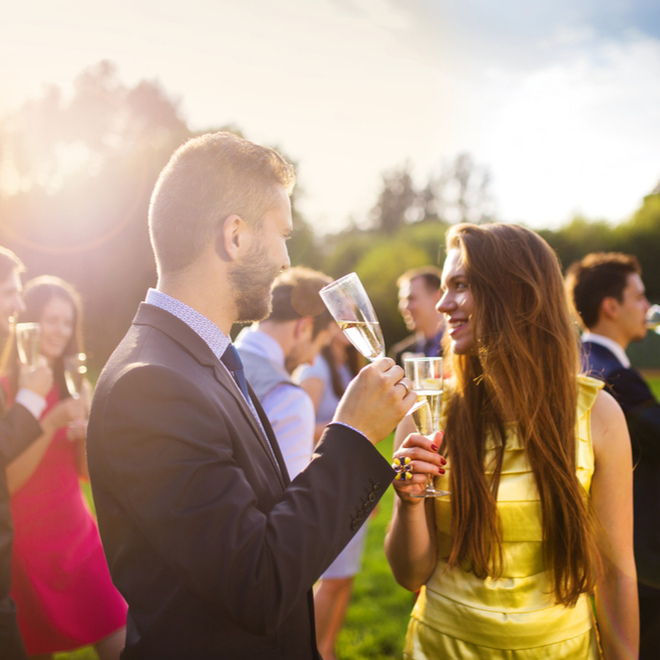 After your pictures have been taken, it is time for you to make your arrival and welcome all of your guests waiting at the cocktail party. We advise that at this point, someone has already announced to clear out the dancefloor so you can move straight into your first dance!
Directly after the first dance, it is tradition to have a pause to have a wedding reception welcome toast as newlyweds with all your family and friends.
After the welcome toast, it is finally time for dinner and speeches. These speeches are usually given by the best man, maid of honour, or other close family or friends. These speeches are usually held during the wedding reception dinner.
After dinner, the wedding reception program will continue with parent dances, usually a father-daughter or mother-son dance. These can be in your preferred order. Lastly, there will be cake cutting, more dancing, and of course the grand exit!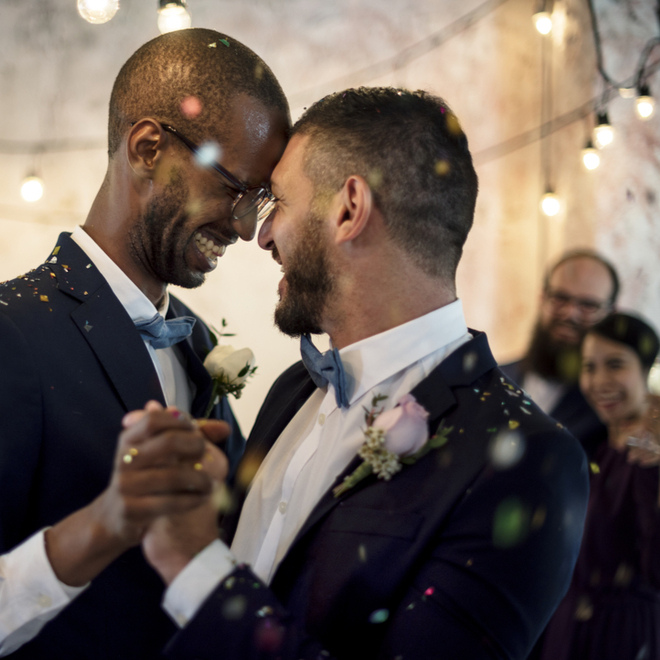 When You Should Start Planning Your Wedding Reception
While some couples plan their wedding reception in almost no time at all, for some, it might take some more time than usual; it completely varies per couple. Experts suggest planning anywhere between six months to one year ahead, just like your wedding.
Start with making a clear checklist. Determine your overall budget for your wedding reception and develop your wedding reception seating plan if you decide on including one. Our advice is to stick with your wedding theme for your reception as well, which will ensure a smooth transition from your ceremony to reception.
When planning a wedding reception, ask your wedding providers about what is included in their packages. For example, are chairs and tables provided by the venue? What types of decorations do they already have available? Does their venue have specific themes that they're known for? Do they provide in-house catering, or are you allowed to select your own? Etc.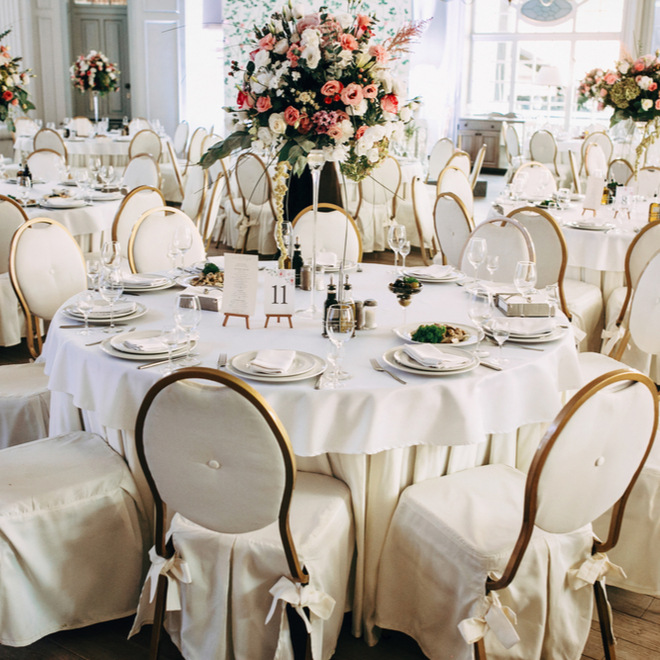 Wedding Reception Ideas
One of the most critical and memorable experiences of your life will be your wedding reception. Be sure to build an experience that reflects your style and preferences. Please take a look at these creative wedding reception ideas for inspiration, and then look for the right vendors in your area to help you bring them to life.
Outdoor Wedding Reception
Getting married in the great outdoors almost always ensures a stunning backdrop. So why not let your outdoor wedding reception setting inspire your theme, decor, cake, and more?
An alfresco affair will never go out of style, whether you're planning a country celebration in a rustic winery wedding venue or a romantic party in one of the beautiful garden venues surrounded by big trees. Here are some ideas to make your affair more magical:
Ever-popular string lights

Bright bouquets with blooms befitting of the season

Wood slice table numbers

Mason jar cocktails

Floral welcome signs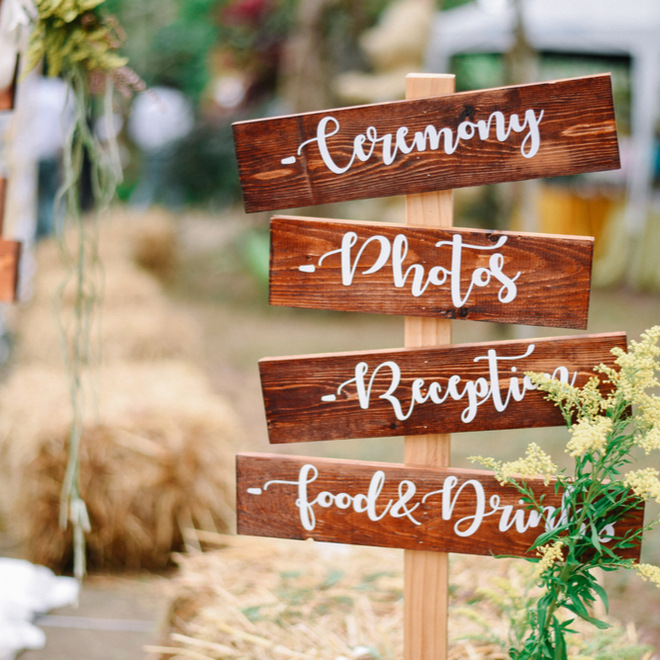 If you want to have a laid-back and relaxed rustic wedding away from the hustle and bustle of the city, take a look at this article: How to Throw a Fantastic Rustic Wedding
Indoor Wedding Reception
Having an indoor wedding reception comes with many advantages, from control over the weather to already built-in kitchen facilities, electrical outlets and restrooms.
Whether you're planning a small gathering in an intimate restaurant venue or a large party in one of the all-inclusive hotel venues, you'll always have control with an indoor wedding reception. Let's take a look at some ideas:
Drape the ceilings

Build a self-serve beverage wall

Rent coloured glassware

Play old-school games

Hang your flowers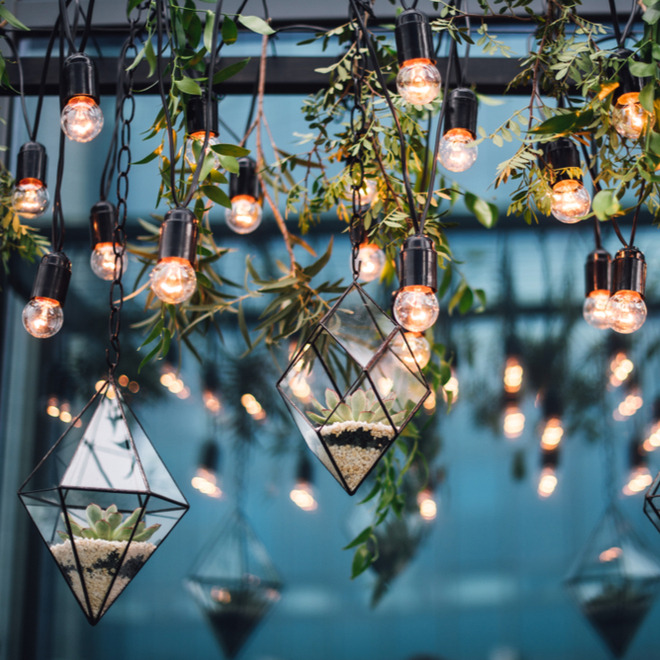 Backyard Wedding Reception
What's not to love about a backyard wedding reception? They're casual, pleasant, and, perhaps most importantly, usually affordable. Moreover, there are endless decoration ideas for a cosy backyard soiree. Check out these ideas:
Play lawn games

Make a picture-perfect display

Put a large potted tree and turn it into a wish tree

Make origami-inspired cone holders for small snacks or candy

Display baked goods such as pies, cookies and cupcakes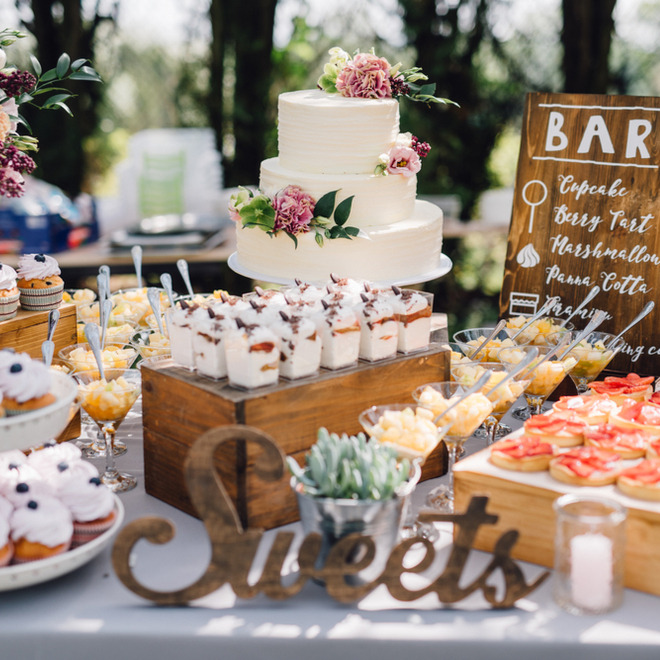 Beach Wedding Reception
There's nothing more romantic than dancing barefoot under the stars with sand between your toes and the waves crashing in the distance. You can find several gorgeous beach wedding reception ideas below and get inspired:
Decorate your chairs with palm leaves

Provide boho-inspired fans to your guests

Create a spot for your guests to leave their shoes

Serve tropical signature cocktails

Put shells on the top of your cake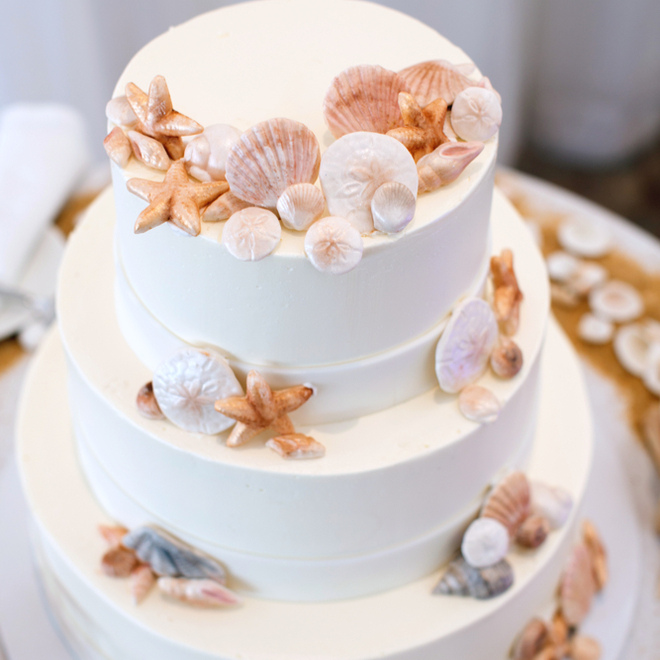 If you are dreaming of a celebration at the beach, this article may be of interest to you: Everything You Need To Know About A Beach Wedding
Wedding Reception Themes and Styles
Wedding receptions come in all shapes, sizes, and themes. When selecting your wedding reception theme, as mentioned earlier, our advice is to stick with your wedding venue theme for your reception as well, which will ensure a smooth transition from your ceremony to reception.
Whether you prefer a hotel, beach, garden, or winery wedding receptions, it is all possible and easy to realize as long as you maintain coherence within your wedding venue theme. You should ask yourself what themes you and your partner enjoy most. Do you prefer outdoor over indoors? Do you enjoy elements of greenery or sand? etc.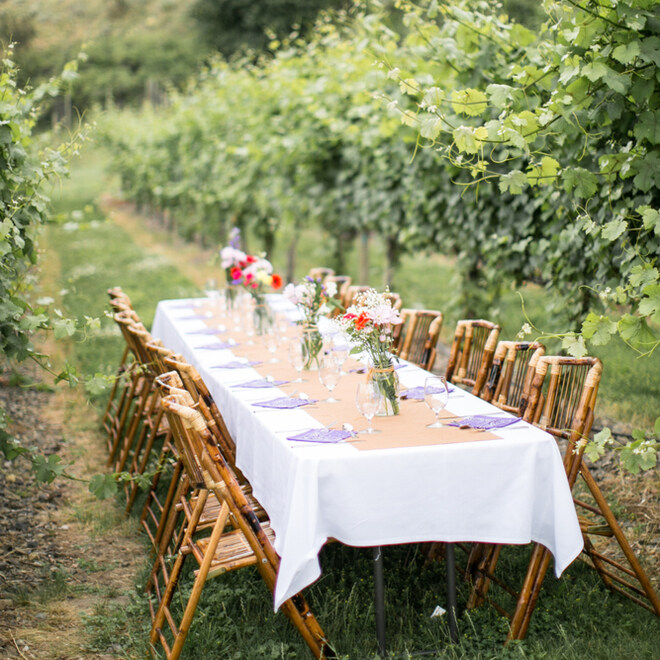 When it comes to wedding receptions, not only can you choose between themes such as vintage-style wedding reception or country-style wedding reception, but you can also choose between the different styles wedding receptions have to offer. Below you will find a shortlist of different styles of wedding receptions that you can consider:
Breakfast/ Brunch Reception

Lunch Reception

Afternoon Tea Reception

Champagne and Cake Reception

Cocktail Wedding Reception

Dinner Wedding Reception
Breakfast, brunch, or lunch receptions might be very fitting for you if you're having an early wedding or mid-day wedding. They are also a great way to save on your budget since instead of eating steak and meats, you'll have to provide your guests with menus that include eggs, waffles, and mid-day menu items.
Afternoon tea receptions or high tea wedding receptions are perfect for couples who want to simply provide finger foods, sandwiches, and lighter items on their menu for wedding receptions. These afternoon receptions also leave tons of time available to party afterwards!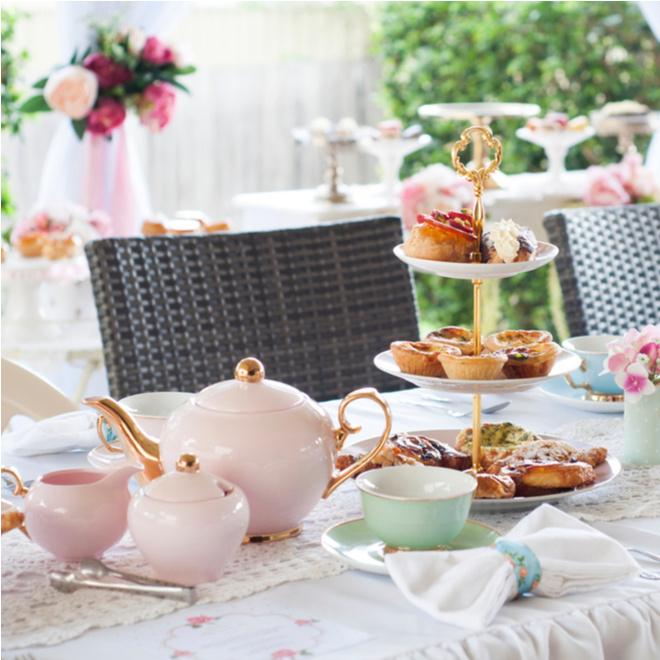 If we're talking about wedding reception ideas on a budget, a champagne and cake reception is the way to go! There are plenty of weddings where couples simply offer mini desserts and pastries along with their wedding cake, save a ton of money, as well as have a great and joyful time!
Cocktail wedding receptions are the way to go to get the best of both worlds! The perfect cocktail wedding reception idea doesn't include a formal sit down yet still offers guests delicious appetizers and starters that will get them filled up while leaving tons of room in their bellies for a dance party!
Last but not least, you can always have a classic dinner wedding reception. Dinner wedding receptions are still the most popular among all. By hosting a dinner, you also get to enjoy the traditional sit-down and share a meal with your loved ones.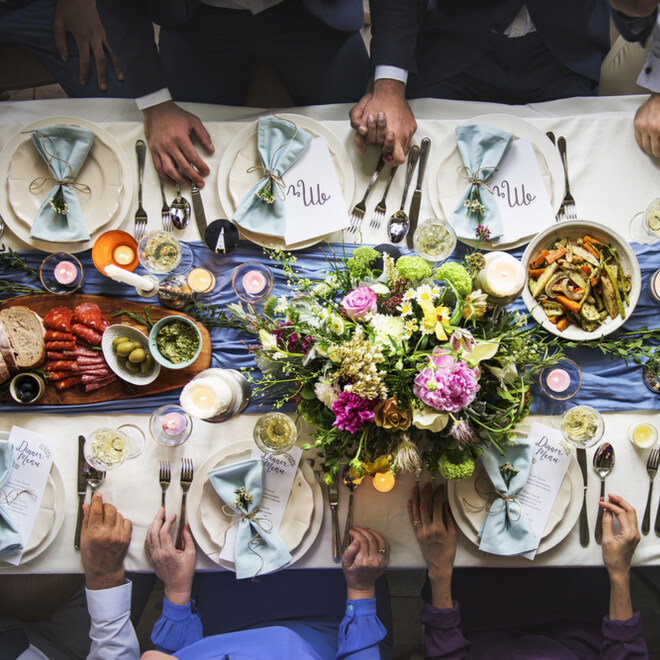 8 Wedding Reception Decoration Ideas You Can't Miss
Hang biodegradable paper lanterns

Create a custom-made cocktail and share the recipe

Put a balloon arch to the entrance

Create flower crowns for your bridesmaids

Decorate with vintage rugs

Use a barrel as a bar

Create a floral photo booth backdrop

Create a cosy lounge area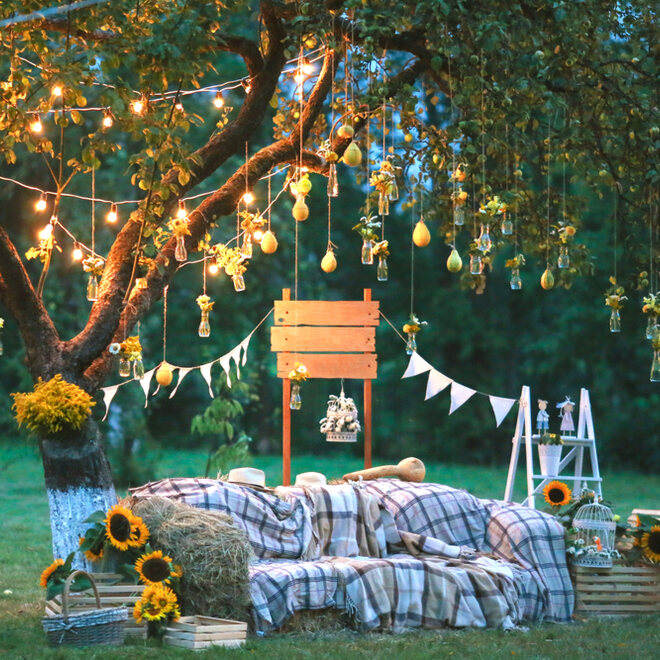 Wedding Reception Music Ideas
A very important part of your wedding reception is, of course, your wedding reception music list! Since couples usually have family members and friends coming from all over, we advise you to have a nice diversified playlist. It would help if you started by selecting your wedding reception entrance music.
The fun thing about it is that it is your wedding and there are no rules! If you prefer to enter on a slow song, pick a slow song! If you prefer to enter with a rock song playing in the background, pick a rock song! There are no strict guidelines as long as you ensure that there is a little bit for everyone.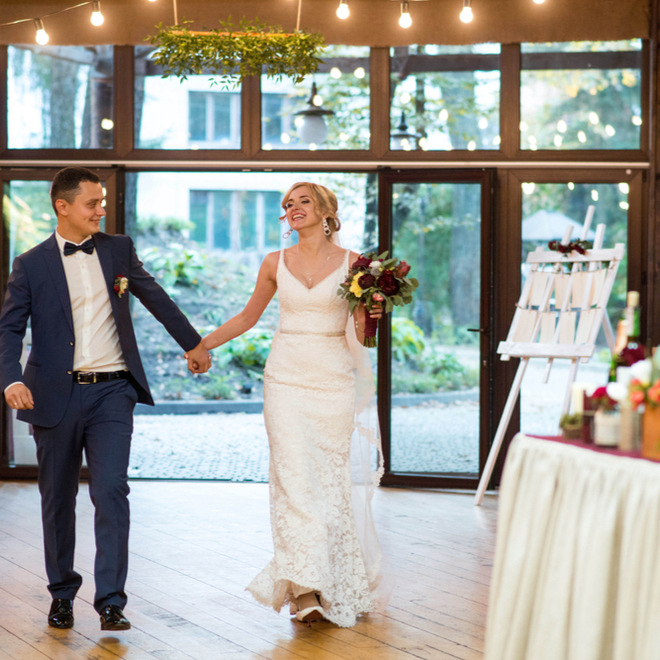 An easy and fun way to come up with music for a wedding reception is to ask for requests from your guests. This can either be done before the wedding by creating an online playlist that everyone can add songs to, or at the wedding itself by simply allowing guests to put in requests on the spot.
Also, don't forget that all of the guests you invited are your friends and family, you know what they like, so no need to worry one bit, we're confident that they will enjoy your music if you followed the steps above!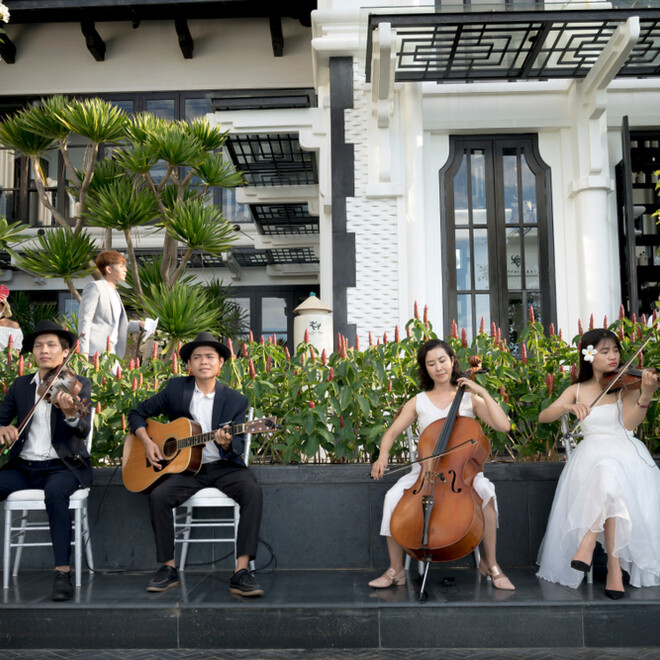 Wedding Reception Dress Ideas
A reception gown will completely change your appearance, and for many brides, it's a chance to change into something that's not only fun and fashionable but also comfortable. There are reception dresses to fit any bridal type, whether you're having a casual backyard gathering or a lavish black-tie reception.
Stylish jumpsuits, mini dresses with a high neckline and long sleeves, sparkly sheath dresses, beaded gowns and bohemian lace dresses with tiered skirts are among the latest trends. Whatever you choose, make sure that it reflects your style, and it's comfortable to dance the night away!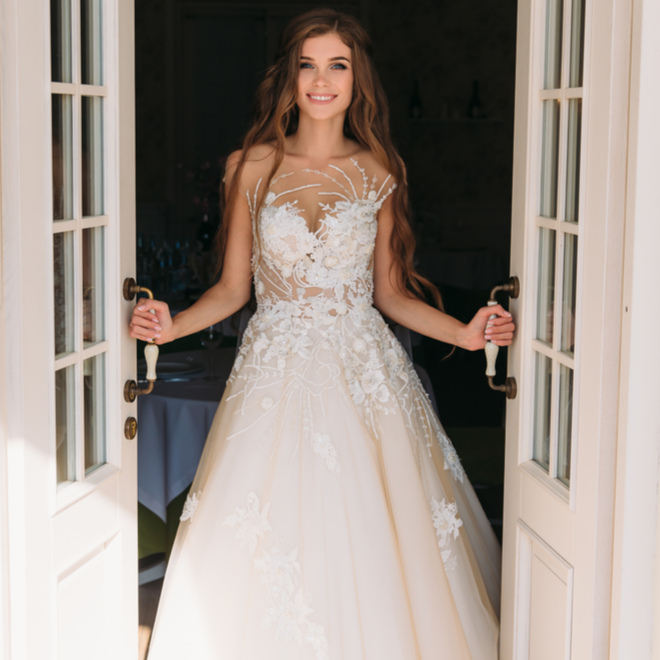 How to Make Your Reception Fun
While the wedding ceremony is important, the reception is likely what you and your guests are most looking forward to—after all, who doesn't want to eat, drink, and dance? Personal, entertaining, and original elements keep guests smiling and chatting long after the last dance.
Take a look at some of our favourite reception ideas below. You can make your reception fun without dancing with these ideas:
Drag Performance:

A drag show will liven up your wedding celebration. For an unexpected twist, have your favorite queen officiate your ceremony.

Designated Kids Area:

Arrange a babysitter to set up and supervise movies, games, crafts, or a kid-friendly dance party in a different area. Set up a few tables with games, coloring books, crayons, and small toys.

Tarot Card Reader:

Invite guests to see an astrologist or tarot card reader for something exciting to do when they need a break from partying.

Photo Booth:

Your guests will spend a lot of time in the photo area, which has a lot of cute props and fun backgrounds. Additionally, if you're having a themed wedding, you can use your photo booth to match your theme.

Live Painter:

It's a wonderful idea to keep guests entertained during the reception—they'll want to see the scene unfold on canvas. Plus, at the end of the evening, you'll receive a custom portrait of your most special day.

Tea Bar:

A custom display of flavored tea bags will provide guests with something warm to drink at the end of the night.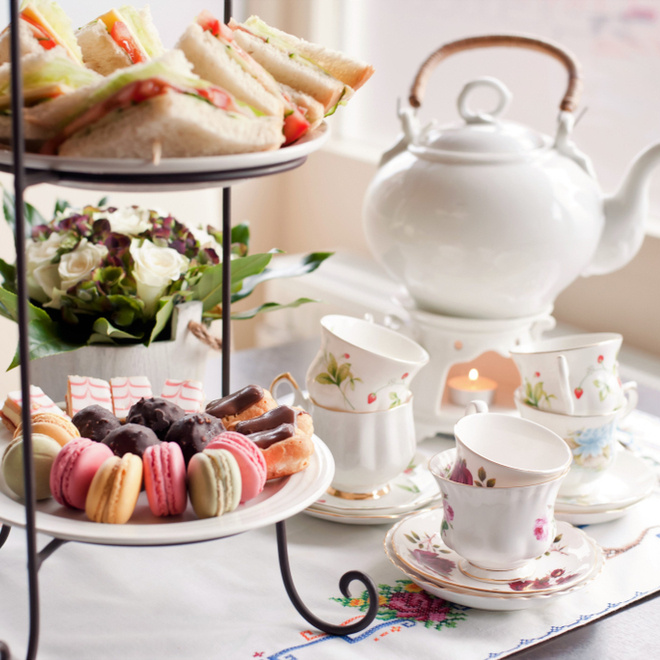 Wedding Reception Cost
It's hard to give an exact amount on wedding reception costs since it depends on the affordability of the venues you're choosing between. For example, you can choose a grand and luxurious location or select a more budget-friendly location.
The most important factor in the expenses is the number of your guests. The wedding reception cost per head is usually very telling how expensive or inexpensive your costs will end up being. Nearly all wedding reception venues provide offers that can be tailored to your needs.
As you can create your special day from scratch by visiting wedding vendors one by one, you can also choose from all-inclusive wedding reception packages that will save you lots of legwork.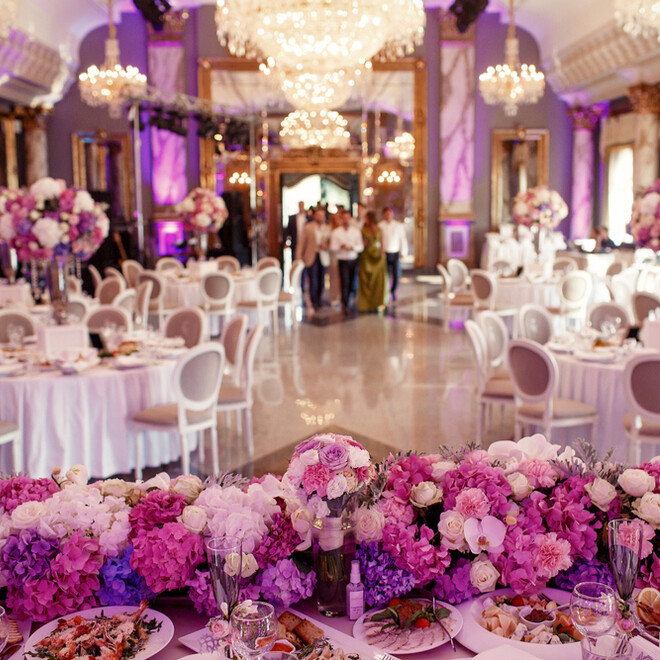 Selecting the Perfect Wedding Reception Venue
After setting your budget and deciding on the approximate number of guests, it's time to find the ideal venue to accommodate your wedding vision. Wedding receptions can take place nearly everywhere, including elegant restaurants, large banquet halls, country barns and farms, wineries, estates, mansions, golf clubs and many more.
You can check outdoor reception venues for summer and spring weddings, book a tent rental company for fall weddings, or have an intimate celebration with your loved ones in an indoor setting in winter.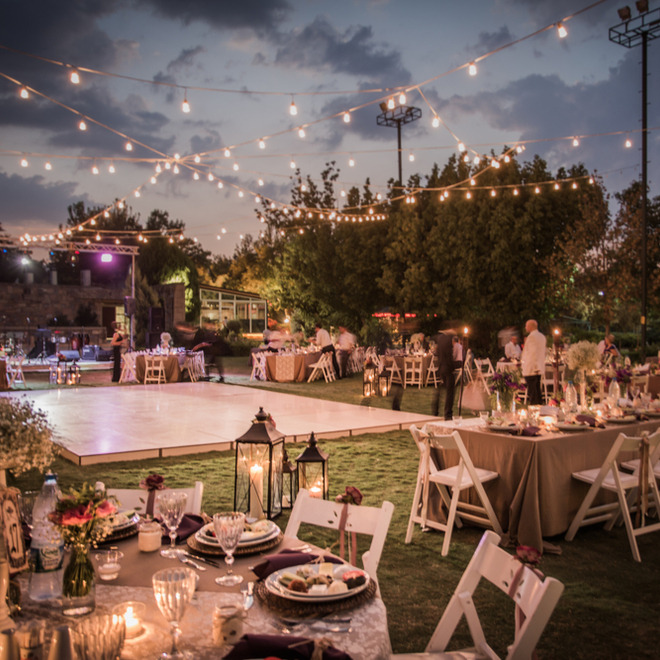 Wedding Reception Venues Sydney
Capital of New South Wales and the largest city in Australia, Sydney has a wide array of best wedding reception venues for every style, budget and capacity -from small venues to the largest ones. If you've chosen to marry in this sprawling and diverse metropolis, you might find it difficult to choose from the numerous top-notch wedding venue options!
Wedding Reception Venues Melbourne
There are so many wedding reception venues in Melbourne that your biggest challenge will be choosing one. As the second-largest city in Australia, this city is a culturally rich metropolis that can meet every couple's needs. Melbourne has it all, from luxurious five-star hotels and rooftops to beachfront restaurants and many small wedding reception venues with an industrial-chic vibe!
Wedding Reception Venues Brisbane
Sunny capital of Queensland, Brisbane, has the best beachfront wedding reception venues, from five-stars resorts and restaurants to subtropical gardens and fantastic private estates. You can find dozens of venues that are suitable for you, whether it's an affordable and intimate setting or a grand and deluxe one.
Wedding Reception Venues Perth
There's something for every couple searching for a stylish wedding reception venue in Perth, from industrial warehouse spaces representing the city's rich past to modern perches overlooking the ocean. Whether you're looking for an elegant ballroom in Perth or an estate with a vineyard view in Swan Valley, you'll undoubtedly find the perfect venue!
Reception Venues Adelaide
Sitting between the rugged south coast of Australia and the foothills of the Mount Lofty Ranges, Adelaide offers unique wedding reception venues. From budget outdoor venues to elegant indoor ones, this refined city has everything you need for a dreamy celebration!
Wedding Reception Venues Gold Coast
South Coast, also called Surfers Paradise, is one of Australia's most visited regions with its beautiful sandy beaches and picturesque coastline. You can find many wonderful beach reception venues in every capacity, budget and style in this vibrant destination!
We've touched on almost everything about wedding receptions. But did you know that you can get professional help to bring these ideas to life? You can contact the wedding venues and vendors in your city and make your dream wedding come true!