Want to add a pinch of boho touch to your big day? We have got a couple of boho wedding ideas that'll elevate your trendy hippie celebration. We cover everything from boho wedding dresses and hair to wedding cakes and bouquets in this article. Enjoy the read!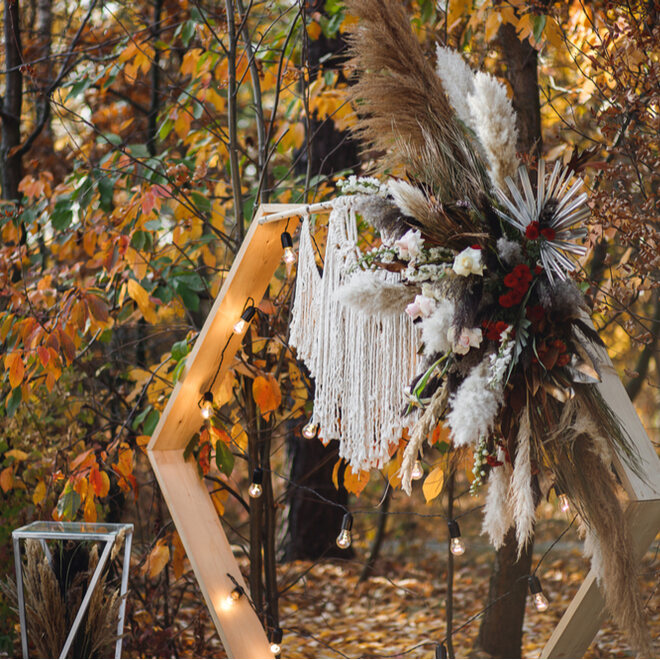 What is a Boho Wedding?
The pages of a magical woodland enchanted book come alive in a Bohemian Wedding. Boho weddings have a soft, romantic vibe to them that is earthy and inspired by nature and the great outdoors.
These days, boho weddings are the most fashionable and in-demand wedding style. It is all the rage right now, and it emphasizes individuality over the conventional. The wildness of boho weddings is best described by flower crowns, rustic wedding decorations, and barefoot couples.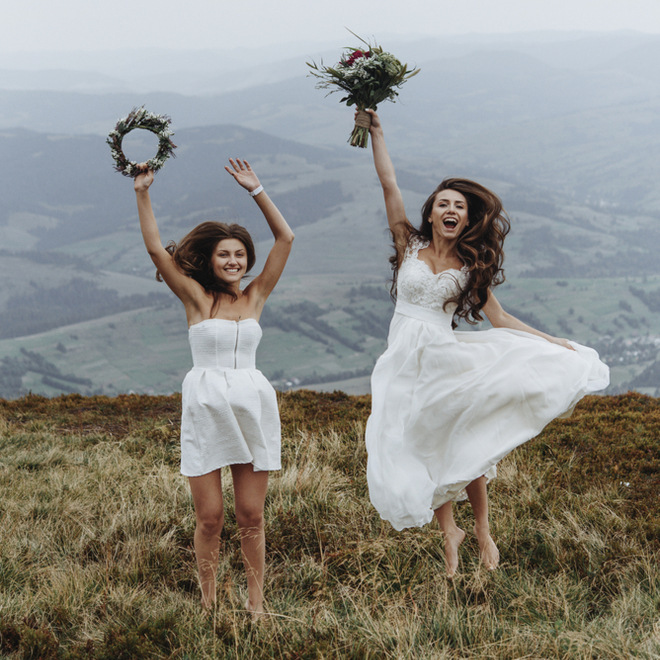 What is the Difference Between a Boho and Rustic Wedding?
While there is considerable overlap between the two styles, they are not identical and have some distinctions. Rustic style is associated with natural things, a lot of greenery, and an organic approach. Boho, on the other hand, is more romantic, whimsical, and eclectic.
While each has its own set of characteristics, they can overlap greatly. It all depends on your vision for your big day and, more importantly, your own taste.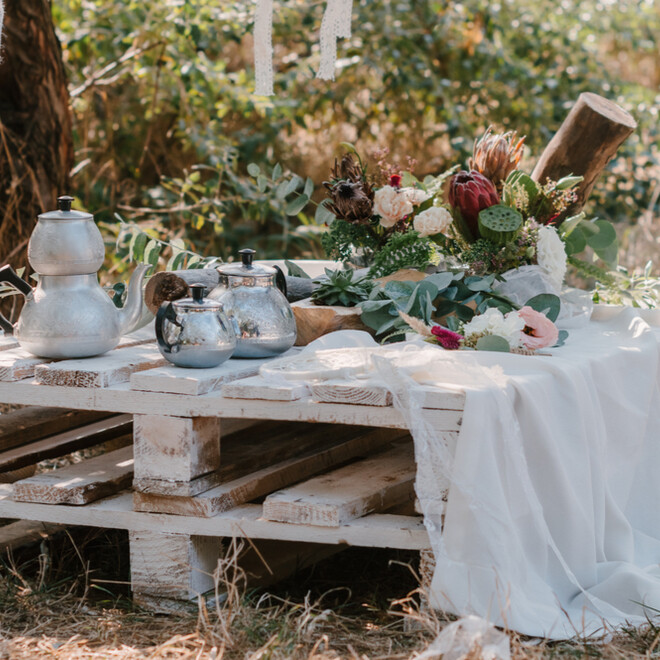 You can find everything you need about the rustic wedding theme by clicking this article: How to Throw a Fantastic Rustic Wedding
1- Choose Among the Popular Boho Wedding Venues
The boho vibe is all about being free-spirited and embracing nature, so choosing the right wedding venues is super important. The classic bohemian wedding takes place outside, bringing guests closer to Mother Nature. It means an outdoor ceremony on the seaside, in a park, or in the countryside.
You can hold a reception for a bohemian wedding either indoors or outside, depending on your preferences. However, since bohemian weddings are known for highlighting nature, if you decide to have an indoor reception, try to bring the outside in with your decor.
You're lucky since, with its stunning greenery, incredible natural beauty and rugged coastlines, Australia is the perfect backdrop for your boho-chic celebration.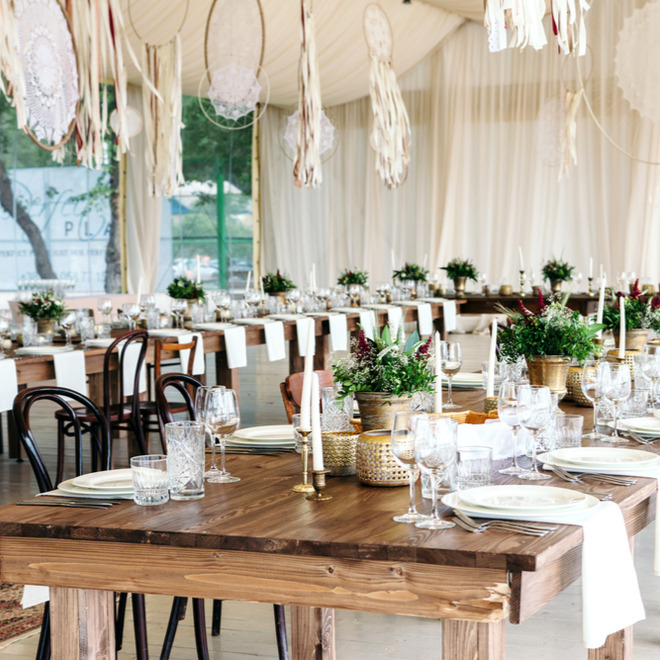 If you want to have a boho beach wedding overlooking the beautiful blue waters, this article might be read for you:Everything You Need To Know About A Beach Wedding
2- Create a Delicious Bohemian Wedding Menu
If you're on a tight budget, you may make your own food thanks to the laid-back atmosphere. Create your own food stations or bars. Alternatively, you can order your food from a local bakery or restaurant and set it up yourself.
Buffet or family-style food service is a great option for a bohemian wedding if you have the budget for it. Opt for food that complements your theme:
Craft beer
Rustic pies
Charcuterie boards
Vintage trailer bar
Local wine
Food stations
Food trucks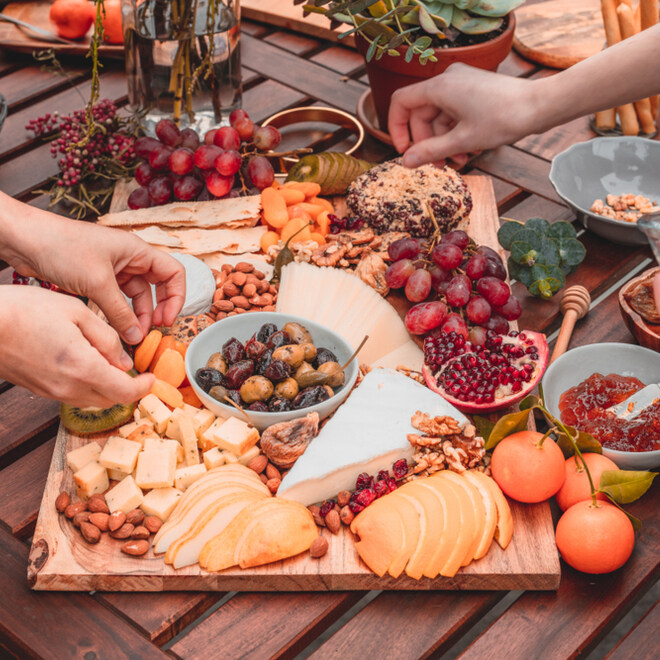 3- Find a Beautiful Boho Wedding Dress
Flowing fabrics, one-of-a-kind laces, and elegant details are just a few of the fantastic elements of bohemian wedding dresses. The boho bride seeks comfort and a laid-back vibe while yet looking and feeling stunning. Halter necks, long loose sleeves, and lace dresses are some of our favourite design styles for something a bit unusual.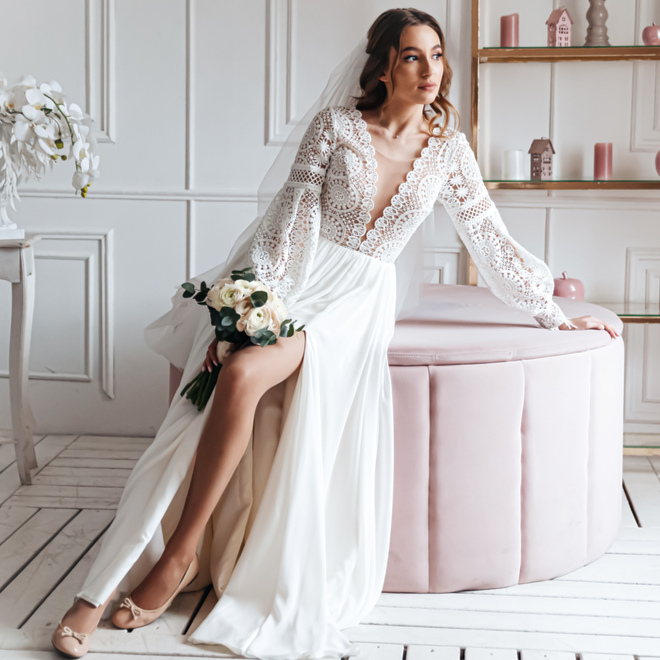 Lastly, off-the-shoulder and backless white boho beach wedding dresses are so trendy for a magical seaside celebration.
You can also consider a two-piece wedding dress. You can pair flouncy skirts with almost everything, from crop tops to luxe sweaters and pretty camis, and wear your bridal look again and again in the next stylish events, such as night outs and fancy dinners!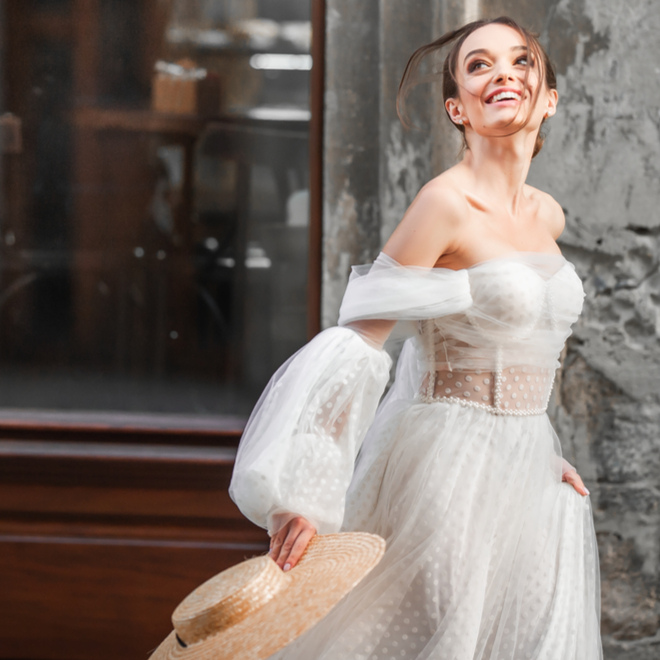 Boho Flower Girl Dresses
When narrowing down your flower girl dress options, remember to consider not just your budget but also the comfort of your little guest. It will help her feel ready to toss those petals down the aisle if she feels beautiful and dressed seasonally appropriately.
Off-the-shoulder or a v-back and cap sleeve dress with lace and floral accents are popular options for littlest party members.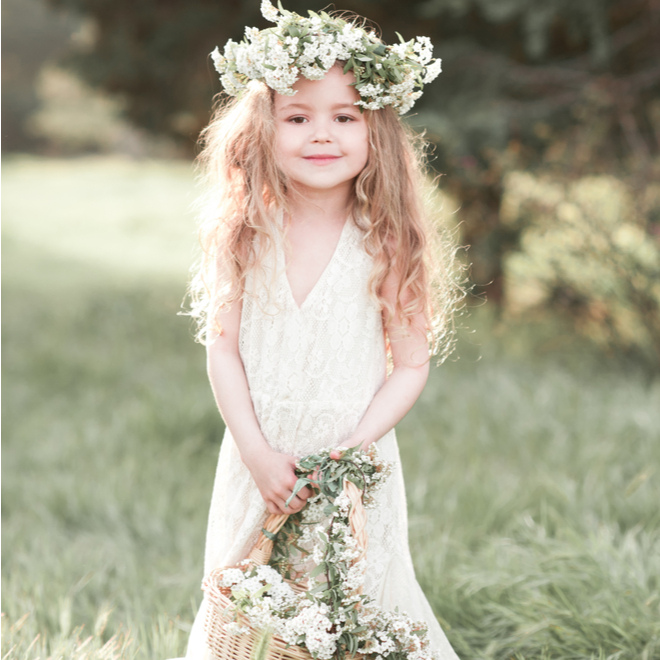 Mismatched Bohemian Bridesmaid Dresses
Bohemian-themed weddings are the best type of event for mismatching bridesmaid dresses. Remember, if you're allowing your squad to choose their own outfits, give them specific guidelines (i.e. colour, size, and so on) to make sure that no one sticks out like an aching thumb.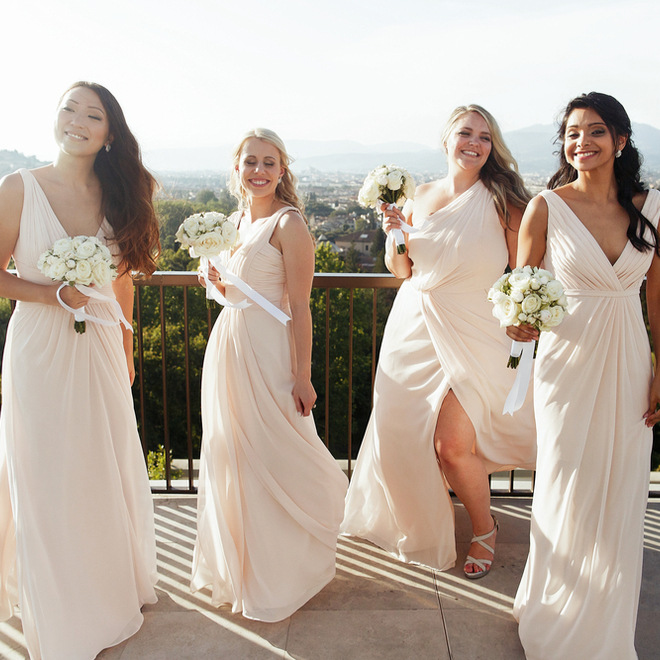 4- Choose a Relaxed Yet Stylish Boho Groom's Attire
Bohemian grooms usually wear something relaxed but chic – like a shirt with west or a coloured suit. They usually don't wear too formal as their special day typically occurs outdoors, so they try to minimize the risk of their attire getting dirty.
5- Go For a Free-Spirited Boho Wedding Hairstyle
Loose waves are the way to go when it comes to a boho hairdo! This look screams boho elegance whether they are left to flow freely, cobbled together in a loose bun, or gently pinned up.
Adding textured braids, a fantastically crafted headpiece, or fresh flowers can give your look an extra unique touch. Lastly, the ever-popular flower crowns are also perfect for the ultimate boho look!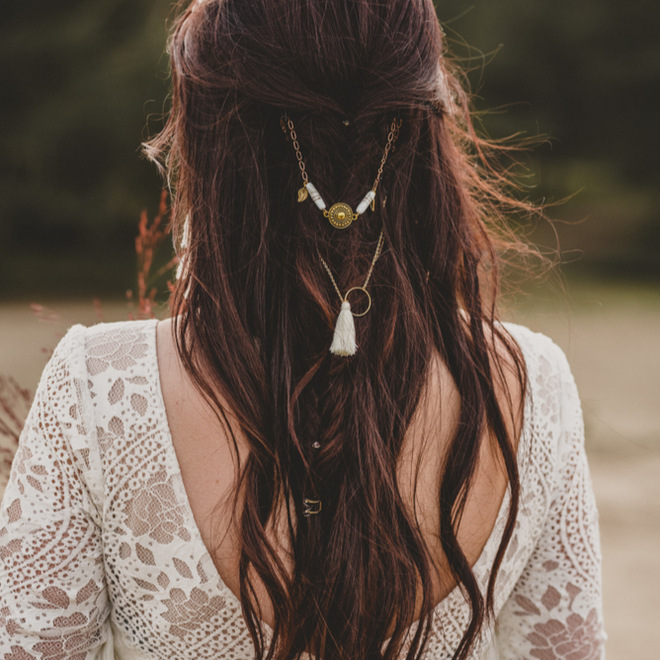 6- Complete Your Look with Casual and Comfy Boho Wedding Shoes
Wear shoes in neutral shades of brown, beige, champagne, ivory, or pastel colours with a boho bridal gown. Look for natural or delicate shoe materials like lace, vegan leather, and silk. Shoes with unique features that complement the free-spirited personality of the boho bride are perfect fits.
Ankle boots, peep-toe pumps, comfy flats, and lace-up block heels are great shoe choices for boho-themed weddings. Also, strappy flat sandals go perfectly with a boho beach wedding dress! Soft loafers, leather boat shoes, boots and converses can easily complement the groom's personal style by providing the ultimate comfort.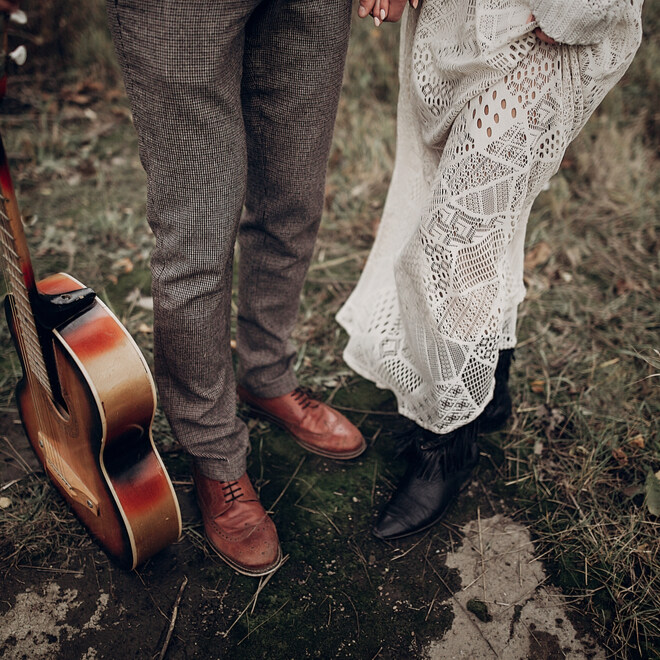 7- Consider Alternative Boho Wedding Cakes
Semi-naked cakes, a variety of fresh flowers, and fresh berries are the perfect way to give your wedding cake a boho feel. Greenery and little pops of colour add just the right amount of fun and liveliness to a neutral base.
You can also consider choosing bite-sized delights instead of a traditional boho wedding cake. Macarons and cupcakes are the ultimate mouthfuls of delicious magnificence, and they provide a unique alternative. You can arrange them on a layered platter, each one individually decorated or have your cake designer make a tower of irresistible temptation.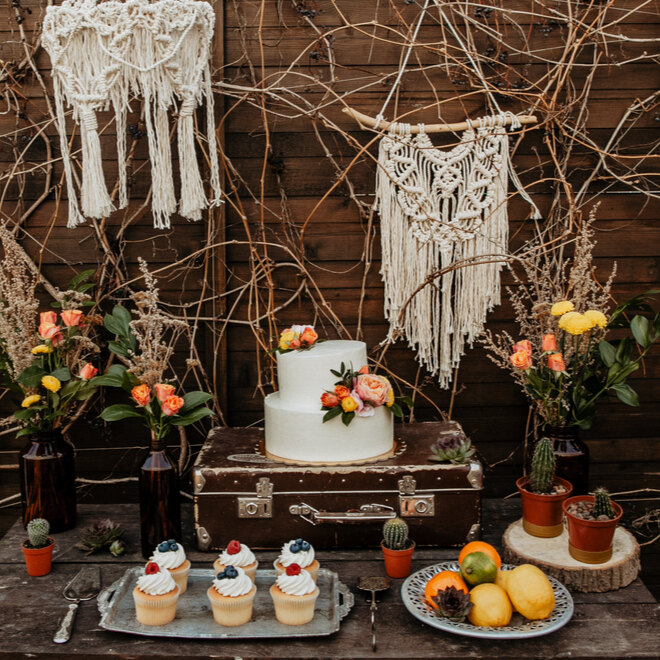 8- Incorporate Fantastic Boho Wedding Decor Ideas
Teepees, carpets, dream catchers, feathers, candles, lanterns, fairy lights, engravings, and crochet are just a few decor elements you can use to set the scene for your boho wedding.
Also, natural and wooden touches are some of the essentials to pull through a real boho style, and draped linen and clean fabrics are a lovely way to bring some brightness.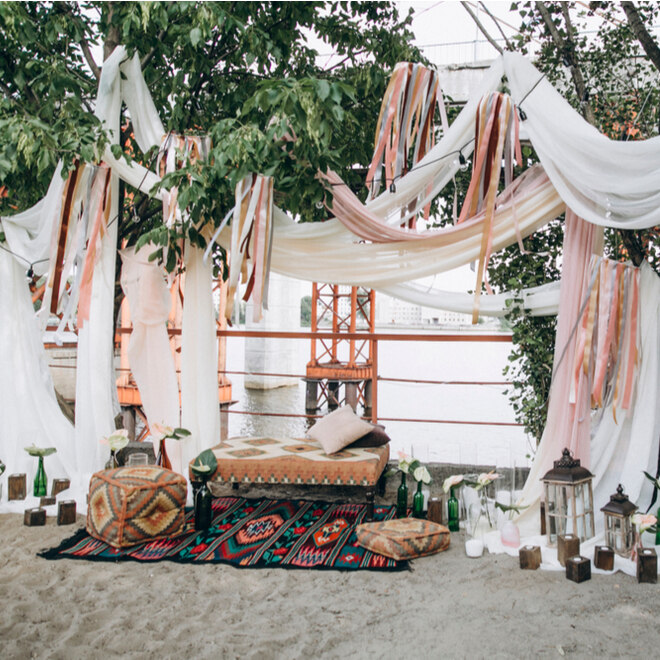 For the finishing touches, use a lot of leaves to give it a natural feel while also allowing your blossoms to stand out, giving it a genuine boho vibe. All of these boho wedding decor items work together to create a cozy and welcoming environment.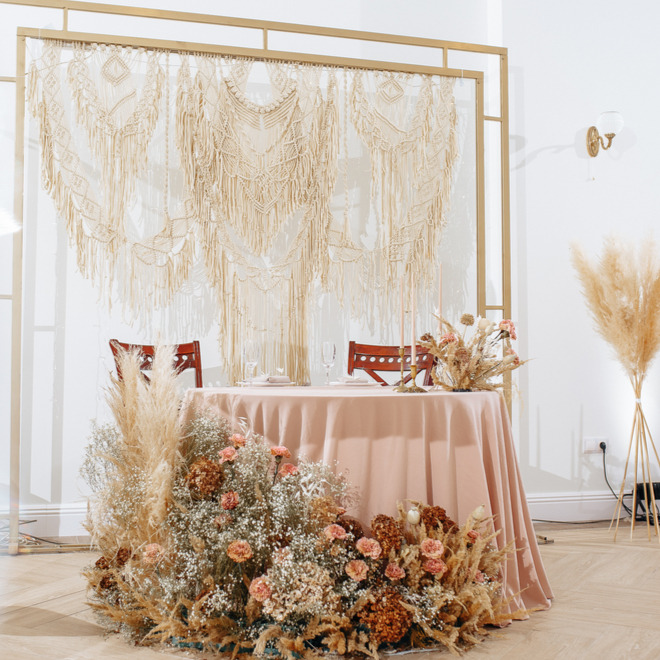 9- Set the Tone with Creative Boho Wedding Invitations
Invitations set the tone for a celebration, and boho weddings offer endless ways to amp up the creativity level in your wedding stationery. Feather motif, desert landscape artwork, and a dreamcatcher are perfect for boho desert vibes.
A minimalist evergreen artwork goes perfectly with a woodland boho theme, and you can also consider adding deer motifs if you're considering having a winter wedding. Finally, pampas grass with tropical elements, such as seashells and palm leaves, is ideal for a boho beach wedding.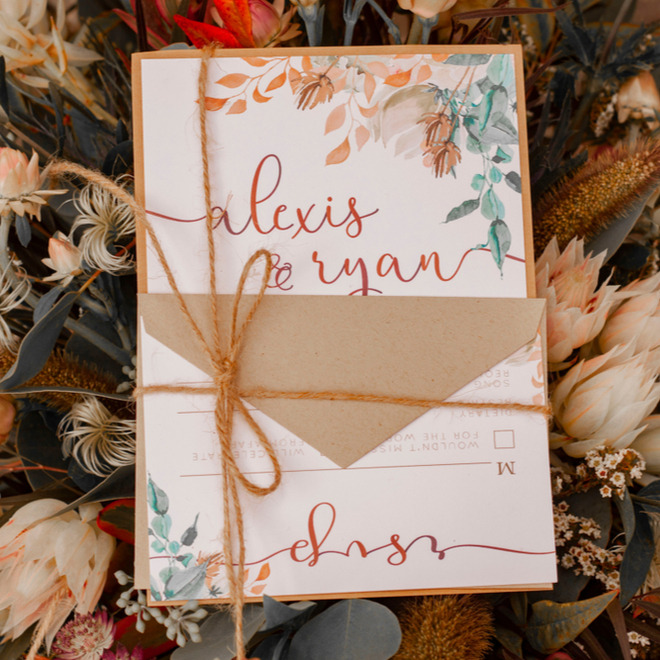 10- Don't Forget the Feathery Boho Wedding Flowers
For the ideal boho bouquet, focus on colour, texture, and volume. For an amazing floral backdrop, use bold and brilliant colours and be sure to blend them with plenty of greenery. Colourful roses, daisies, dahlias and carnations, are among our favourite flower choices.
Take these lovely hues and apply them to your venue's decor and floral arrangements. Mix in your chosen florals to your headpiece or flower crown for an extra touch of boho style, and save a few extras to top off your boho wedding cake!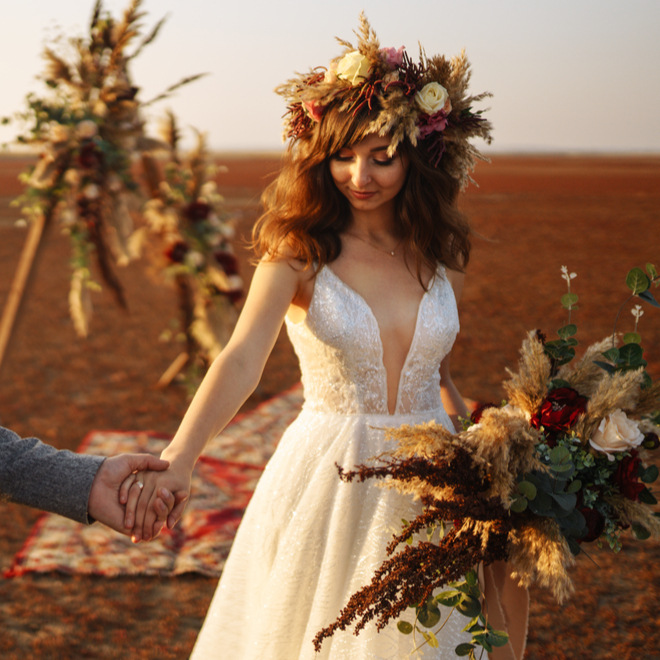 Our article has come to an end. We hope you were able to find all you were looking for and more. Don't forget to leave a comment if you have any questions.
Remember that WeddingHero is on your side throughout this stressful process. Now, start planning your boho-chic celebration by searching for wedding venues in your city! We wish you a wonderful boho wedding, just like your love!