Have you decided to get married but don't know what kind of wedding celebration you want? You're at the right place! We've created a list of the most popular and extraordinary wedding types you can select! Let's get right into it.
The Importance of Wedding Celebration
The most important part of a wedding is probably the ceremony. The words used to declare never-ending love and admiration between each unique couple are the most significant part of any wedding ceremony.
Other elements of a wedding ceremony include an offering of love and support from family and friends present. A religious wedding ceremony also assists couples in committing their relationship to God.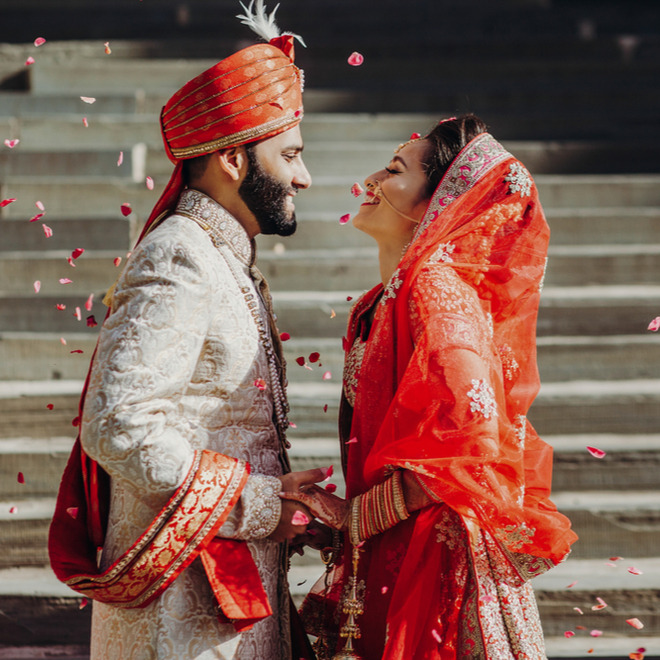 From decoration ideas to order, we've explained everything about a wedding ceremony in this article: The Complete Guide to Planning Your Wedding Ceremony
1- A Traditional or Classic Wedding
Even though many couples are opting for unusual and alternative weddings these days, there are still a good number of couples who choose classical and formal weddings. In this type of wedding, the bride usually wears a white gown, and the groom goes with a tuxedo.
The ceremony takes place in the church or any other religious setting, and the reception is usually held in hotels, castles, ballrooms, banquet halls or function centres. The reception usually includes a three-course sit-down meal. Groomsmen, bridesmaids, ushers, flower girls, and page boys are all dressed accordingly as well.
Speeches, readings, toasts, cake cutting, first dance, mother-son and father-daughter dances, as well as a bouquet and garter toss, are all popular events at traditional weddings. Unity ceremonies, such as a handfasting ceremony, or a sand ceremony, are also used in weddings.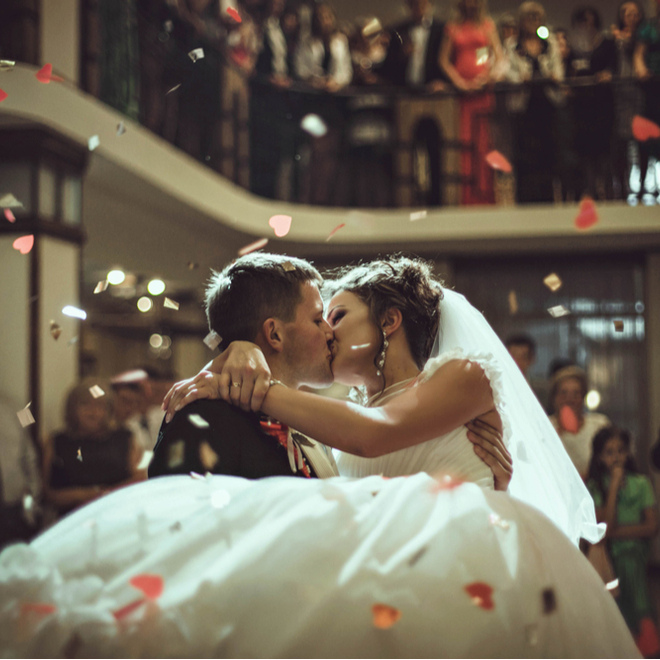 2- Destination Wedding
Some couples opt to hold their wedding in a separate place from their city or sometimes, even a different country. Couples chose a destination wedding for different reasons. Since most functions are booked and managed by the host resort or wedding venue, a destination wedding helps relieve a lot of the hassle of arranging a traditional wedding.
Destination marriages are often less expensive for a couple because they entail only close friends and relatives willing to fly. The couple can prefer to have their honeymoon in the same place afterwards. Destination weddings are normally less formal than classical weddings, featuring many games, leisure, and a general laid-back atmosphere.
Couples should base their wedding theme on the vibe and ambience of their chosen venue. The majority of destination weddings take place on beautiful beaches, tropical regions, and sun-kissed islands, all of which inspire attendees and the wedding to go smoothly. You can surely make your wedding unforgettable with a destination wedding.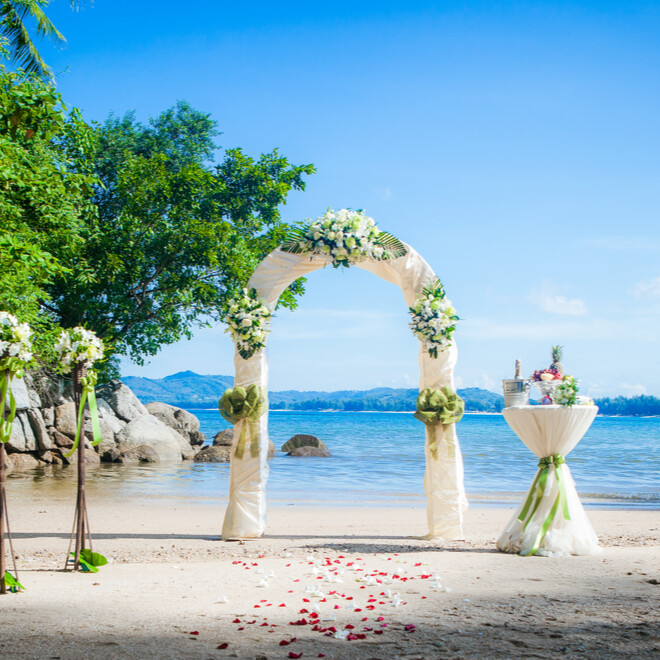 Are you dreaming of a fairy-tale wedding by the deep blue waters? This article might be just for you: Beach Wedding 101: Introduction to the Perfect Wedding
3- DIY Wedding
A DIY wedding, or "Do It Yourself" wedding, is a wedding in which the couple make nearly all of the wedding's necessities themselves. There are many important aspects to consider; decorations, food, the wedding cake, entertainment, and the reception bar.
DIY weddings are a perfect way for budget-conscious couples to hold expenses minimum. Although there are several different ceremonies, DIY weddings are often more relaxed and less formal than formal weddings.
The bride can do her own makeup, perhaps with the assistance of her bridesmaids, and make the wedding party favours and all other required accessories. Some DIY brides even make their own outfits and bouquets. Depending on the couple's preferences, the celebration may be a casual dinner or a cocktail party.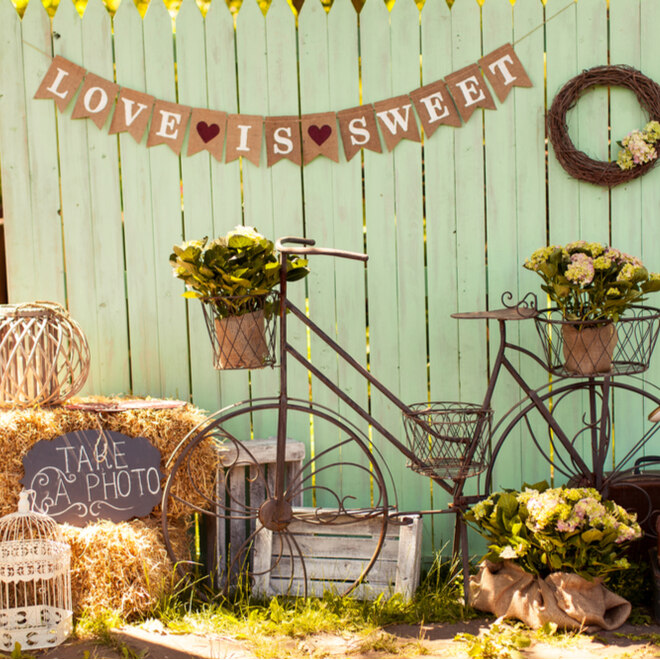 4- Elopement Wedding
The word "elopement wedding" seems like a complete contradiction to most people. Weddings are big affairs with seating plans, lots of decorations, exquisite catering and many more. However, elopements are smaller gatherings with just a few visitors and little preparation.
Though it's affiliated with marrying secretively, most couples exchange their vows in front of a couple of friends and family members in modern times. Some couples want to elope because it is less expensive and do not want to cope with the stress of involving many guests.
Traditional weddings can be very costly, and some couples don't see the point of spending that much money as they could be saving for their future life together. The uniqueness of an elopement is the ability to combine formal and non-traditional aspects to create the perfect day for you.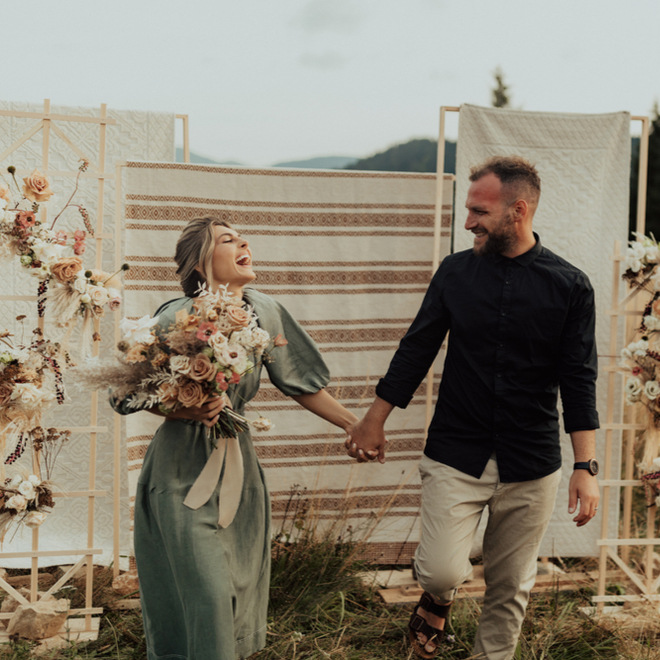 5- "Ambush" or "Surprise" Wedding
An ambush elopement or wedding occurs when a couple plans to marry but does not tell their guests until after the ceremony has started. This wedding type is a popular option for holidays and festivities because it can be a lot of fun and everyone would be gathered together.
Invite friends and family over for a birthday party, engagement, housewarming, change into your wedding outfits quickly followed by getting married! Surprising people is fun while saving so much money, and you won't have to deal with all the nooks and crannies. We can call a surprise wedding a celebration of love instead of a thoroughly planned, complete wedding.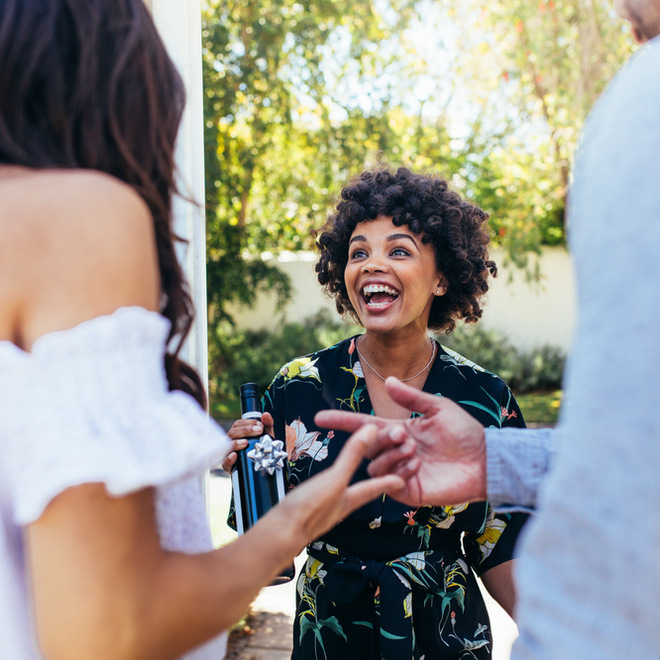 6- Green or Eco-Friendly Wedding
Your wedding should represent your personality as a couple, including your personal style, love story, and values. If you and your partner value environmental sustainability, your wedding should reflect that.
To make your celebration more eco-friendly, you can avoid single-use paper and plastics for dishes and utensils. Choose caterers that support local farmers, choose potted plants and succulents for decor, skip paper wedding invitations entirely.
You can look for sustainable wedding dress designers for your wedding dress or choose to wear a secondhand one. And don't forget to choose wedding favours that your guests will actually use.
7- Offbeat Wedding
In this age of individuality, different types of weddings are becoming more popular. Furthermore, you are unique, and your wedding should reflect who you are and what you value! In reality, instead of a wedding, you might do something else. Perhaps, host the event at a non-traditional wedding venue.
You can downgrade your cake, ditch traditional wedding heels, cut down on bridesmaids and also your expenses, throw a brunch and more. Your wedding venue can be everywhere, from amusement parks and zoos to aquariums and caves.
You can wear a short dress. Flowers or feathers may be thrown around your outfit. Your dress could be striped, or it could just be a dress of your favourite colour. Moreover, it doesn't have to be a dress, and you can wear anything, like a bridal jumpsuit.
Forget every tradition or custom that comes to my mind about weddings. If you're thinking to yourself "how do I make my wedding not boring?", offbeat weddings are perfect for you. You can choose not to dance, have a wedding celebration after you've legally married, or you can even wear a black wedding dress. It's completely up to you!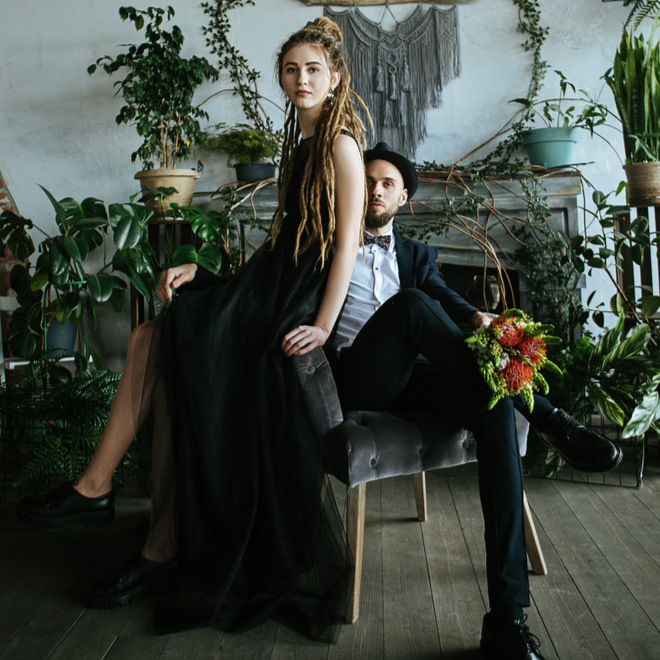 8- Geek Wedding
There is no idea or concept too insane to highlight your favourite subjects, from Lord of the Rings to Pokemon, science, to just your favourite number.
Buck custom for something more interesting, a little geeky even, that refers to your love of a certain program or hobby that will encourage your guests to truly experience you, as couples are personalizing their weddings more and more.
The most popular wedding themes of geek weddings are Game of Thrones, superheroes, Lord of the Rings, Star Wars, Doctor Who, Harry Potter, science, video games and more. Satisfy your inner nerd, and get ready to geek out!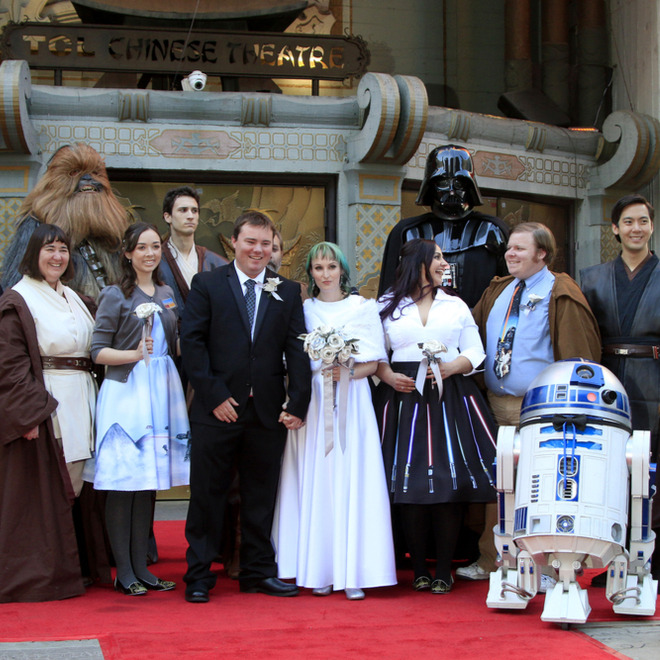 After deciding what kind of wedding you want to have, you can find thousands of different wedding venue options here at WeddingHero. You can choose your city and the features you want to have in the venue, and you can examine the profile pages of the listed companies in detail.
On the profile pages, it is possible to get detailed information about the venue, browse the photos and even read the comments of the real couples who had their wedding at that place. Do not forget to ask for service details and price quotes from the venues you like!