If you're in the midst of planning a wedding ceremony and don't know where to start, you've come to the right place. In this article, we will cover questions such as how to plan a wedding ceremony? What should a wedding ceremony program consist of? How to choose wedding ceremony songs? Etc. Enjoy the read!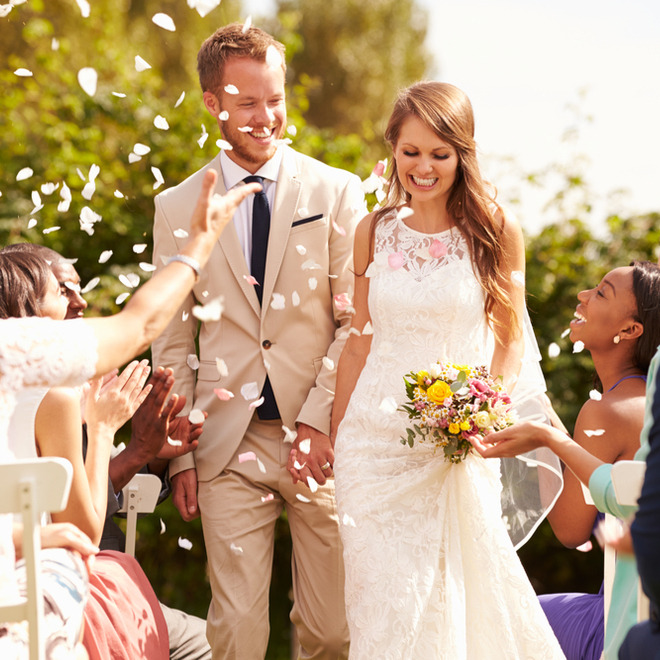 How to Plan Your Wedding Ceremony?
One of the most difficult but satisfying aspects of the wedding planning process is planning your wedding ceremony. You need to choose readings, songs, flowers, seating arrangements, backdrops, set-up and everything else to create the perfect day to declare your love for your new spouse. Doesn't it sound magical?
If you're feeling stressed or unsure where to begin, take a deep breath and relax; you've come to the right spot! We've compiled a guide including wedding ceremony ideas, songs, the ceremony order, decorations, and wedding ceremony venues to help you get started.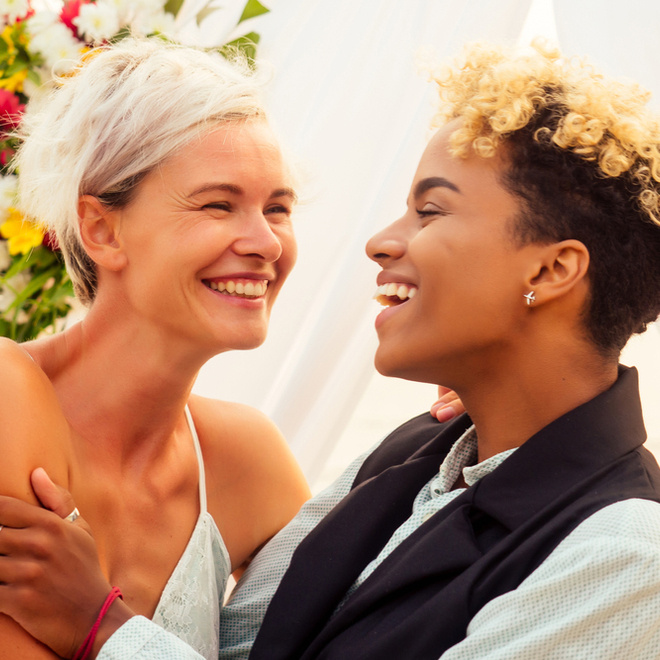 How to Find Your Wedding Ceremony Venue?
Decide Whether You Want a Traditional Ceremony or a Non-Religious One
If you plan to have a non-religious ceremony in a different location other than churches or temples, traditional ceremonies are usually held; the sky is the limit when it comes to wedding ceremony venues! First of all, you need to decide whether you want an indoor celebration or an outdoor ceremony.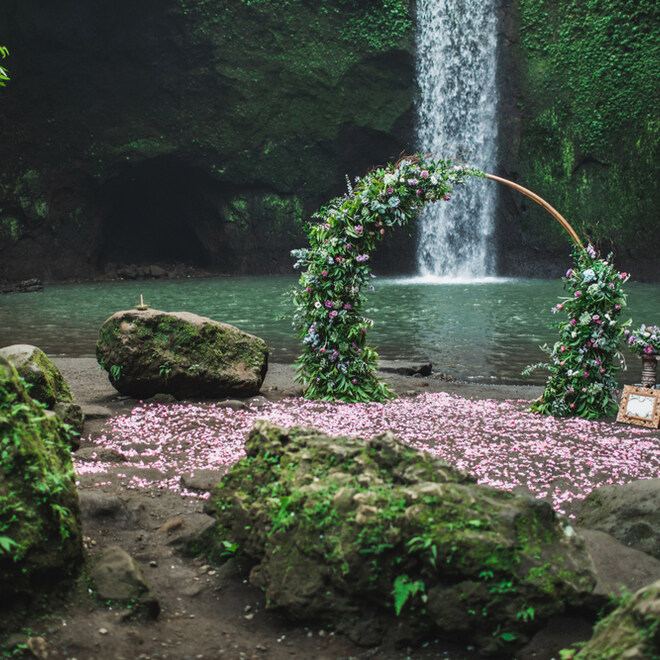 Check Out Various Outdoor Ceremony Venues
Couples who want to exchange wedding vows in an alfresco setting usually choose a beach wedding ceremony. Can you think of anything more romantic than saying 'I do' under a rustic wedding arch while you can hear the sound of waves and watch the stunning views?
Speaking of romantic ceremonies, gardens are also highly sought-after wedding ceremony locations among excited couples. With colourful flowers and verdant foliage as the backdrop, it's no wonder garden wedding ceremonies are so popular! Holding your partner's hands and committing to your new life inside a cute marquee adorned with candles and flowers, can it get more beautiful than that?
For couples who want to hold their event indoors while still feeling Mother Nature all around, botanical gardens might be the perfect option as well. Backyard wedding ceremonies are also favourites for couples who plan to have an intimate ceremony in a relatively cheap (if not free) venue!
Are you dreaming of a wedding overlooking the deep blue waters? You may be interested in this article: Everything You Need To Know About A Beach Wedding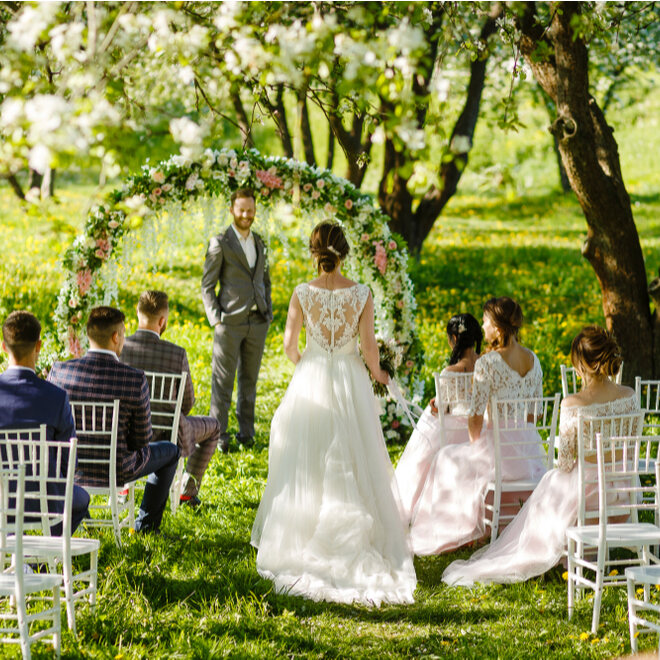 Country wedding ceremonies are so popular during late summer and fall. The leaves falling from the trees and plants changing into multi-coloured works of art create the perfect backdrop for wedding photos.
Barn and farm wedding venues are the most preferred settings for a joyful day away from the hustle and bustle of the city. These venues usually offer the best food prepared with local produce and delicious wines, and all are included in affordable wedding ceremony packages.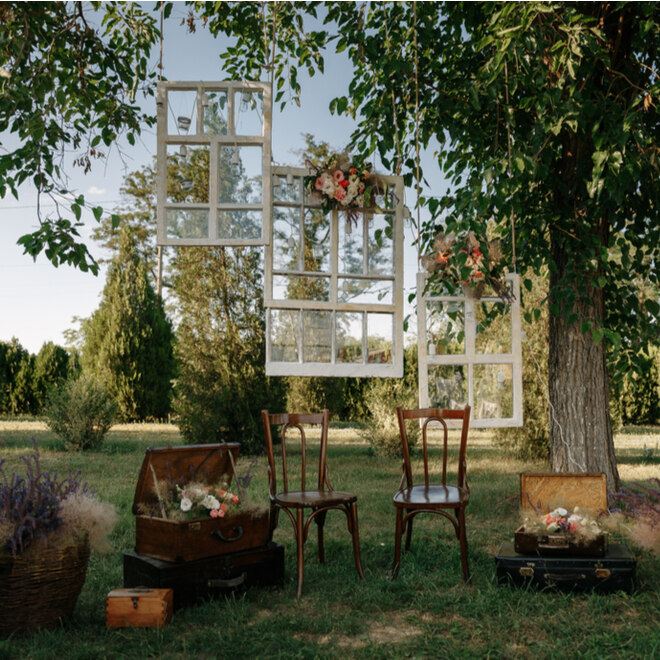 If you are dreaming of a magnificent country wedding in touch with beautiful nature, check out this article: How to Plan a Fantastic Country Wedding
Check Out Various Indoor Ceremony Venues
There are also many indoor venues for couples planning a winter wedding. Restaurant wedding venues are one of the most popular settings for small wedding ceremonies. In addition, mansion venues are well-suited to luxury ceremonies.
If you and your partner have limited finances, tight schedules, or don't want to take care of every little detail, you can have your ceremony in a registry office or a town hall. Whatever you choose, don't forget to prepare a wedding ceremony checklist to keep track of the things you need to do!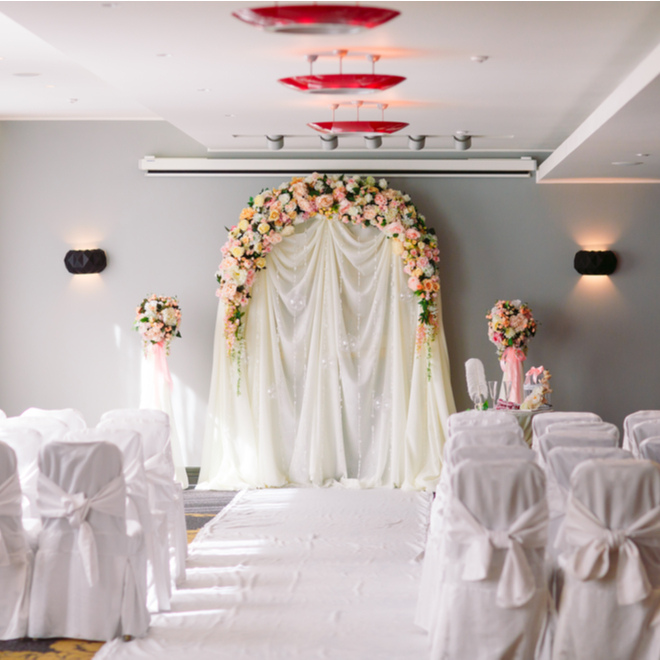 What if we say you can find your dream wedding venue at affordable prices? Check out this article now: 10 Tips to Help You Find Cheap Wedding Venues
Wedding Ceremony Order and Program
A wedding ceremony usually takes 25 to 30 minutes. In religious and cultural weddings, the ceremony order is predetermined and often cannot be changed. However, if you're having a non-religious occasion, you need to figure out your wedding ceremony program. Usually, they proceed with the following order of service:
Processional: Bridesmaids and groomsmen walk down the aisle together, paired up, followed by the maid of honour and best man. The ring bearer carries the rings, accompanied by the flower girl. The bride is walked down the aisle by her father in a traditional Christian ceremony while the groom waits at the altar.

Opening Remarks: Any words of welcome to the officiant may express the significance of marriage or a small mention of your love story.

Readings: While excerpts from the sacred books are read in religious celebrations, modern and non-religious wedding ceremony readings can be anything from funny poems to romantic quotes from your favourite book.

Exchange Of Vows: The partners make their sacred promises to each other during the exchange of wedding vows. Couples may compose their vows to each other, share how they met and reflect on their relationship, or follow the officiant's lead and use conventional phrasing.

Ring Exchange: Keep in mind that the ring should be placed on your partner's left hand, closest to the heart.

Pronouncement Of Marriage: The officiant will declare you and your partner a married couple once the rings have been properly arranged.

The Kiss: The most awaited moment of the entire wedding ceremony follows. The officiant will say, "you will now kiss your partner".

Unity Ceremony: Civil ceremonies, as well as non-religious weddings, provide more imaginative choices for a symbolic commemoration, allowing you to think beyond the box while preparing your unity ceremony. A growing favourite trend in recent years is the wedding sand ceremony, in which couples pour two different colours of sand into one tub, symbolizing their intertwined lives and hearts.

Closing Remarks: The ceremony ends with a few closing statements by the officiant. For a religious and traditional ceremony, she/he would also have a blessing for the couple to have a long and happy marriage.

Recessional: The last item in the wedding ceremony program template is the recessional, in which the couple makes a grand exist followed by the flower girl and bearers, bridesmaids and groomsmen, finally, the couple's parents.
Personalizing Your Wedding Ceremony Music
The beauty of wedding ceremony music is that you can make it as simple or diverse as you want it to be. You may go with a more conventional approach or take a risk with unpredictable songs for your wedding ceremony.
Your first thought about music is probably the song you'll walk down the aisle to, but it's so much more than that: you're getting a musical backdrop to the most important part of your wedding.
Preludes
Prelude music is soft, ambient music that sets the tone as guests are seated and await the ceremony to begin. The music usually starts 20-25 minutes before the wedding ceremony.
As you can book an organist, string quartet, wedding singer, soprano or a tenor, you can also pick from all-time favourites. Most couples prefer acoustic wedding ceremony songs since they have a soothing effect. Here are our top 5 picks for pre-wedding ceremony songs:
"Moonlight Sonata," by Beethoven

"Harvest Moon," by Neil Young

"I and Love and You," by The Avett Brothers

"A Case of You," by Joni Mitchell

"Helplessly Hoping," by Crosby, Stills & Nash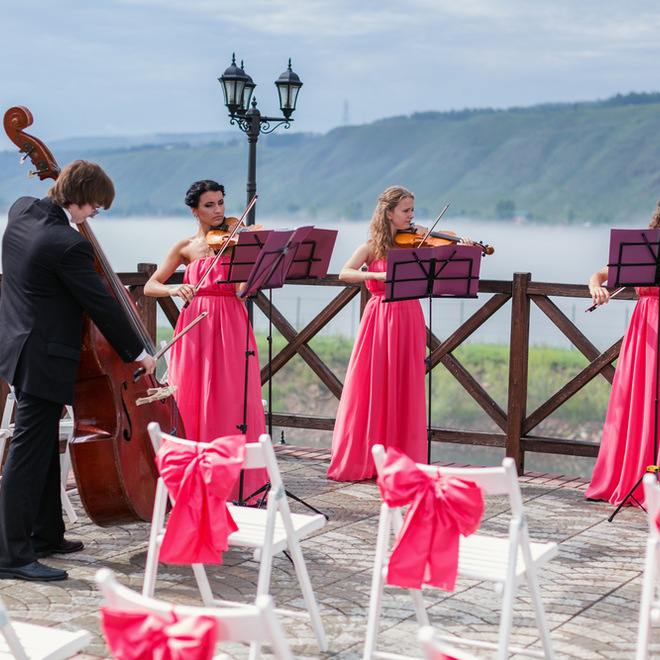 Processionals
The processional follows the intro and in which, wedding party, families, bridesmaids, groomsmen, and the bride make their entrance. While the music can be used for both, we love the idea of switching to a different song to highlight the bride's big entrance.
As you can choose modern ceremony songs such as R&B and pop hits, you can also choose your ceremony entrance song according to your theme, such as country songs, if you plan to have a barn ceremony. Here are our top 5 ceremony songs for processionals:
"Ave Verum Corpus," by Mozart

"Paradise," by Coldplay

"Songbird," by Fleetwood Mac

"All Of Me," by John Legend

"The Temper Trap," by Sweet Disposition
Recessionals
To mark the end of your ceremony and the beginning of the party with a memorable exit, you'll need bright, lively and celebratory wedding ceremony exit songs.
As you walk–or dance–down the aisle as newlyweds with flower petals, confetti, bubbles and sparklers, your songs to leave the wedding ceremony must match the reflection of your joy! Here are our favourite end of wedding ceremony songs:
"Best Day Of My Life," by American Authors

"Here Comes The Sun," by Beatles

"Love On Top," by Beyonce

"Perfect," by Ed Sheeran

"Fly Me To The Moon," by Frank Sinatra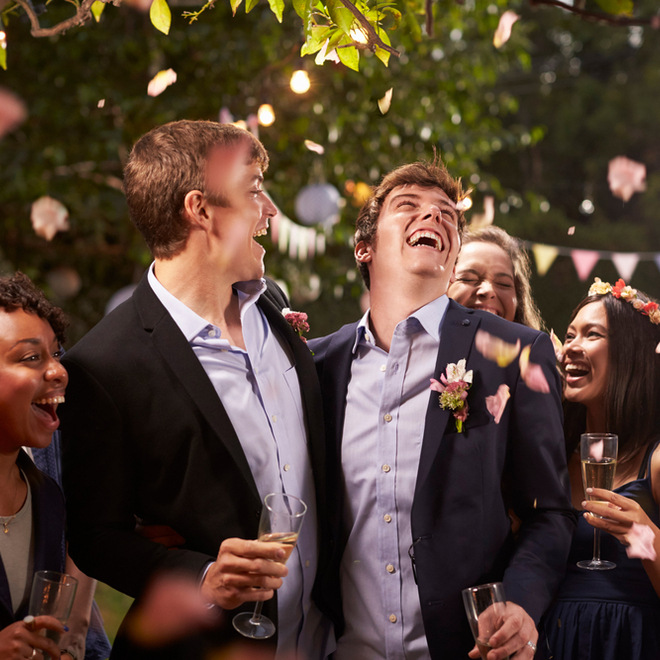 Wedding Ceremony Decoration & Design Ideas
After finding your ceremony venue, creating your ceremony program and script, and choosing your wedding songs, at last, you've made it to the best part of wedding ceremony planning: the design and ceremony decorations!
There are many details for transforming your venue into your ideal ceremony space, from ceremony arches and backdrops to welcome signs and aisle markers. Luckily, we've listed the key elements to help you out!
Arches and Backdrops
The wedding ceremony is the most significant part of your big day, with you exchanging vows, putting on your rings, and sharing your first kiss as newlyweds. For such a special event, you need a stunning wedding backdrop! Wedding ceremony arches have long been used to embellish, if not completely change, ceremony areas.
While creating a perfect set-up for wedding ceremony photos, they also frame the most important element of your special day: you two! From ever-popular rustic, floral to asymmetrical designs, there are plenty of creative ways to match your wedding vision to any style wedding arch for both indoor and outdoor ceremonies.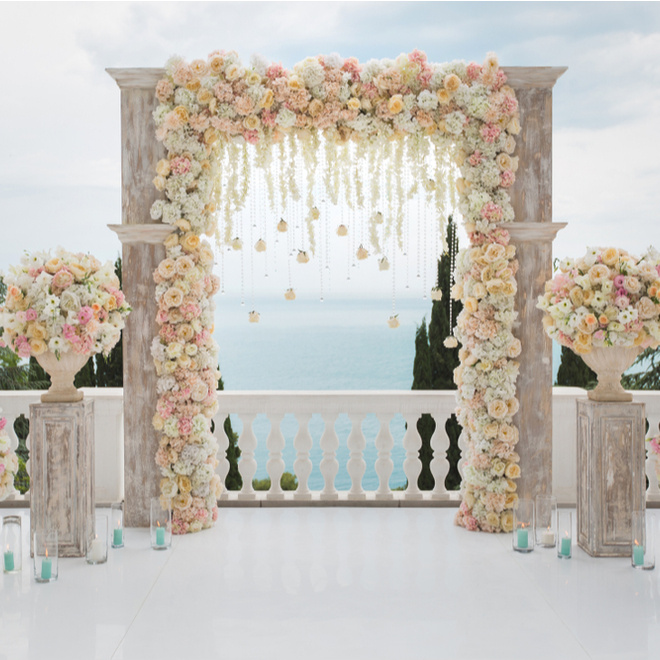 Seating
If you're searching for a way to make your wedding ceremony feel extraordinary and unforgettable, consider one of the first things your guests can see as they arrive: their ceremony seating. Why not try anything different for your seating design than the usual straight rows of ceremony chairs?
You can arrange your seats in a circular pattern, semi-circle design, or a square-like fashion if you plan to exchange vows beneath a chuppa. You can use mismatched chairs adorned with ceremony flowers or balloons, or you can even arrange colourful, patterned blankets for a garden or a beach wedding ceremony.
Don't forget to consult your venue and see what they offer in their wedding ceremony decoration packages.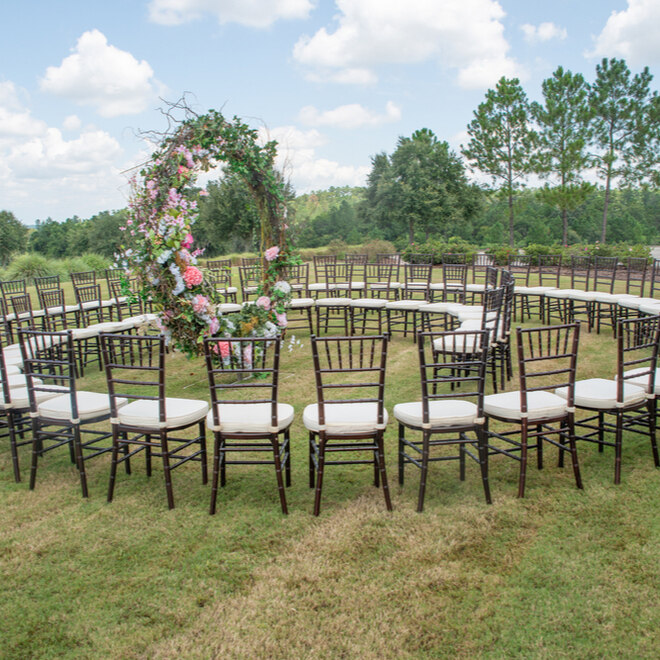 Ceremony Sings
Wedding ceremony signs are not only a lovely addition to your wedding day, but it's also a perfect way to let your guests know where to go and what to expect during your occasion, along with the wedding invitations and program.
Sings for wedding ceremonies are aplenty, from monogrammed chalkboard easels for a rustic ceremony to calligraphed pieces of driftwood and floral signs for an outdoor ceremony in summer. No matter what theme you choose, you're sure to find a sign to complement your wedding's vibe and style.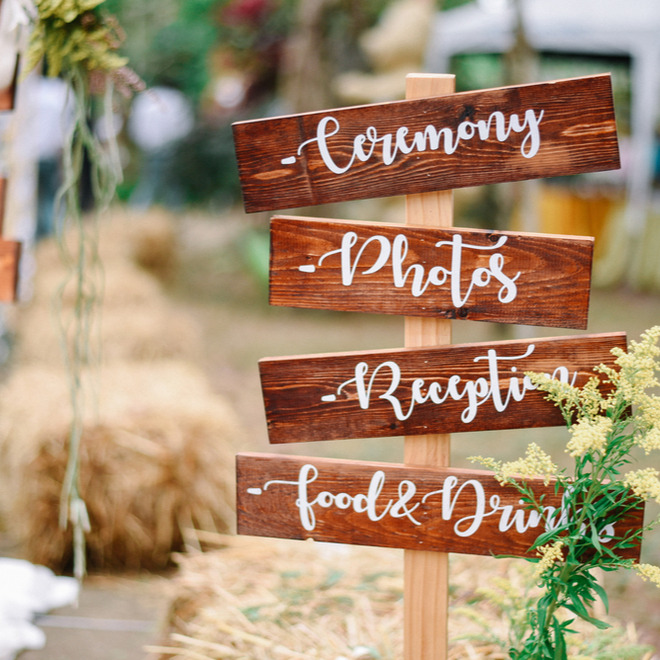 Lighting
Lighting is a fantastic way to set the ideal ambience for your wedding ceremony, creating a particular kind of experience for your beloved guests. They are things that ultimately light up your perfect ceremony venue!
From chandeliers, candles, and fairy lights to elevated lanterns and spotlights, they are many options for you to choose from! You can also use lighting elements for your unity ceremonies, including the candle lighting ceremony and releasing a wish lantern.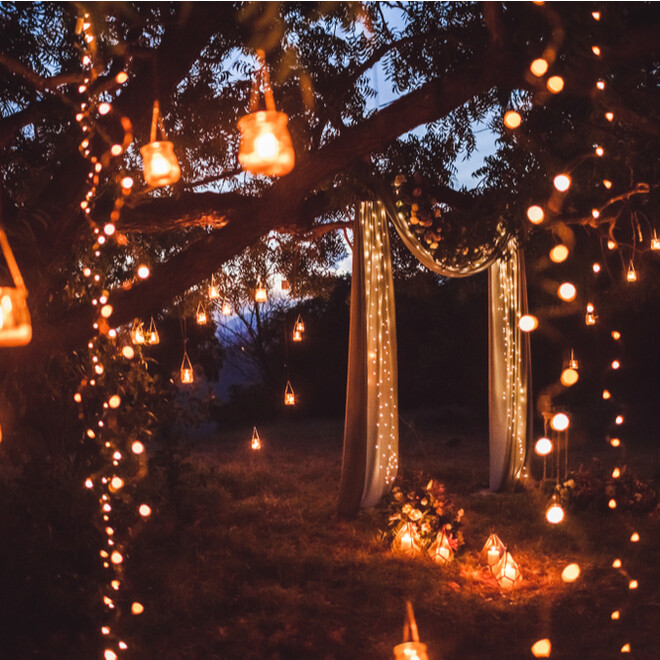 8 Wedding Ceremony Ideas You Can't-Miss
Host cocktails before the ceremony

Go nontraditional with your walk by walking down the aisle alone or with your partner

Ask your best friend to officiate the ceremony

Don't wait for the reception to have your first dance

Hire an artist to capture and paint the sacred moments

Have a handfasting ceremony by holding hands and asking the officiant to wrap the cord around into a loose knot

Instead of readings, ask a few people to stand up and share their marriage wisdom

If your reception venue is within walking distance, invite your guests to accompany you, parade-style to the venue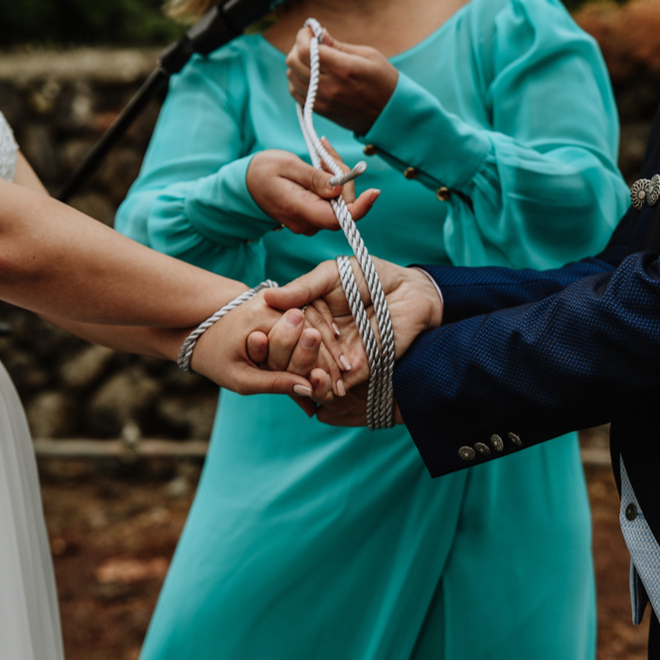 Wedding Ceremonies All Around the World
The wedding ceremony is one of the most special parts of the wedding day when spouses become united in marriage, even though ceremony traditions and customs differ by community, ethnic group, faith, and nation.
Vietnamese and Chinese have a tea ceremony. Hindu wedding ceremonies compose several events, Jewish ceremonies have different rites, Muslim wedding ceremonies called Nikah include lots of prayer and Aboriginals perform traditional dances and songs in their ceremonies.
Some couples also may opt for a non-religious ceremony on their most special day. For these reasons, wedding ceremony music, decorations, venues, and order of a wedding ceremony vary slightly from couple to couple, and each has its rituals and personal preferences. However, they all follow a common basic structure.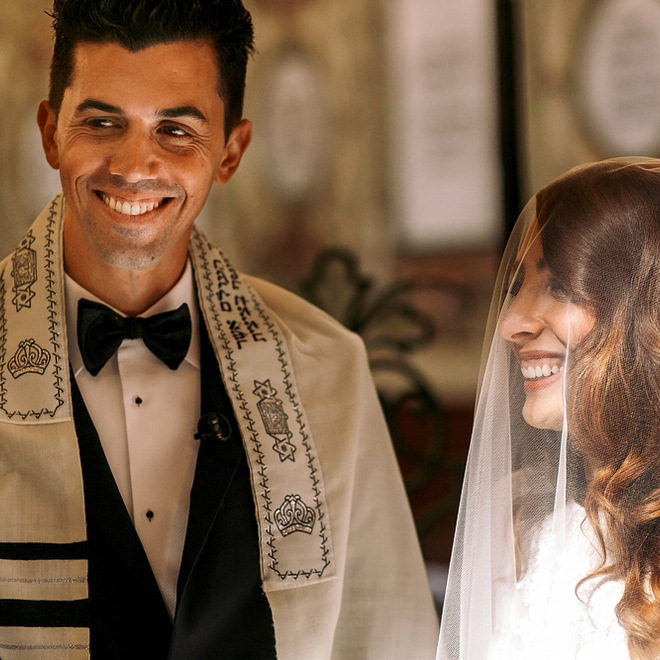 Wedding Ceremony Venues
The reception is where the crowd is, but the wedding ceremony is where the magic occurs. As a result, when you tie the knot, you'll need a breathtaking venue that complements you as a couple. As with most aspects of wedding planning, the possibilities are seemingly infinite.
There are many lovely locations to exchange vows, ranging from rustic barns and vineyards to beaches and breathtaking wedding chapels. Don't be afraid to be inventive since the true beauty of your wedding ceremony location lies in what you do with it!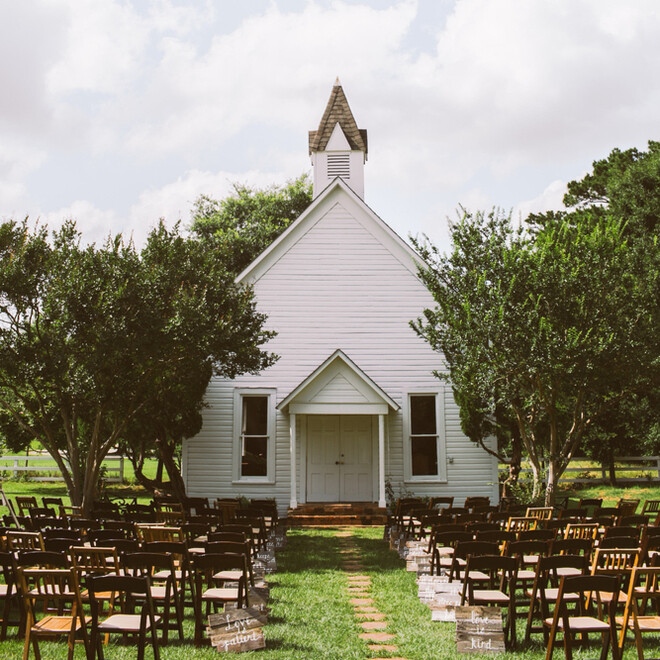 Wedding Ceremony Venues Sydney
Sydney is such an amazing location for wedding ceremony venues, from renowned beaches, lush gardens and parks to five-star hotels and magnificent churches. The only thing that will be hard is choosing the ideal venue from the endless options this capital city provides.
Wedding Ceremony Venues Melbourne
Your wedding will be a memorable day, and you'll want the venue to match. Luckily, Melbourne has some of the best wedding ceremony venues, from stunning botanic gardens to intimate urban wineries. Whether you're looking for an elegant waterfront resort or a small wedding chapel, you'll undoubtedly find the perfect venue!
Wedding Ceremony Venues Hobart
With daring art, a dynamic food scene and a wealth of natural attractions, Hobart offers the best wedding ceremony venues, from elegant beach clubs to all-inclusive banquet halls at affordable rates.
Wedding Ceremony Venues Perth
Perth has something for every couple and wedding ceremony theme, whether you want the elegance of a lush green garden with privacy for your ceremony or the exclusivity of a five-star hotel to celebrate with your loved ones.
We tried to explain the wedding ceremonies in a way that gives you plenty of creative ideas. After you set a date for your wedding, you can create a checklist by including your every need, contact several ceremony venues and wedding officiants. You can also book vendors in various categories, including photography, decorations, and music in your city, easily with WeddingHero.