A beach wedding is a great idea for those who want to get married most naturally and romantically. This article explained how to plan a perfect beach wedding, where to have it, how to choose your beach wedding dress and more. We hope our tips will be useful during your preparations for your beach wedding. Enjoy!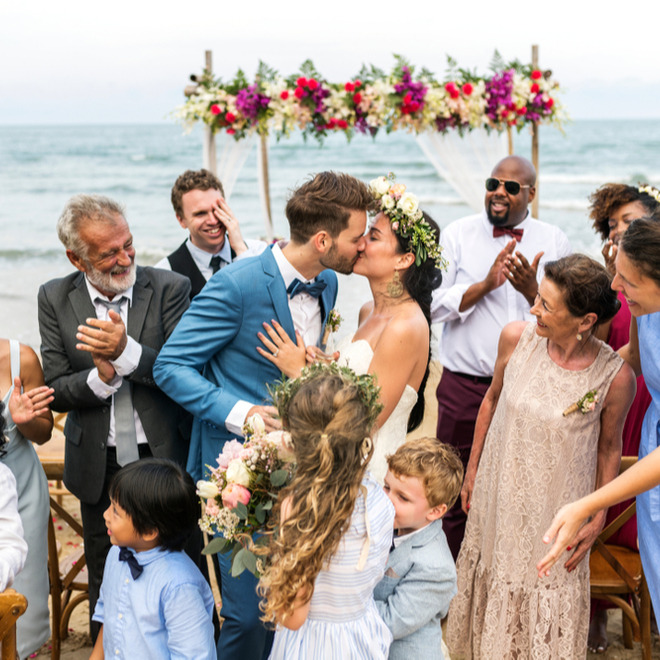 Beach Wedding Ceremony
If you're dreaming of saying I do with your toes in the sand and the stunning ocean as your backdrop, you'll need the perfect beach wedding ceremony venue to match.
Beach wedding ceremonies are popular among couples who want a relaxed, outdoor setting for their special day. Beach hotels, clubs, resorts and spas might be the perfect venues to exchange your vows.
Find out everything you need to know and more for a perfect wedding ceremony in this article: The Complete Guide to Planning Your Wedding Ceremony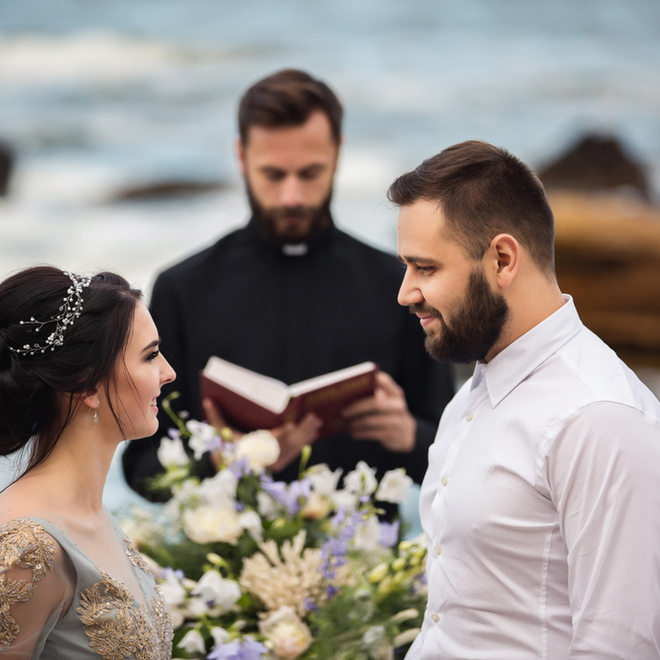 Beach Wedding Reception
Are you looking for places to continue the fun after a magical ceremony? You can have your beach wedding reception at one of the nearby beachside restaurants, cafes, waterfront mansions, beautiful gardens overlooking the ocean and many more.
Need information on how to plan a wedding reception? Check out this article: Everything You Need To Know About Your Wedding Reception
Best Time of Year for a Beach Wedding in Australia
In Australia, March (Fall) and November (Spring) are the most popular months for beach weddings. But why is that? It's actually quite clear, and it's because of the weather. June and July are the least popular months due to the cold.
It's regarded as a transition month and the start of Autumn in March. The average temperature is 23°C, which is really pleasant. And what about November? It's the beginning of spring! In this month, the average temperature is 25°C.  This is due to the fact that summer is fast approaching!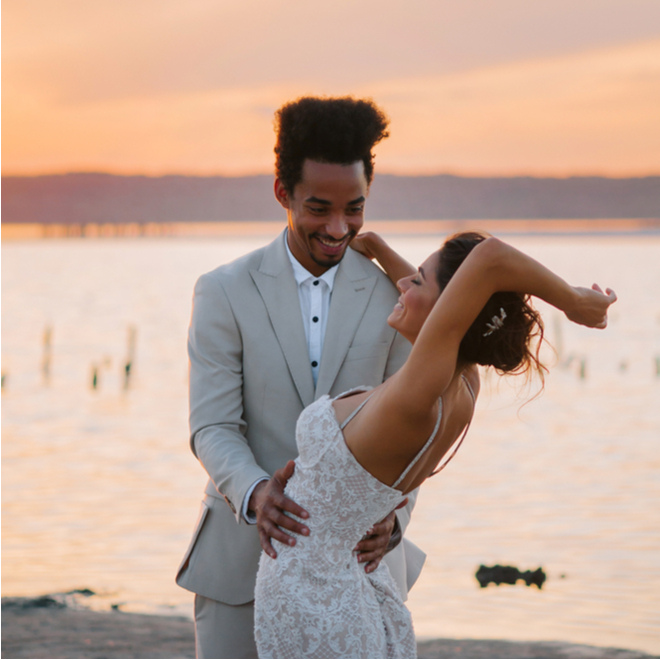 11 Best Beach Wedding Locations in Australia
Let's start with the most important part, the location. There are wonderful beach wedding Australia locations available to host the most beautiful weddings. They offer a perfect atmosphere for weddings. These beach wedding locations are well-known for their endless beaches with fine, white sand. Here are 11 wonderful beaches you can do an Australian beach wedding:
Rapid Bay, South Australia

Noosa Main Beach, Queensland

Bondi Beach, Sydney

Whitehaven Beach, Whitsundays

Surfer's Paradise, Queensland

Four Mile Beach, Port Douglas

Manly Beach, Sydney

75 Mile Beach, Queensland

Byron Bay, New South Wales

Mandalay Beach, Walpole

Caves Beach, City of Lake Macquarie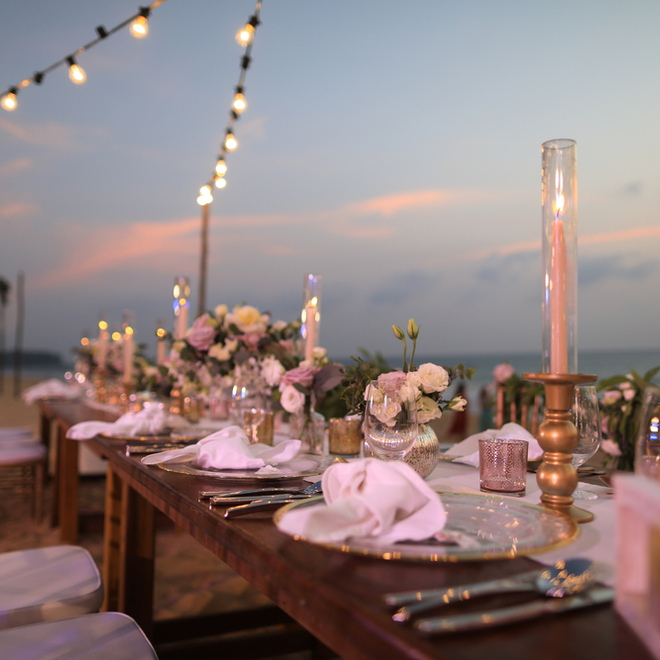 Beach Wedding Decoration Ideas
If decorations happen not to be included in your wedding package, we recommend you make a deal with a decoration company. You must determine your wedding concept and explain your dream wedding correctly to the company; before meeting with the professionals that will support you in planning your beach wedding. Let's take a look at what can be done in terms of wedding decorations.
You can start by deciding how you would like your seating arrangement. Try to decide whether to create a formal beach wedding table setting, gather around the cocktail tables, or lay cushions on the floor.
Suppose you want a table layout, the special arbour or arch under which the wedding will be held, and the guests' chairs should be placed facing the sea. If you are going to sit on cushions, you can create a layout around the fire and put small coffee tables in front of the comfortable cushions for treats.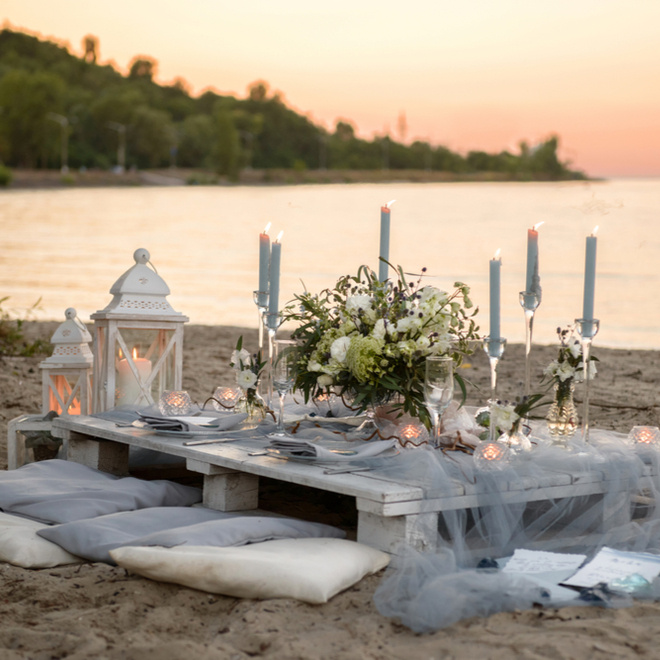 According to the beach wedding theme you have selected, you should be mindful of matching the same style in beach wedding tables and beach wedding chair decorations.
For example, while chairs are decorated with tulle and starfish at a sea-themed wedding, accessories of the same shades can be used in vases on the tabletops. You can also prefer a wedding cake in shades of blue, ivory and coral mixed with starfish, edible shells and sea glass.
Adding large white flowers and seashells, sea sands, starfish, white pebbles to the vases will create a nice effect, including details such as tulle, thick ribbon, chiffon, and large flowers in the decoration of the bride-to-groom aisle.
If you are going to have a night wedding, we suggest you pay attention to lighting. Giant candles to be placed on the sand, lanterns to be hung on the tables, and illuminated decorations can be among the alternatives.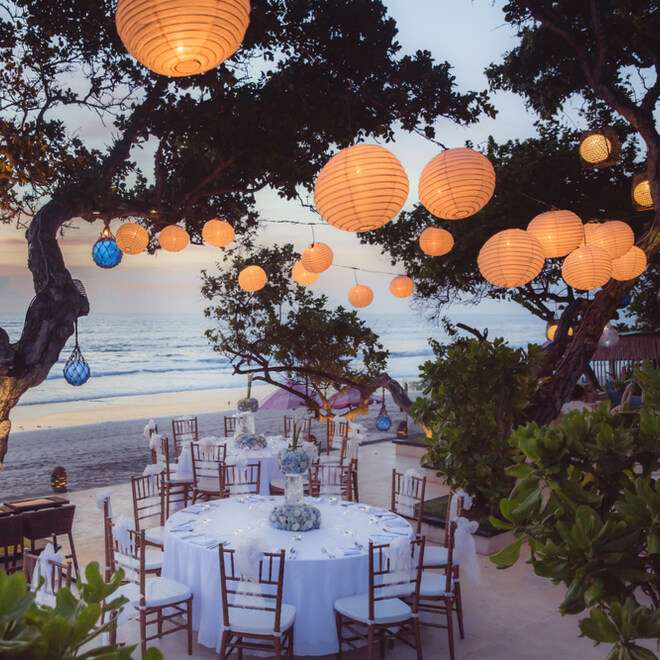 Choosing the Perfect Beach Wedding Dress
When choosing a beach wedding gown, we suggest you turn to wed gowns that will be the most comfortable and stand out with their plain appearance due to the naturalness of the environment. Remember that you should make choices that suit the atmosphere and concept.
Beach wedding dresses are usually chosen among a variety of models. Whether you choose a simple beach wedding dress, lace beach wedding dress, or a more casual beach wedding dress, make sure your gown will allow you to move comfortably on the beach.
Especially if you are going to have a wedding during the day, it may be a nice choice for you to select a deep-back, transparent model or a midi-length beach wedding dress made of flowing fabric. The most preferred fabrics for beach wedding dresses are undoubtedly silk, chiffon, and tulle.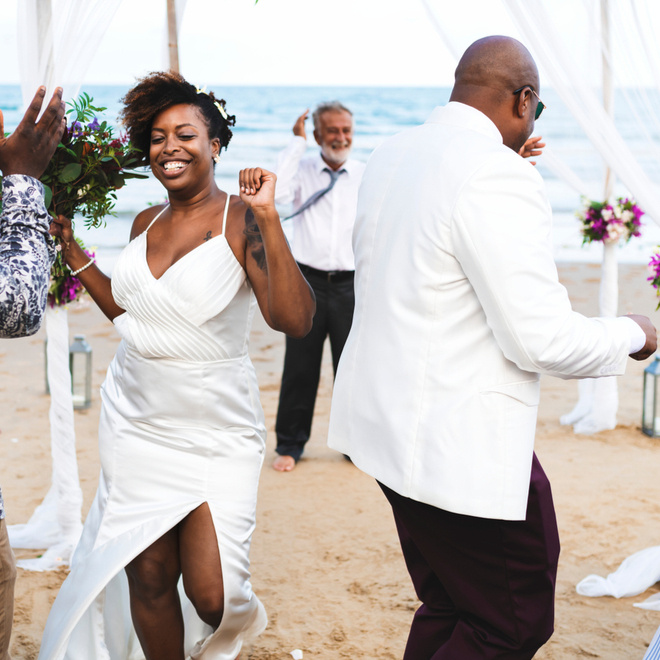 Boho Beach Wedding Dress
Bohemian beach wedding dresses are popular among brides who want to feel dreamy and effortless on their wedding day. This style represents a sense of wonder, and they can be anything from casual and carefree to glamorous and dramatic. Boho dresses are mainly composed of graphic lace and light-as-air fabrics combined to make basic silhouettes.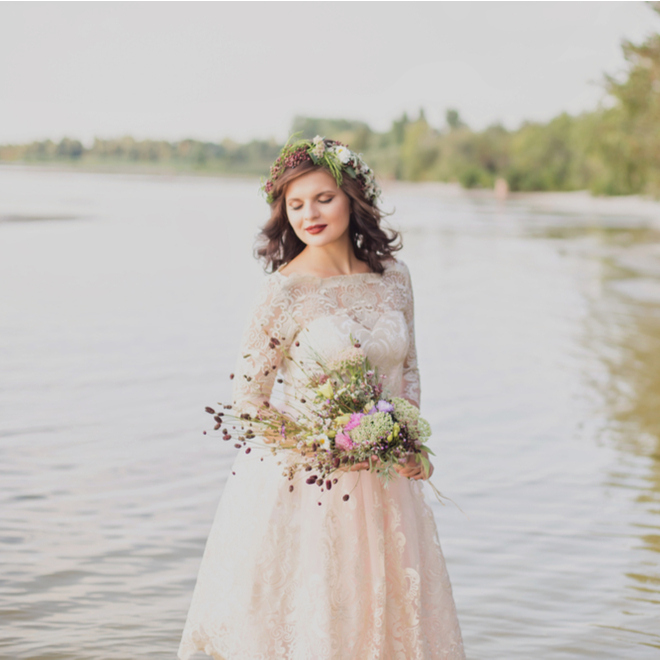 Casual Beach Wedding Dresses
A midi length, high-low hem, or asymmetrical silhouette all have an easy-going sensibility that's still sophisticated if you want a beach wedding dress that's as casual as your usual collection of summer dresses.
Short beach wedding dresses, whether made of cotton, crochet, or floaty chiffon, feel innately comfortable and are easy to wear. They are also perfect for beach cocktail attire where you can dance the night away under the stars.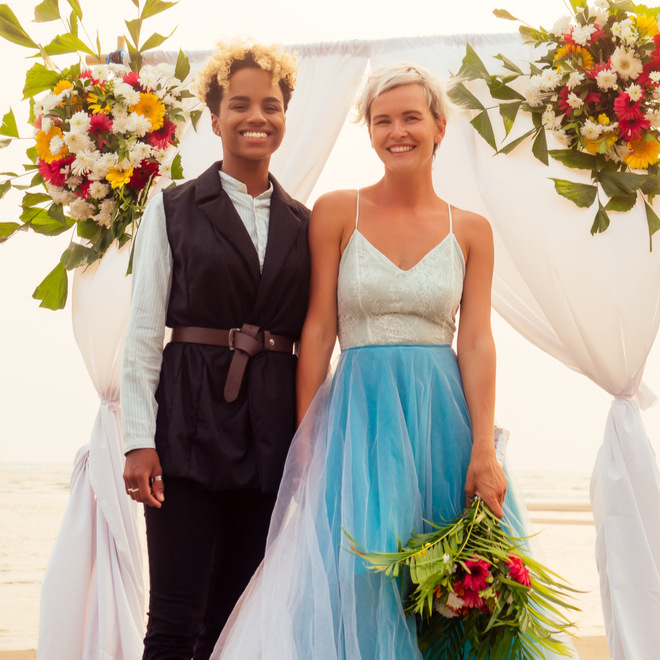 Beach Bridesmaid Dresses
After you find your wedding dress, now it's time for the bridesmaids. Mismatched bridesmaid dresses are trending recently. Different designs in one colour provide your best friends to add a personal touch while still being harmonic. Aqua, turquoise, light pink and coral are the most preferred colours for a fun wedding party!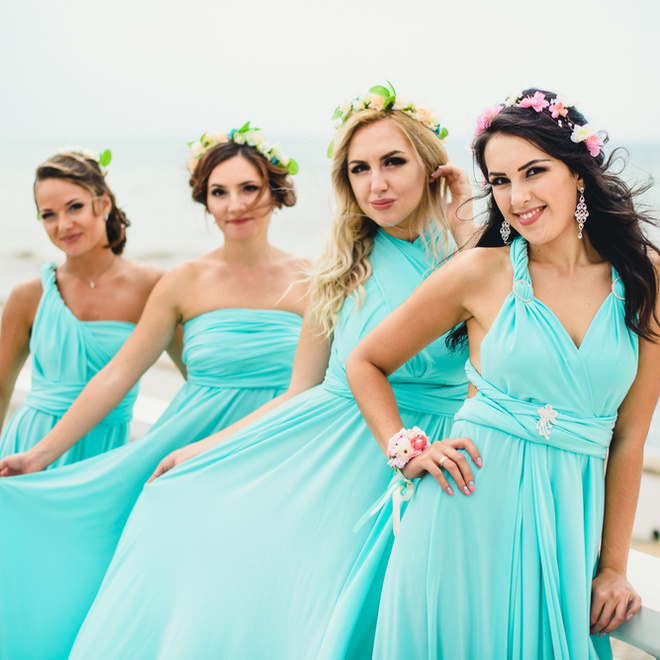 Beach Wedding Guest Dresses
If you're thinking about what to wear to a beach wedding as a guest, there are many different options that you can choose according to the dress code of the event. For beachside club receptions, going with formal beach wedding dresses such as breezy gowns would be ideal.
Casual sundresses are perfect for informal ceremonies. Men can select formal tuxedos and suits for formal occasions and suits with bright colours and summer cloth for informal coastal ceremonies.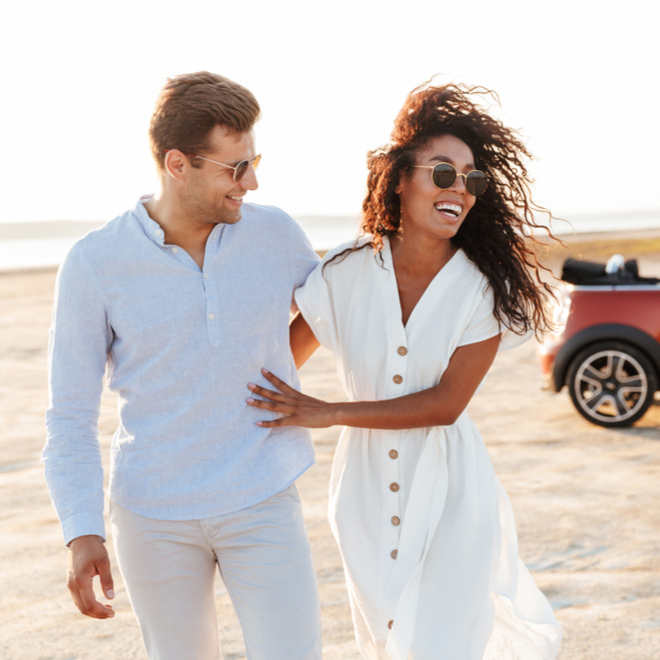 Beach Hair and Make-up Inspiration
When thinking of beach wedding hairstyles, there are a variety of ways you can style your hair depending on your look for your special day.
If you're wearing a v-neck beach wedding dress, off-the-shoulder beach wedding dress, or strapless beach wedding dress, you may want to consider a loose braid or updo for your hair. If you're wearing an evening gown with straps that can be worn down, then this is perfect to wear down with waves and curls.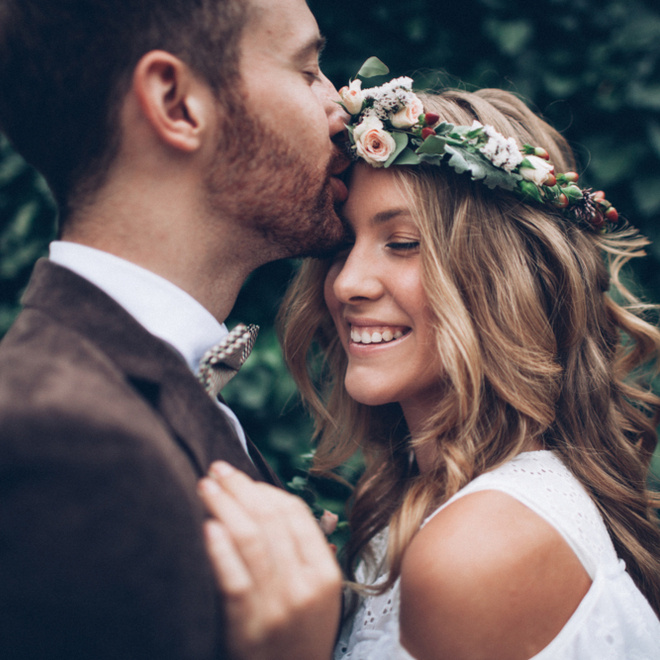 When you have selected your preferred hairstyle, don't be afraid to accessorize your hair with flowers, jewels or even headbands. Large handmade or straw beach hats are also among the options.
If you decide to add accessories to your beach wedding hairdo, we would advise you to maintain more minimalistic with your beach wedding makeup to balance out the look.
To create a more light makeup look, you could use BB cream instead of foundation. BB creams protect your skin from the sun and balance your face colour without overpowering your look. Also, concealers will be your greatest saviour.
We suggest selecting soft tones that will add a bright and fresh look to your face in your bridal makeup. Following this advice, we are confident that you will look stunning with beautiful peach-toned blushes, earth-tone eyeshadows, and pink lipsticks incorporated into your look.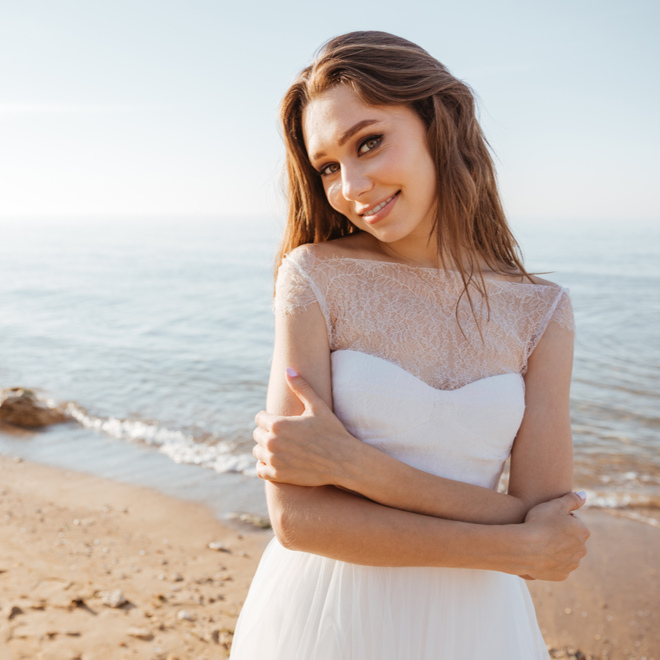 How To Select the Perfect Beach Wedding Shoes
If you are going to have a beach wedding, you have to consider what shoes for beach weddings would be most fitting considering there will be lots of sand involved. The goal is always to be able to feel confident when walking down the aisle.
If you're going to be barefoot, we recommend that you try a special cream on your feet to protect them from any harmful elements. However, if you want to wear high heels throughout the entire day, you can have the wedding venue set up a hard walkway and dance floor.
We recommend that you choose shoes with wide platforms or thick heels as much as possible. Also, the most preferred shoe models at beach weddings are stone sandals, ballet flats, or kitty flounder. You can even see that in some weddings, bare feet are used instead of shoes.
A good idea is also to recommend your beach wedding invitations on the perfect shoes for beach weddings to wear as an attending guest. However, we vote in favour of added foot embellishments that can be accessorized with laces, stones, or beads to be considered best-suited for beach weddings.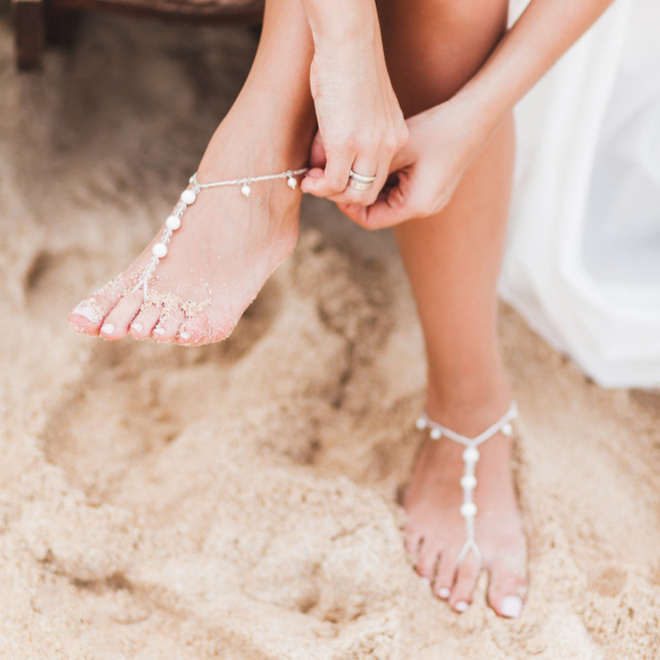 Choosing the Right Beach Wedding Attire for Grooms
Ultimately, we want the perfect beach wedding outfit for grooms when it comes to attire on their big day as well! Groom candidates can choose linen and cotton suits by making preferences that will prioritize comfort, just like brides.
Beige and blue are the colours we like the most for grooms at beach weddings. It would be an excellent choice to wear an ice blue or white shirt with a beige suit. Grooms who want to use accessories can wear a collar flower that is compatible with the bridal flower.
Groom candidates who do not prefer a suit can wear a linen shirt over linen or canvas trousers and use bow ties and trousers as accessories. Another combination suggestion for grooms who want to combine elegance with ease is to wear a blue gingham shirt under a white suit. Lastly, loafers can be a good choice for beach wedding shoes.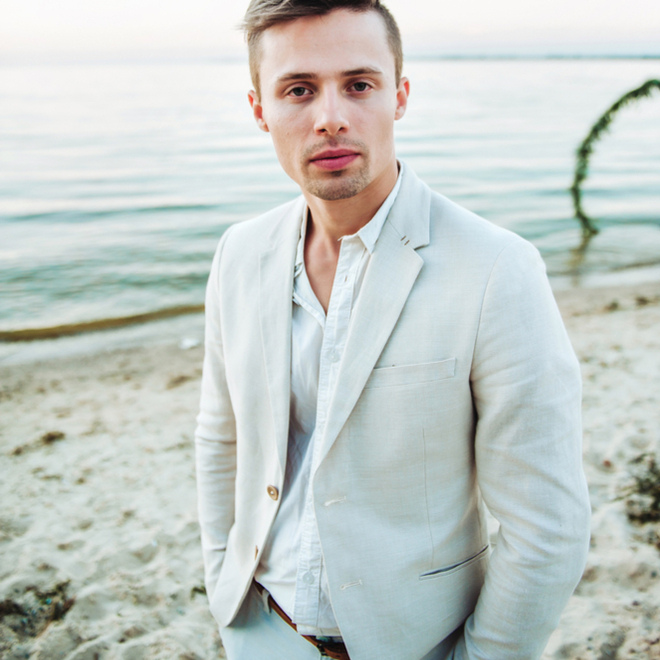 Beach Wedding Photos
Couples who have a beach wedding are lucky since there's no shortage of fantastic beach backdrops, no matter what your location is. We've rounded up some of the best beach photo ideas for your unforgettable wedding shot list.
Take advantage of the natural lighting
Draw lines in the sand
Take advantage of the beautiful and natural surroundings for your shoot
Take a picture of you and your partner fully submerged in the ocean
Have a footsteps in the sand photo
Have the photographer take a shot of you walking away, towards the ocean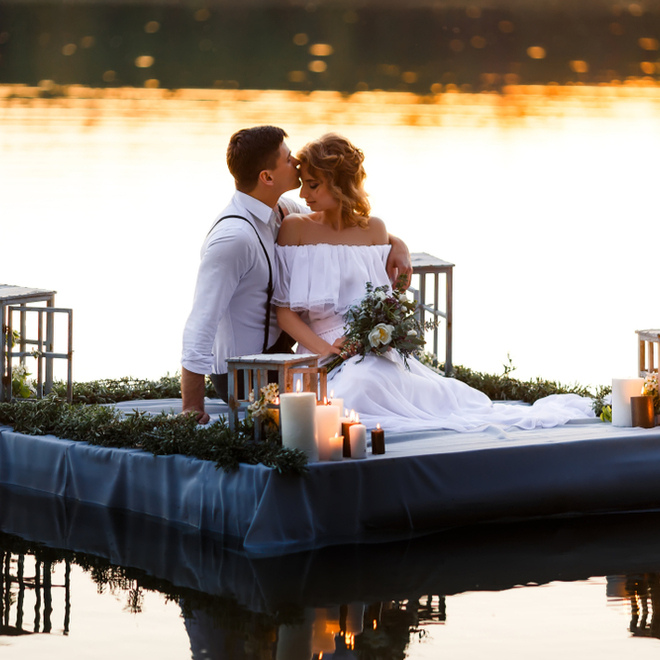 Best Beach Wedding Invitations Ideas
The ability to maintain harmony throughout your wedding, from the beach wedding theme decorations of the place to the beach wedding invitation designs, will affect your guests positively when done right. Therefore, you should choose your invitations carefully.
We recommend invitations with real starfish incorporated in a sea-themed wedding. You can also choose accessories with a starfish look. Among the sea concept invitation models, anything with anchor, fish, ship, rope figures can also be a good option.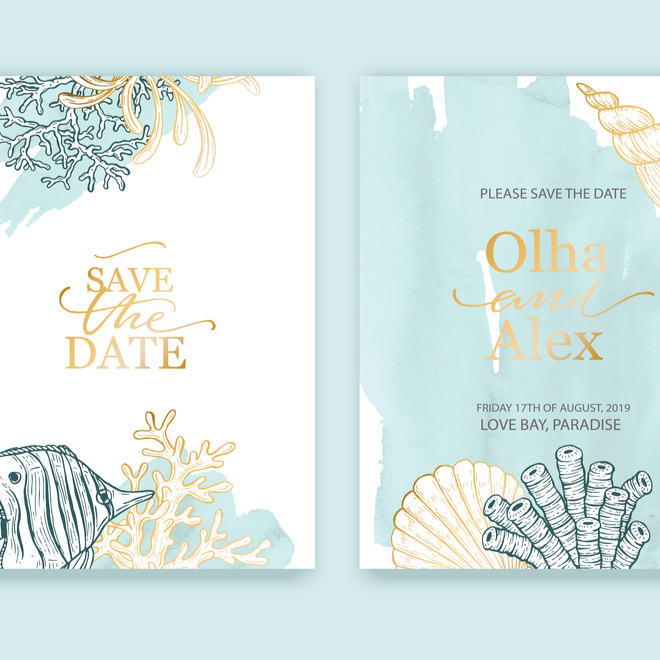 It has also become a tradition to distribute gifts to guests before weddings in the invitations. These are usually small gifts like wristbands or candies, yet whatever gift you give to your guests will make them happy, so no worries
A good gift to distribute to stay intact with your theme would be sunglasses, flip-flops, and hats before within the invitation. You can also turn to such gifts to increase the comfort of your guests. You can even reduce the cost by decorating the slippers you will buy at an affordable price. You can use tulle, tassels, beads or flowers as flip-flops decoration.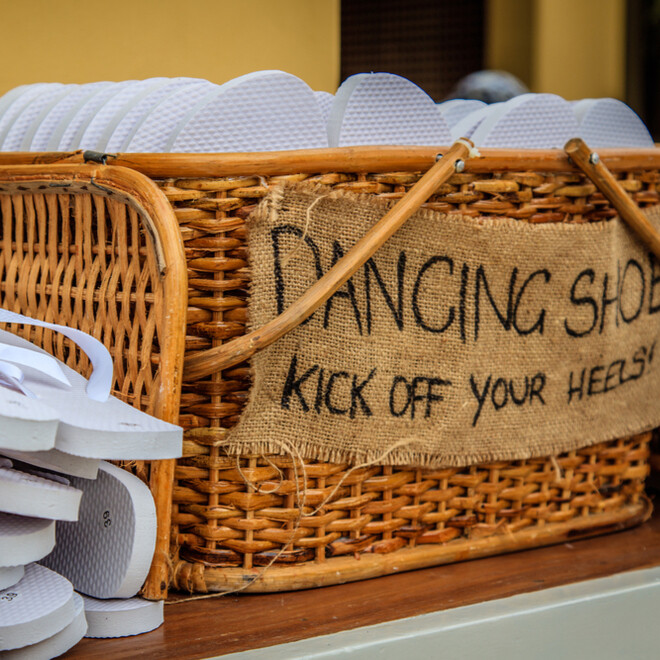 10 Beach Wedding Ideas You Can't Miss
Give your guests boho-inspired fans to help them to beat the heat

Light-weight and flowing is always the way to go when it comes to the wedding dress

Use palm leaves to decorate your chairs

Provide a spot for your guests to leave their shoes to move comfortably

Choose a bouquet of greens and neutral-toned flowers such as orchids, eucalyptus and anthurium

Give nautical wedding favours such as navy-and-white-striped miniature bottles of champagne

Serve tropical drinks and signature cocktails

Create a cosy reception area with pillows and comfortable cushions

Arrive at your wedding ceremony venue with a boat

Add shells to your wedding cake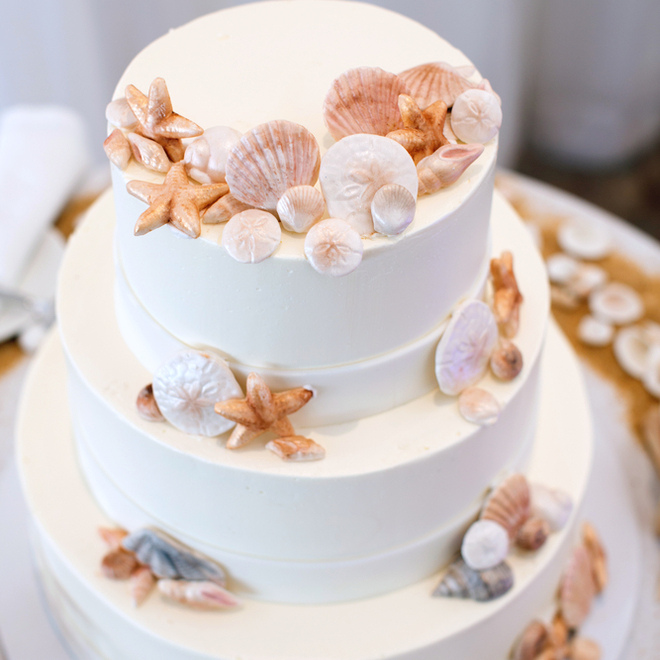 Is a Beach Wedding Free?
The best aspect about a beach wedding, unlike traditional wedding venues, is that all you need is a permit to have one. Depending on the time of year, the beach, and the luxury of the surrounding area, these permits can cost as little as $30 or as much as $450.
While it isn't free, it is unquestionably one of the most cost-effective locations for your big day. Then, following the ceremony, you can take your celebration to a waterfront reception venue.
How Much Do Beach Weddings Usually Cost?
Depending on the number of guests and what your ceremony contains, a do-it-yourself beach wedding on a public beach might cost anywhere from $250 to $2,500. A beach wedding package in your area can cost anything between $300 to $5,000.
The average cost of an exotic destination wedding is $17,000, compared to $25,000 for a classic wedding. It's safe to say that beach and destination weddings are less expensive than classic celebrations, for the most part.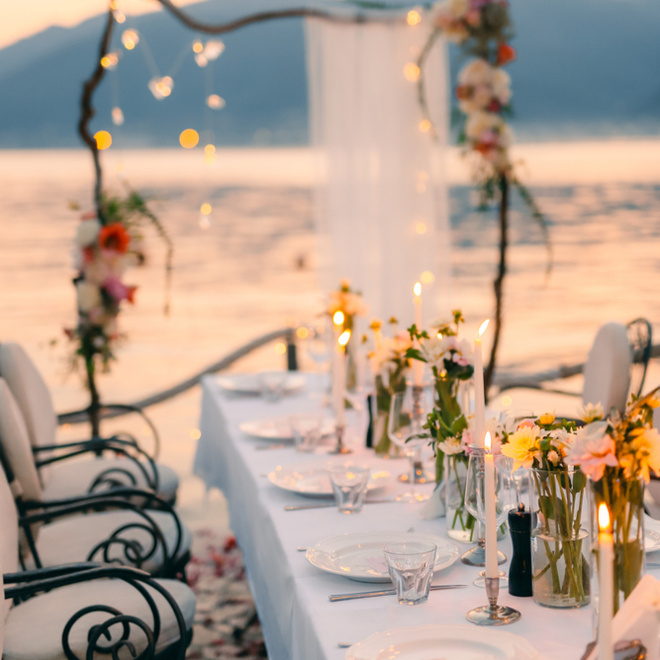 How Are Beach Wedding Prices Determined?
First of all, your highest budget should be reserved for the venue of the beach wedding. Of course, the price of the venue can also vary depending on the location and season.
Having a wedding in a place with a beautiful beach and sea can affect the venue's prices. Also, you will need to allocate more shares of your budget for locations close to the city centre instead of those that are a little further out in access. For beach weddings, just like other weddings, the demand will be higher in the summer months, the venue prices will also be higher.
If you happen to be planning a beach wedding on a budget, our advice would be to shift your wedding to the spring months when demand is low but temperatures can be considered high. As a tool, you can keep an eye out on weather forecasters, so you can get an idea of what the forecast will be like on your wedding date.
Another factor to consider is the number of people on your guest list, which also affects the total price of your wedding. You can also reduce your wedding budget by sending an e-mail instead of printing beach wedding invitations for a small number of guests or by not including foreign brands of alcoholic drinks at the wedding.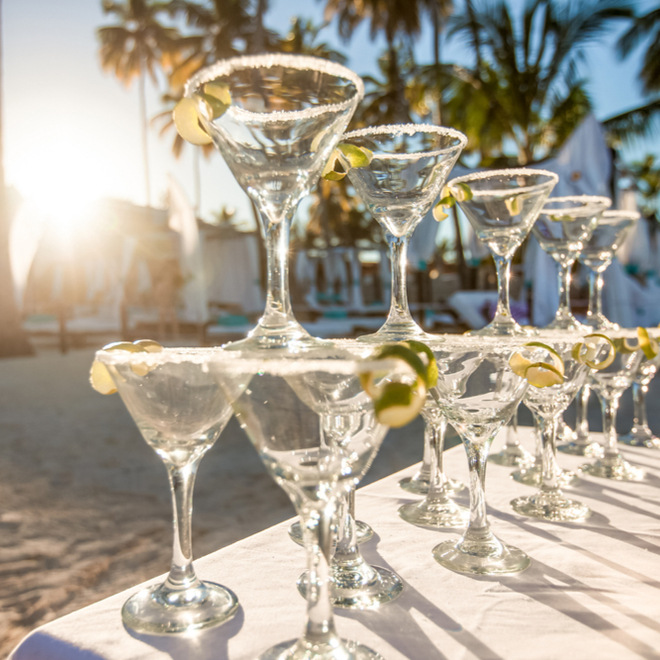 Beach Wedding Venues
From luxurious resorts to sandy coastlines, beach wedding venues are in overflow! If you plan to have a wedding on the beach, we recommend you to have the ceremony during sunset.
If you want to marry your future spouse under the stars in a romantic setting, a night wedding would be the perfect choice for you. However, in this case, you should also plan where your guests will stay overnight. If you do not have a summer house option, you can evaluate hotels, restaurants, social facilities, clubs and invitation areas in Australia.
If you choose a venue with a mini pier in front, you can surprise your guests by coming to the wedding by boat. In short, there are many options in terms of how and where to have your perfect beach wedding.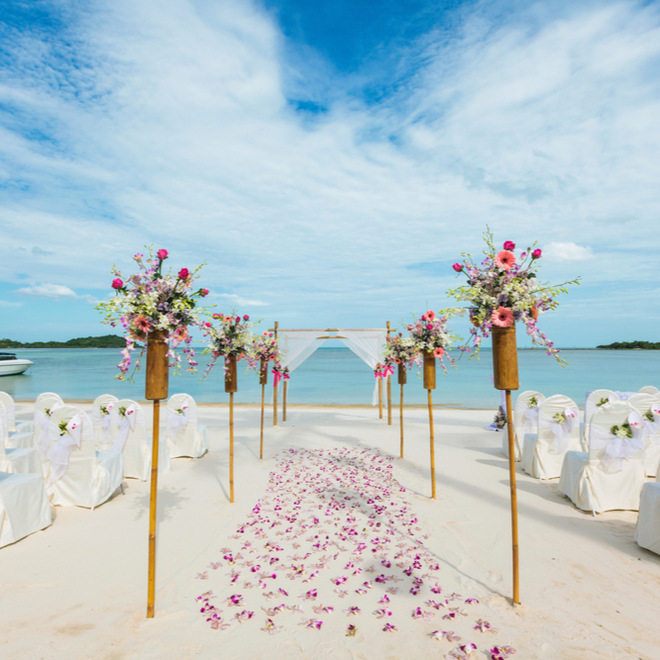 Beach Wedding Sydney
Located on the east coast of Australia, Sydney is known for its fantastic surfing locations and beautiful beaches. From waterfront zoos to luxurious rooftops with the stunning Sydney Opera House view, Sydney beach wedding venues have everything you need. You can find the ideal one from tons of venues in every capacity, style and budget.
Beach Wedding Melbourne
Melbourne has some of the best pristine beaches and sparkling blue waters that reflect a gorgeous sunset. Beach wedding venues in Melbourne are beautiful, and the lovely Port Phillip Bay and Mornington Peninsula are the most popular locations. You can find dozens of wedding venues that match your style, budget and guest number in mind. Whether it's a laid-back, boho, or elegant venue, the perfect location is waiting for you!
Beach Wedding Gold Coast
It's not hard to see why so many couples choose beach wedding venues on the Gold Coast with warm, balmy weather throughout the year and some of the most beautiful beaches in the country. When compared to big cities like Sydney and Melbourne, the venues here are more intimate and affordable. You can also expand your venue search to the nearby Byron Bay and Tweed Coast for more options.
We've tried to explain how to throw a beach wedding in detail. If you want to make that romantic beach wedding of your dreams come true, take note of our suggestions and enjoy the wedding planning process! If you still have questions in mind, you can share them with us by writing a comment below. We hope you have a beach wedding as beautiful as your love story!