If you started putting together your wedding budget and the big numbers are intimidating, no need to worry; we're here to help! You'll find that figuring out the venue hire will probably be your largest expense, and we have some tips to help you cut the cost. If you're ready, let's get started!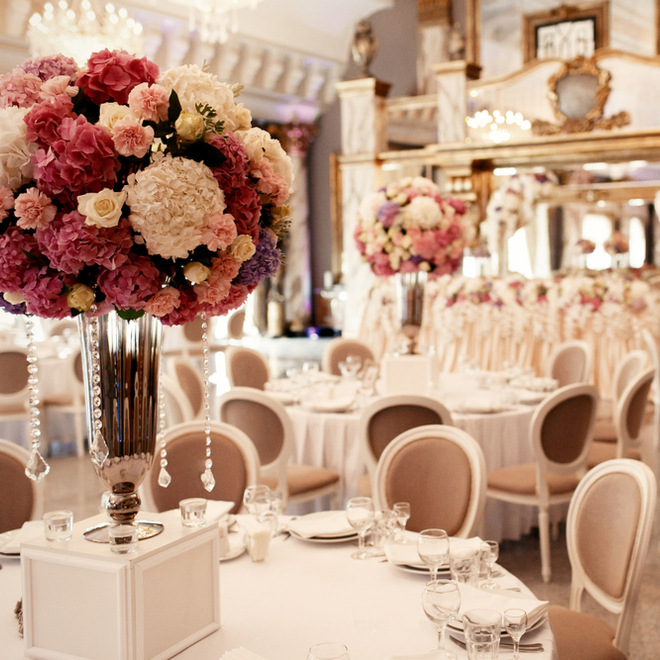 How Much Does a Wedding Venue Cost?
The wedding venue is typically the most expensive part of the wedding budget, with most couples spending 40-50 percent of their total budget on the venue alone. In Australia, the average cost of a wedding venue is $14,500. This corresponds to $150 per person on a national level.
You can reduce your wedding venue expenses and organize a low-budget wedding by using the following tips. You can spend the remaining money on your honeymoon, decorate your house better or invest. It's totally up to you!
1- Go Non-Traditional
Instead of a church wedding, you can check non-traditional venues. You're lucky since there are all kinds of venues you can think of in Australia where you can hold your wedding. Consider these budget-friendly wedding venues if you want to save money:
bed and breakfasts
wineries
cottages
botanical gardens
museums and libraries
aquariums and zoos
parks and beaches
restaurants and bars
These alternative wedding venues are likely to be much less expensive, as well as far less booked. There's no doubt that you'll have the fairytale wedding you've been dreaming of for years, whether it's on the beach or in a rustic garden!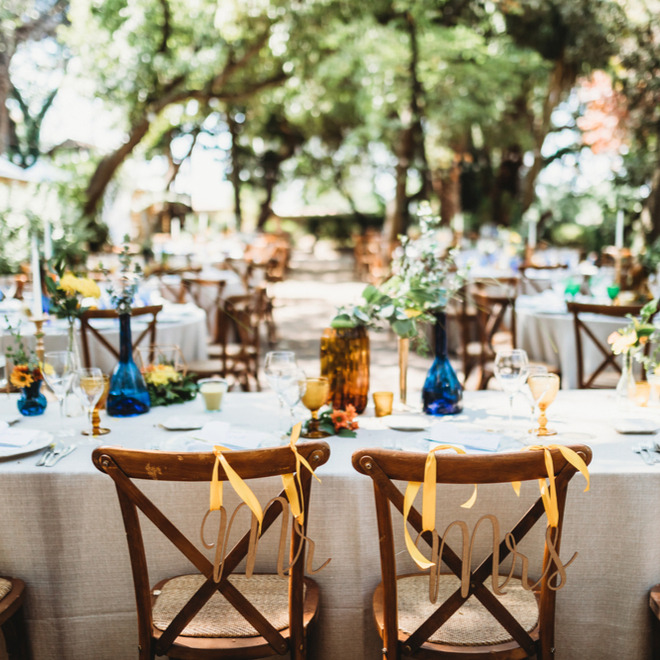 Everything you need to know about rustic weddings is in this article: How to Throw a Fantastic Rustic Wedding
Do you want to have a fabulous wedding next to the deep blue waters? Check out this article: Everything You Need To Know About A Beach Wedding
2- Get Married Mid-Week and Outside of Peak Season
The best way to stay true to your budget is to get married on a less expensive day or time of year. Many wedding venues have different prices for non-peak seasons and mid-week weddings. Saturday and weekends are the days on which most weddings take place in Australia.
Late summer and early fall are the most popular time of year in the wedding industry as well. November and March are the busiest months, and wedding venues are usually booked months in advance.
So getting married on a Saturday in March is likely to cost you more than having a Wednesday wedding in May. You can also book the suppliers you like during non-peak times.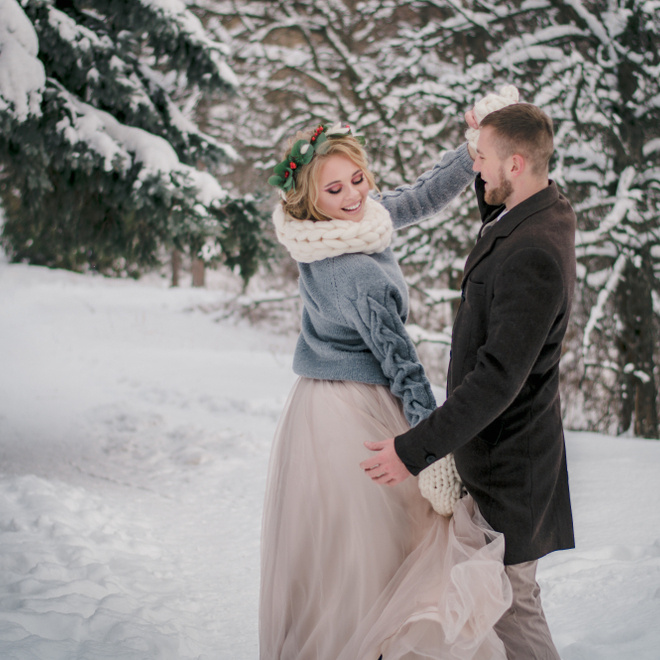 3- Choose A Venue That Is Already Stunning And Doesn't Need Too Much Decorating
Find a venue that you can turn into a unique space with a few flowers and pretty lights. For example, if you're considering having a restaurant wedding, you won't have to deal with many nooks and crannies.
The furniture and diverse decor will be on point, cutlery, and glassware too. Oh, the exceptional food that will make your guests leave full and happy is guaranteed as well!
You can also find many cheap garden venues that don't need much decoration since nature is the best decor with picturesque views and amazing landscapes. Just add a few items to make it more festive, and you're good to go!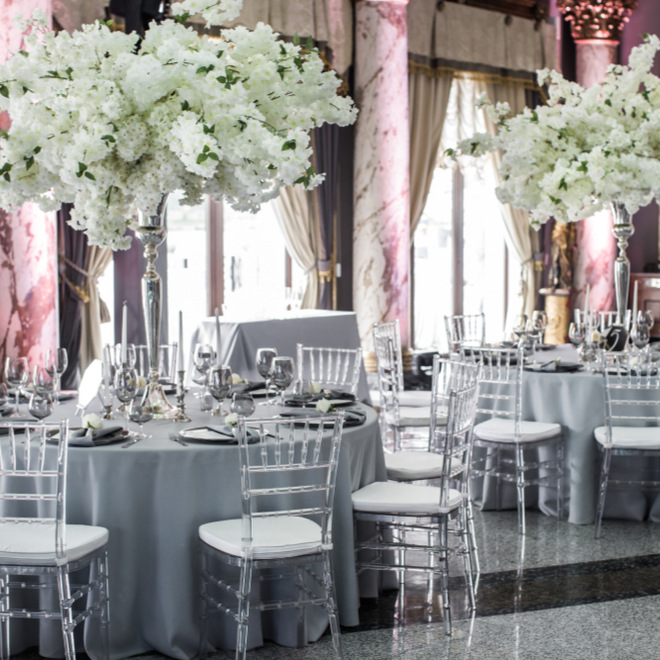 4- Go Out of Town
Just because there are plenty of wedding venues in your city, that doesn't mean that those are your only options. You may find that getting married in a smaller town or a suburb within an hour's drive of the city saves you a great deal of money! Plus, wouldn't it be nice to escape from the hustle and bustle of the busy city?
If you and your partner are a little 'country' at heart, you can easily find a wedding venue that feels timeless yet laid-back, surrounded by lush Australian bushlands, such as old barns and homesteads. Homely, down-to-earth, vintage vibes are waiting for you, with gorgeous outdoor scenery perfect for fabulous wedding photos!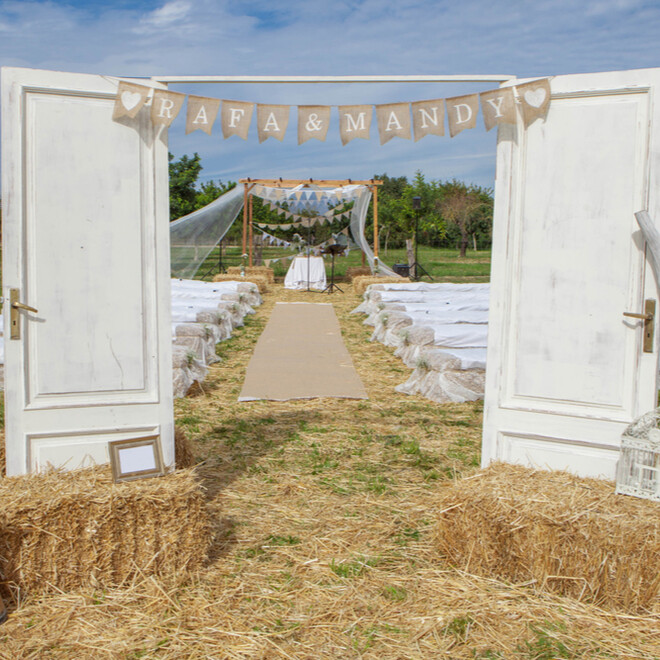 If your craving a rustic and refined celebration in the countryside and need some help with planning, check out this article: How to Plan a Fantastic Country Wedding
5- Only Get What's Most Important
You might have the perfect wedding vision from top-notch catering from an award-winning restaurant to the most luxurious venue offering the best services. But in reality, affording all of those can be hard. Because of that, you need to decide on what's most important for you.
Is the view what you don't want to give up or the ambience? Is the size the most important thing because you have a big family and want all of your loved ones there?
Or is the location most important so everyone doesn't have to travel too far? In short, book a venue with keeping all of these things in mind to make the most of your budget!
No matter how limited your budget is, if you can't give up on food, we've listed some of our favourite inexpensive wedding foods to serve at a wedding. You can hire a caterer or self cater your wedding by including these menu items easily:
Ramen Noodles
Tuna Cake Sliders
Fried Macaroni & Cheese
Mashed Potatoes & French Fries
Gourmet Sandwiches
Bruschetta Bar
Peanut Butter Cookies
Banana Smoothies
Jello Shots
Oatmeal Cream Pies
Pizza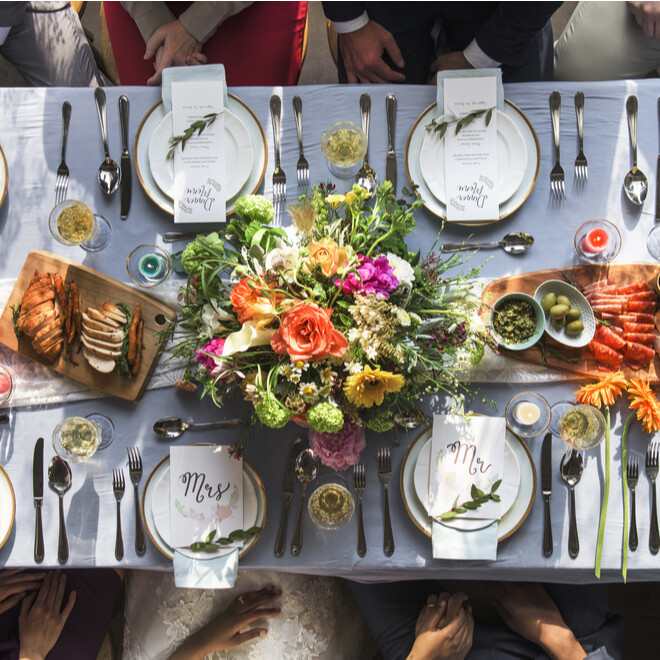 6- Downsize the Reception
Instead of a big gathering with all of your relatives and friends, keep it intimate. Since venues usually make their pricing per person, stick with a small number of guests, like 50.
If you want to share your happiness with everyone you love and the idea of not being able to do that because of financial problems tears you up, you can have a huge party a few weeks later in your house. What's better than sharing a few laughs and drinks on a lazy Saturday afternoon?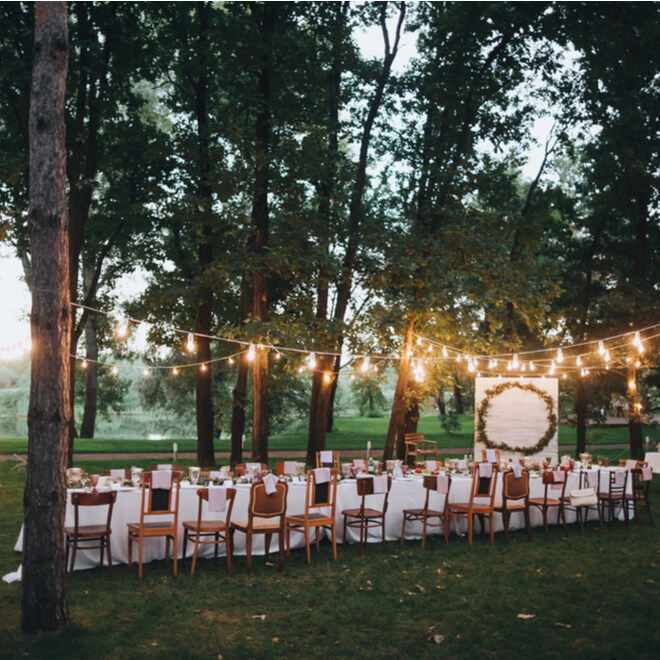 7- Cut an Hour From the Reception
Most of the wedding venues charge by the hour, so you can contribute to your budget by shortening your reception. You don't need to include everything on the traditional reception outline for your celebration. You can customise it according to your wishes and needs. Instead of a 5 to 6 hours celebration, make it 3 to 4 hours and save big with a shorter reception.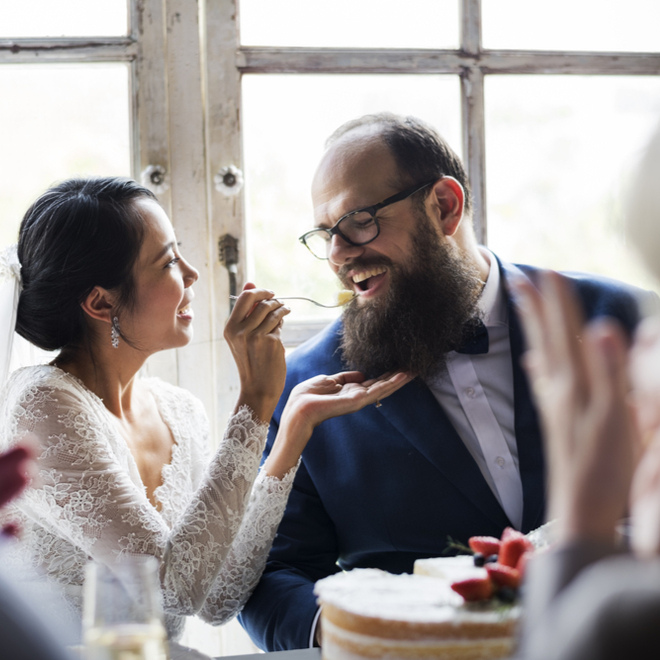 You can find the traditional reception program outline and more in this article: Everything You Need To Know About Your Wedding Reception
8- Go All-Inclusive
Many venues provide all-inclusive wedding packages that will help you to cut costs. Everything you need for a complete wedding is included in these packages, from decorations and food to cake and photography.
Do not forget to discuss packages with coordinators while taking a tour of the venues. With trusted vendors and incredible discounts, realise your dream wedding easily!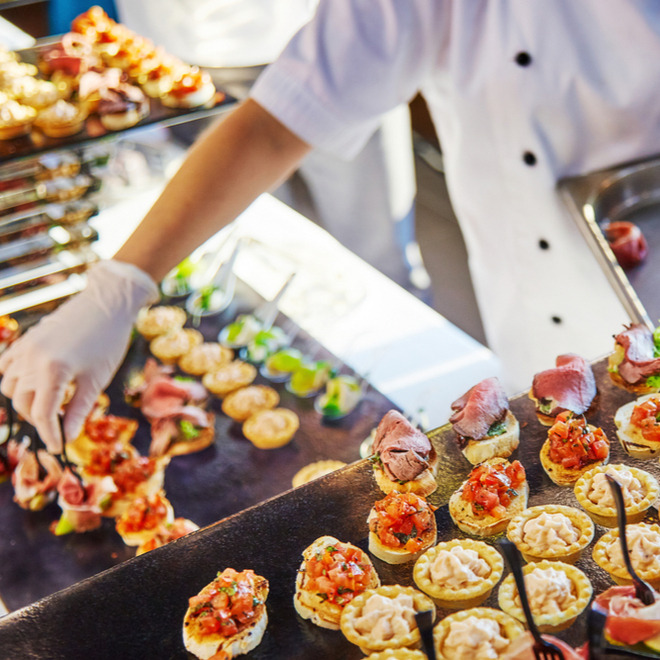 9- Bring Your Own Alcohol
Since most wedding venues demand a hefty price for alcohol, it's a smart idea to buy your own. The venue will probably charge a fee, but that will be considerably less than the venue supplying the alcohol.
Sign up to receive deals from different liquor stores or visit local wineries or breweries to see if there's a deal that can be done. Don't forget to ask whether there's a return policy if you're worried about buying too much.
Also, you can choose not to serve alcohol at your wedding for various reasons, from financial to religious, it is completely up to you!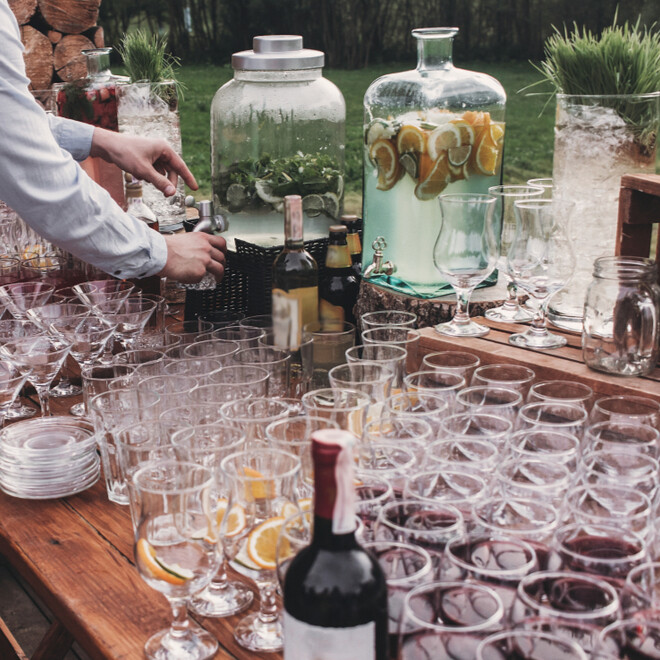 10- Hold Your Ceremony and Reception at the Same Place
Many couples opt for a ceremony at a church and their reception in a different venue. Instead of this, you can find an all-encompassing venue where you can say your 'I do's and dance the night away with your loved ones.
Doing this can help you save so much money in many ways. Firstly, you won't need to hire two different spaces and also, there will be no travel costs to transport your guests to the reception venue. Don't forget the amazing deals and discount you can get from the venue as well!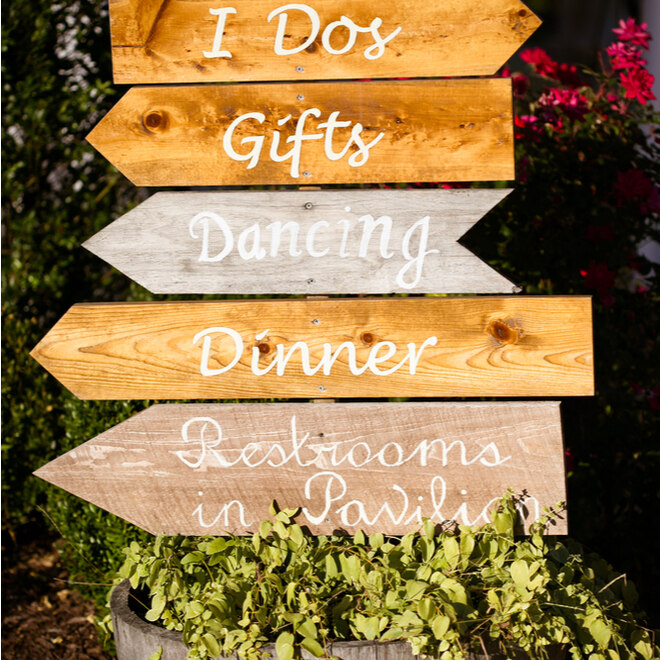 From wedding ceremony songs to program, we've explained everything about a wedding ceremony in this article: The Complete Guide to Planning Your Wedding Ceremony
BONUS: Ways To Create A Budget Wedding That Looks Expensive
You have a champagne palate but a beer wallet. Your guests will be surprised when they learn how little you spent with these tips for planning a gorgeous wedding on a small budget. You'll be amazed at how cheap and simple it is to make your wedding appear more expensive without spending a fortune.
Go for gold (or other metallics):

Right now, gold is extremely popular. It provides a sense of class to your event and may be utilized as accents to a simple color scheme to increase the glam level. If you want a spectacular wedding on a low budget, include metallic elements wherever possible.

Add a little dash of sparkle and glitter:

Adding a bit of glitz to your wedding will make it appear more expensive. You can add glitter to few selected items of your decor to bring a bit of glamor and elegance to your event. To avoid overdoing it, use glitter sparingly.

Use lots of frames:

Stunning frames add an exquisite touch to everything from table numbers to signs! They can be cost effective and make a lovely addition to your special day. Don't forget that if you find ones in stores that are the proper size/shape but the wrong color, you can fix it a little spray paint!

Embrace the colour white:

Embracing the color white is a simple and cost-effective method to get a dazzling look on a budget. Using a simple color scheme of white with metallic elements can ensure that your wedding looks luxurious without breaking the bank.

Pretty up your linens:

Rather than placing a napkin on each table, fold one neatly on top of each plate or chaser into a stylish shape or into a pocket to carry your menu.
Cheap Wedding Venues Melbourne
Melbourne offers a diverse range of venues with its bustling art scene, vibrant laneways, iconic landscapes, and more. Industrial warehouses, world-renowned restaurants, glamorous banquet halls – the list goes on.
If you're looking for a cheap wedding venue in Sydney, you'll surely find the ideal one easily. Rooftop restaurants overlooking the Sydney Opera House, hotels with Sydney Harbour Bridge view, beachfront venues on the world's most famous beaches in the world – you name it!
Cheap Wedding Venues Brisbane
Rolling hills, rainforests, waterfalls and beautiful beaches and islands... Can you think of a more beautiful setting to celebrate your most special day? Brisbane wedding venues are aplenty and have everything you need to realise the wedding of your dreams at affordable prices!
Cheap Wedding Venues Perth
What makes Perth a perfect city to host your wedding is the abundance of wedding venues for every budget and style. Restaurants by the sunny beaches, rustic estates in the wine region, charming garden venues, 5-star hotels and more. Perth wedding venues are surely versatile as the city is!
Now you have all the information you need to find a cheap wedding venue. If you have any more questions, you can always ask us by leaving a comment. We are happy to answer and assist you on your journey. Take action now and realise your dream wedding effortlessly using WeddingHero!