If you plan to have an Indian wedding or attend one, we have prepared an article to help you throughout this big day! You can find answers to several questions you might have in mind, from what to wear to an Indian wedding to what to expect from an Indian wedding ceremony and reception. Let's get started!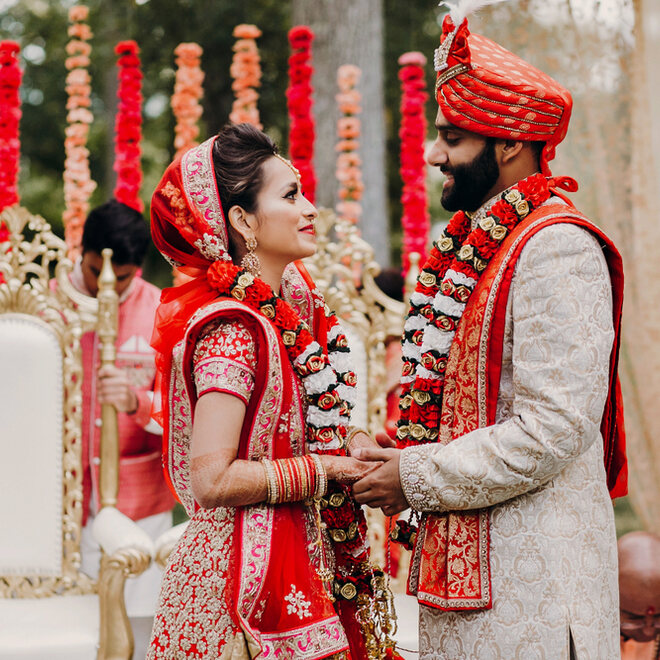 Marriage in India
Indian weddings are colourful, organized, culture-filled celebrations that are rich in tradition. While the physical, moral, and emotional union of two people are at the heart of a Hindu wedding ceremony, it's much more than that since it also binds the families.
Vibrant, bright colours, beautiful rituals, lots of food and fantastic wedding outfits are just some of the few things you can expect from an Indian wedding.
What Are The Pre-Indian Wedding Traditions?
One of the most common questions we get asked is, "how long does an Indian wedding last?". A traditional Indian wedding lasts anywhere from three days to a week, with different events each day.
The engagement is the first step of a lengthy process, and it represents the agreement between the future bride and the groom's family members. The wedding date is also scheduled at this stage. Let's look at parts of an Indian wedding separately!
Barni Band-hwana
The Indian wedding rituals begin 15 days before the wedding with Barni Band-hwana. At this step, a piece of clothing called Mauli is tied to both the groom's and his parents' hands to ask the gods for a peaceful wedding day humbly. The family performs this ritual regularly up until the wedding is over.
Mayara
The pre-wedding ritual continues with Mayara. This Indian wedding ceremony is performed by the maternal uncle of the bride and groom, and he gives wedding gifts to the mothers of the couple and the wedding dresses they will wear at the main celebration.
Sangeet and Mehndi
After this comes the Sangeet, in which the bride's and groom's families and friends get together, sing Indian wedding songs, dance and play instruments. This celebration serves as an opportunity for family members to get to know each other.
The ritual continues with Mehndi, during which the Indian bride, her female family members and friends apply henna often to their hands and feet. It's thought to bring good fortune, good spirits and relieve stress before the big day.
Baraat
The wedding day starts with the Baraat. This is when the groom rides his white horse and is escorted by his family and friends, dancing and singing. The groom's wedding outfit consists of a long jacket called sherwani, churidar, fitted trousers and a floral wedding veil covering his face.
Then, the couple exchanges wedding garlands or "var mala" and wear them around their necks. This symbolizes the acceptance of each other as husband and wife.
What To Expect At An Indian Wedding Ceremony?
As this beautiful country boasts diverse cultures and religions, you can encounter many wedding traditions and customs. For instance, South Indian weddings have different rituals than those in the North. It would be wise to do some research according to the region before attending an Indian wedding.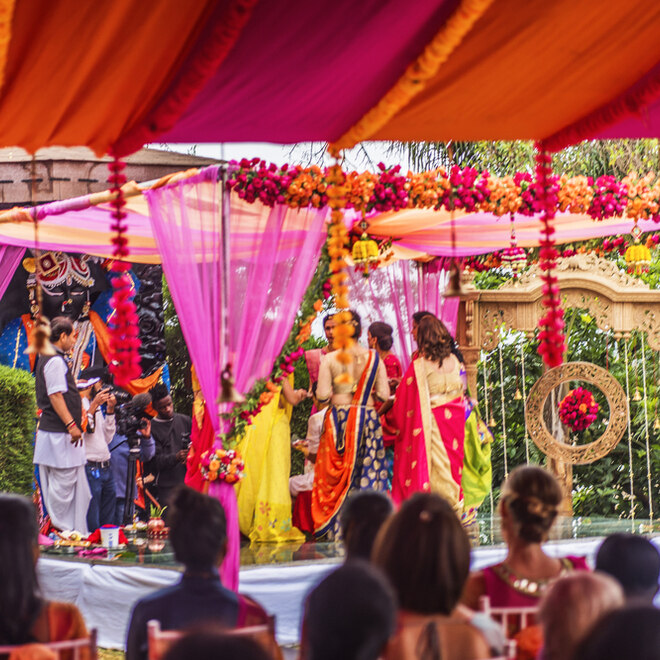 Mandap
Indian weddings take place outside on sunny days under a canopy called Mandap. However, in the cases of unfavourable weather conditions, Mandap is built inside. It is adorned with traditional Indian wedding decorations such as drapes, deluxe chandeliers and multicoloured wedding flowers.
It has four pillars, and they signify the four parents. Immediate family members, siblings, and parents stand up, and the brides' uncle walks her down the aisle. Also, the bride's brother plays a crucial role in Indian wedding ceremonies by putting rice in the couples' hands and tossing it to the fire pit.
Havan
The priest binds the end of the groom's dhoti or kurta, along with the knot on the bride's wedding saree. This knot symbolizes sacred matrimony. After that, the couple takes seven "phere" circles, each vowing to fulfill seven vows during their marital life. The priest expresses gratitude for a day full of entertainment and plenty of wedding food and offers blessings for friendship, eternal happiness, prosperity and children.
Kanya Daan
At Kanya Daan, the bride's father hands over his daughter to the bride in front of a large crowd. The groom prays to the Kama, the god of marriage, for pure love and blessings by reciting Vedic hymns.
Then, the Mangalsutra is performed, in which the groom applies red powder to the middle of the bride's forehead and ties a piece of Indian wedding jewellery, a necklace made of gold and black beads, around her neck. This necklace symbolizes that the bride is a married woman now.
Vidaai
Finally, as the Indian bride leaves for a new life with her husband, goodbyes and tears are exchanged during the Vidaai. Emotional wedding songs play in this ceremony, and elders offer blessings to the newly wedded couple.
What To Expect At An Indian Wedding Reception?
Big Celebrations That Last For Days
Like American and European receptions, friends and parents make toasts and give speeches. There are also similar elements like cake cutting, professional wedding photography, videography, wedding planner, DJ, wedding favours, wedding flowers. Yet the only difference is the larger scale since nearly 300 to 500 guests are usually invited to an Indian wedding.
Wedding reception basics and more are in this article: Everything You Need To Know About Your Wedding Reception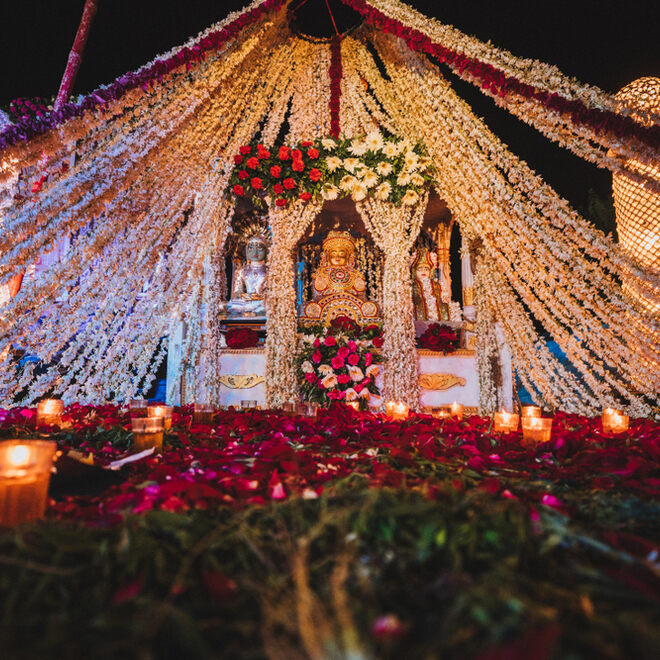 Fantastic Photo Opportunities with Amazing Indian Wedding Decorations
Traditionally, Indian couples are seated on an elevated stage lavishly garnished with elegant wedding decorations. To draw attention to the newlyweds, elaborate structures, wedding backdrops, drapes, candles, and fabrics are used. It's a great opportunity to take all the important wedding photos that will last a lifetime!
Another unique ritual takes place in a traditional Indian wedding reception. When the couple performs their wedding dance, family members and friends throw money at them, which symbolizes the prosperity in their new lives.
Lots of Food
Indian wedding receptions are not different from a feast with a replenished buffet and desserts all night long. Nearly all couples hire catering vendors, and the wedding food menu usually features seven to ten appetizers, four main dishes, salad, yogurt, and traditional bread, naan. Sweets, dried fruits and nuts follow it.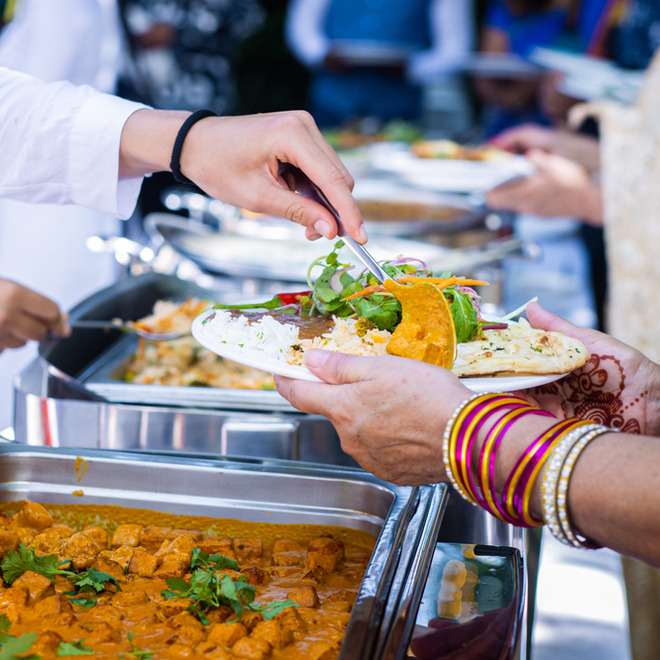 Intimate Family Lunches
On the afternoon following the wedding day, relatives of the couple have lunch together called Bou Bhat. In this event, the bride is formally invited to the groom's family. The groom promises that he will take good care of his wife and gives her a new saree.
Where Do Indian Weddings Take Place?
You can find many Indian wedding venues built to accommodate every Indian wedding ritual and tradition. However, you can also choose other types of facilities to turn into a suitable setting for your celebration by using Indian wedding decorations such as fabrics, elevated sweetheart tables, wedding flowers, elegant chandeliers and lots of drapework.
In that case, choosing a facility with several event spaces for your wedding ceremony under the Mandap and reception at a big banquet hall might work in your favour. Moreover, working with an experienced Indian wedding planner can save you from many problems since they know how to build a wedding from scratch.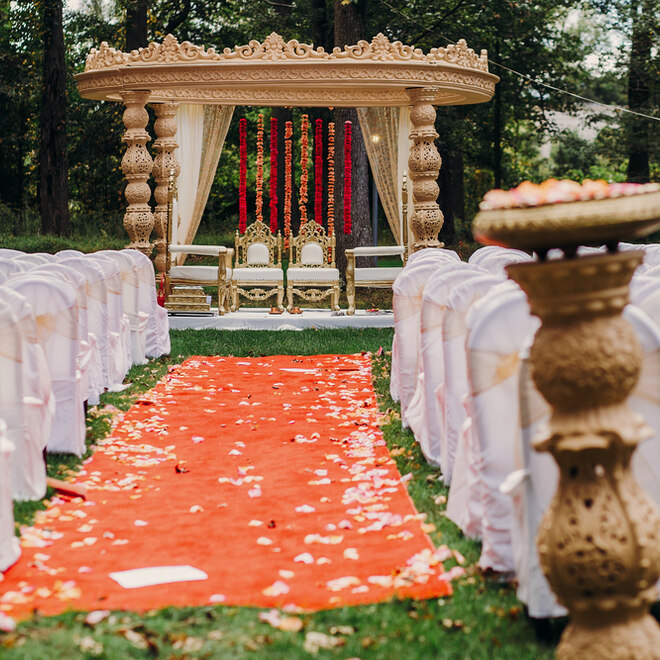 Cost of an Indian Wedding
As we've seen, Indian weddings are known for being flamboyant and expensive, as well as being immersed in Indian cultural rituals and traditions.
In Australia, the average Indian wedding costs between $225,000 and $285,000. This pricing range is for a typical 300-person Indian wedding in major Aussie cities such as Melbourne, Sydney, Brisbane, and Perth.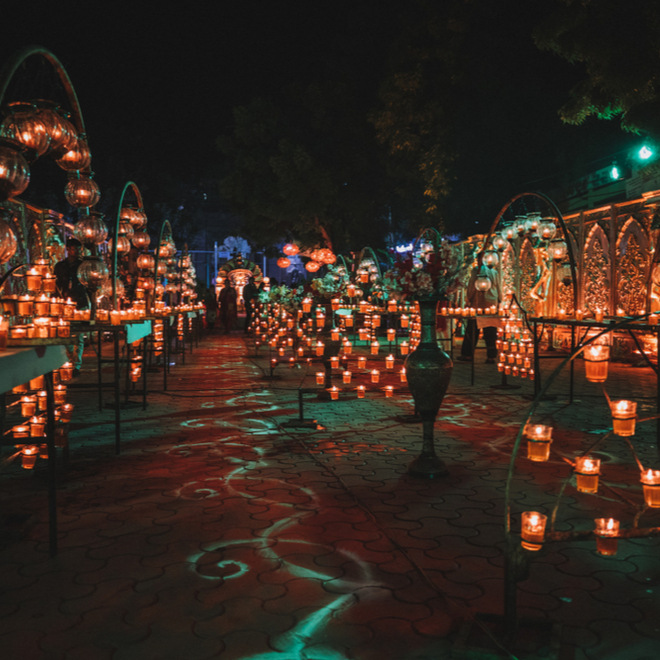 Who Pays for an Indian Wedding?
After all this information about how long and magnificent Indian weddings are, you might be naturally wondering, who pays for all this? The money is split 50-50 between the couple and their parents. However, if one side insists on having more guests or more events and shows, the costs may be adjusted.
What To Wear To An Indian Wedding?
Black tuxedos and white gowns are not the norms in India. Instead, Indian brides and grooms wear vivid, colourful dresses often adorned with gold and jewellery. A bride's head and face will also be adorned with jewellery and a nose ring. For an Indian bride, there is no such thing as just one wedding outfit. At least three or four wedding dresses are worn for various rituals.
Indian Wedding Dresses for Brides
The most popular colour combination for Indian wedding dresses is red and gold since red symbolizes good luck and happiness. However, brides nowadays choose blue, orange, silver, peach, and other colours for their new dresses.
They often work with Indian wedding dress designers or buy ready-made outfits. On her most special day, the bride looks her best by wearing a wedding gown that matches her makeup, hairstyle, jewellery and shoes.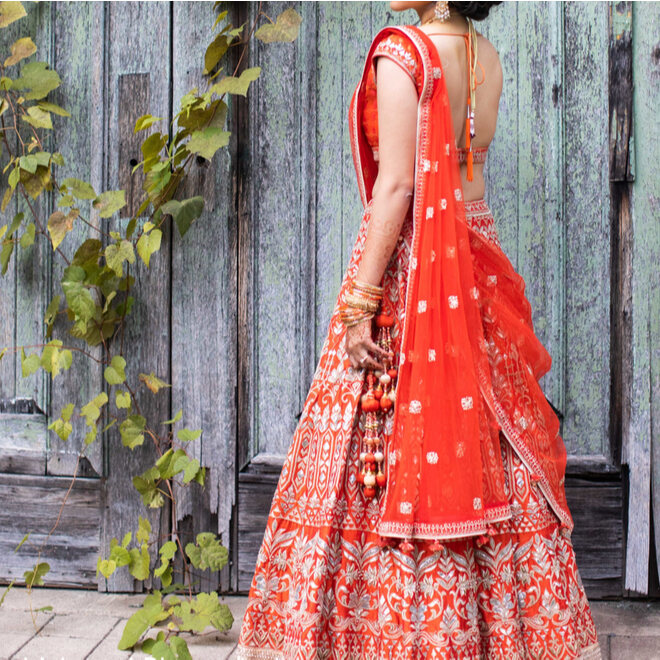 A lehenga is one of the traditional Indian wedding dresses that brides choose for their elegant wedding ceremony. It is made up of a skirt and a top called a choli and a dupatta. A red lehenga is typically the most common Indian wedding dress among the brides.
An ornate dupatta and jewellery complement the bride's lehenga. The dupatta is often draped over the choli or worn as a headpiece. After being inspired by Bollywood, more and more brides are opting for a lehenga for their special days.
With detailed and heavy embroidery, wedding sarees are the most commonly preferred dresses for Indian weddings. However, the way a saree is wrapped differs from region to region. For instance, South Indian wedding sarees are different from those in the Kerala region.
A wedding saree is typically made of silk and has a combination of red and green colours. Red, green, or white are the most common choices among Indian brides.
As for wedding hairstyles, Indian brides usually use a piece of jewellery named tikka along their hairline, and their makeup differs from region to region.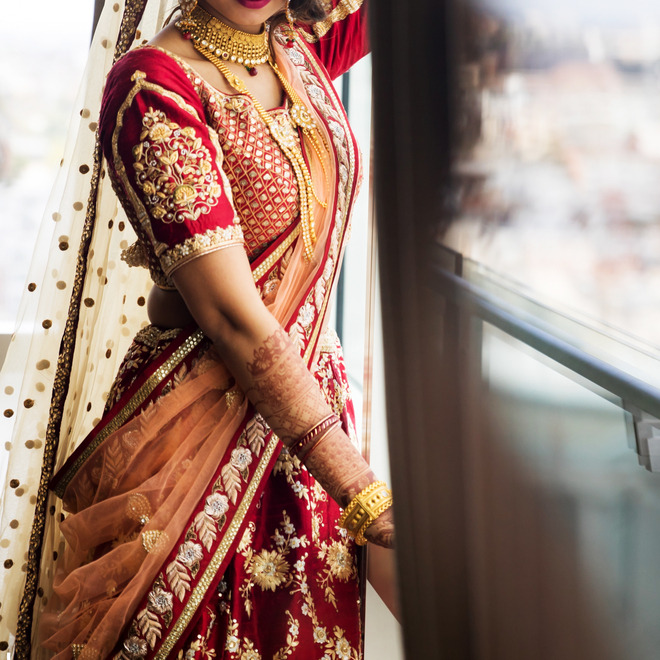 The majority of gowns have Indian influences, such as intricate embroidery, gold beads, saree-like fabric, and flowy cloth. A net wedding veil, an ornamental band, and a flower bouquet complete the look of a wedding gown. However, not every Indian bride prefers gowns for an Indian wedding reception; some choose sarees instead.
Indian Wedding Dresses for Men
The sherwani, a highly embellished version of a western wedding suit, is the most frequently worn outfit for the groom on his big day. Indian weddings are known for their brilliant use of colour and decadence, but the bride isn't the only one who gets to put it on display.
Indian men's wedding attire comes in a wide range of colours and patterns and is often paired with matching embroidered shoes called Mojri. Grooms are usually adorned with pearl strands, flower garlands, gold or jewellery.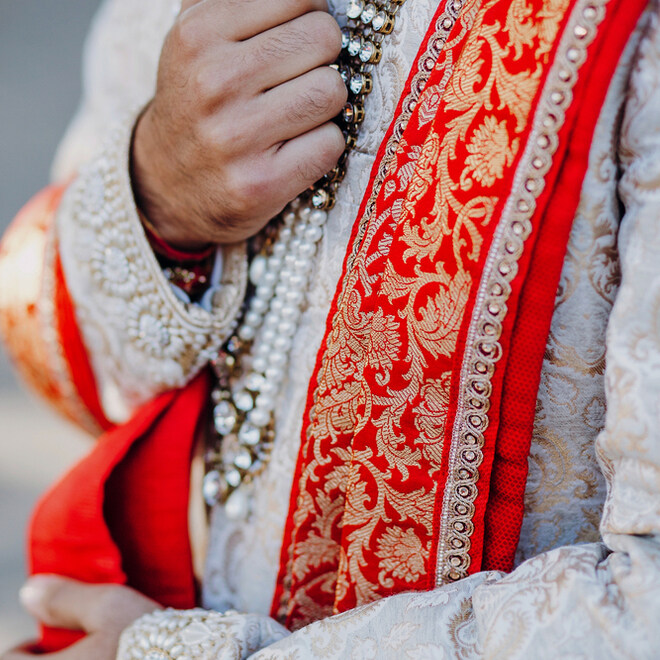 Indian Wedding Guest Dresses
Guests often wear traditional Indian dresses; women usually choose sarees and lehengas, and men prefer long-sleeved tunics and trousers. Since the celebration lasts for several days, build each event outfit as though you're trying to outdo the previous one, saving the most glamorous dress for the wedding reception and ceremony.
If you don't necessarily have anything traditional to wear and think about going more western, remember that women have to cover their legs and shoulders, and men should wear long trousers and long sleeves. Headpieces, veils or turbans have to be worn by both men and women.
Colours that are bold and bright are strongly encouraged, but avoid black, which is thought to be unlucky; red, which is the colour the bride usually wears; white, which is associated with funerals.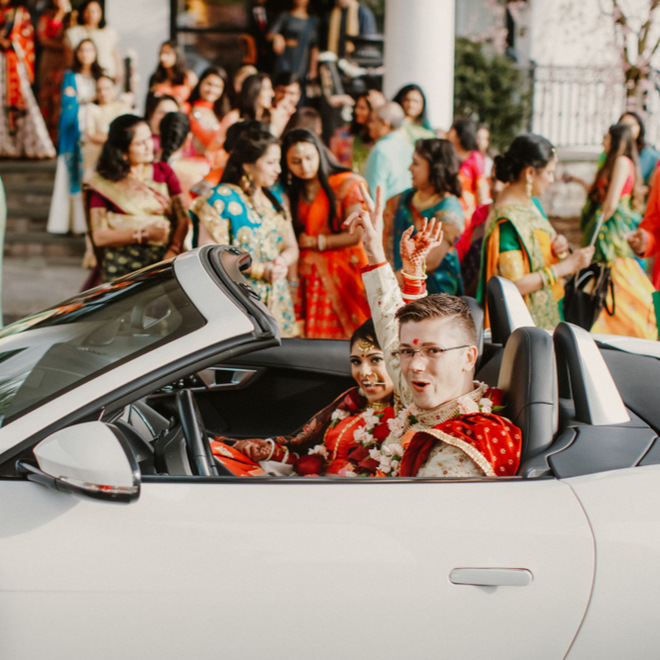 Most Popular Indian Wedding Hairstyles
Indian brides traditionally wear a dupatta, a brightly coloured and heavily embroidered veil, over their heads and shoulders, as well as tikka jewelry along their hairline. But modern brides love contemporary twists.
The most popular wedding hairstyles that the brides choose are the sleek bun, natural waves, voluminous bun, a thick braid with jasmine woven, half updo with French twists. You'll surely find the perfect one that matches your wedding dress, shoes and accessories from dozens of models!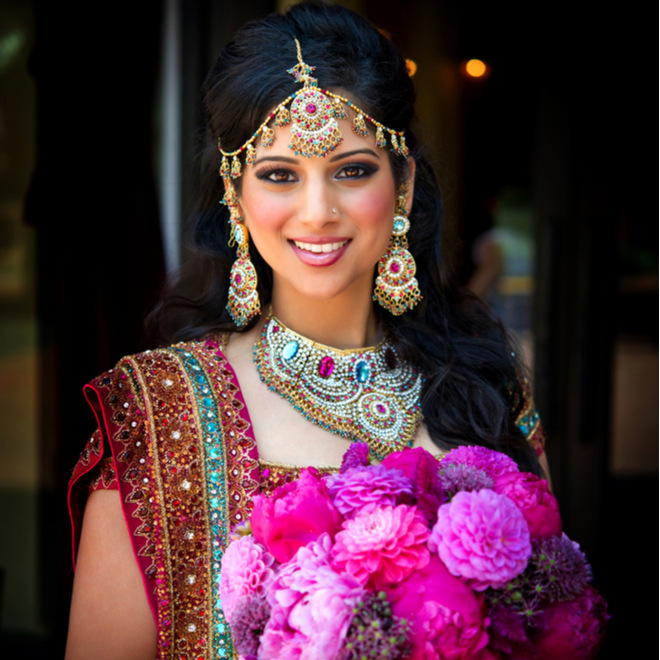 Indian Wedding Card and Invitation Ideas
Considering thousands of weddings taking place in India, there are tons of wedding cards and invitation styles that you can consider. We've listed the list involving the most popular ones.
Lift-The-Flap Card Design: You can create a card with cute sketches that include several sections for different ceremonies that your guests will flip to reveal!

Surprise the Guests with A Pop-Up Element: Insert a paper figure between the pages and surprise your guests.

Cute Sketches of Bride & Groom: You can add caricatures of you and your partner or sketches for a more elegant option.

Rustic Meets Modern: You can use rustic elements such as lace and burlap on the wedding invitation style.

Location As A Theme: You can incorporate a style related to the location. For instance, if you're having a beach wedding, you can use nautical elements or flowers for a garden wedding.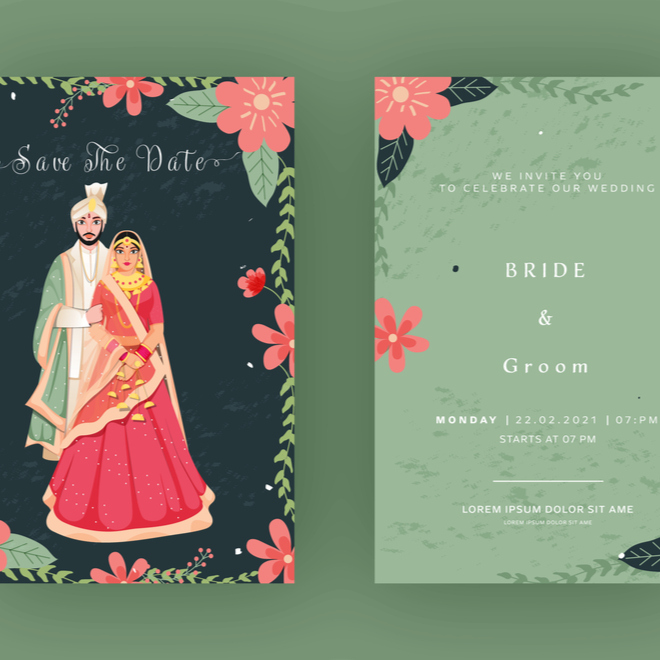 7 Tips for Attending your First Indian Wedding
Dress Modestly: Although there is no set wedding dress code for Indian weddings, modesty is required, which means no bare shoulders or knees.

Prepare for a Long Wedding: An Indian wedding usually lasts at least three days, if not a week! Plan ahead of time and get enough sleep to be fully involved in the traditional wedding ceremonies and rituals you've been invited to.

Give Yourself Some Time to Understand the Customs: Wedding traditions in India are interesting and wonderful. Rather than taking a passive approach to your participation, taking the time to learn about the Indian customs and traditions would allow you to enjoy and appreciate the events fully.

Consider Gifting Money: Many Indian couples prefer gift cards or money as wedding gifts instead of boxed goods. The reason behind it is that you pay for your food and attendance by giving monetary gifts.

Be Prepared for Tons of People: At an Indian wedding, there will be hundreds of guests, and therefore, it's easy to get overwhelmed. Sit back, relax, and enjoy yourself while being surrounded by many joyful, energetic people.

Enjoy the Food: Partaking in the wedding feast as a guest by accepting what you can eat is seen as your acceptance of the wedding and your best wishes for the couple.

Check Before Taking Pictures: Although it's okay to take pictures for most of the wedding, during some sacred Indian wedding ceremonies, even wedding photographers are not allowed to take pictures. Before taking pictures, we recommend that you look around to see whether others are shooting as well.
We've come to the end of the article in which we've gone through the Indian wedding customs and traditions. Start browsing the wedding venues and vendors right now and plan your dream wedding by benefitting from special discounts and offers only for WeddingHero's users!